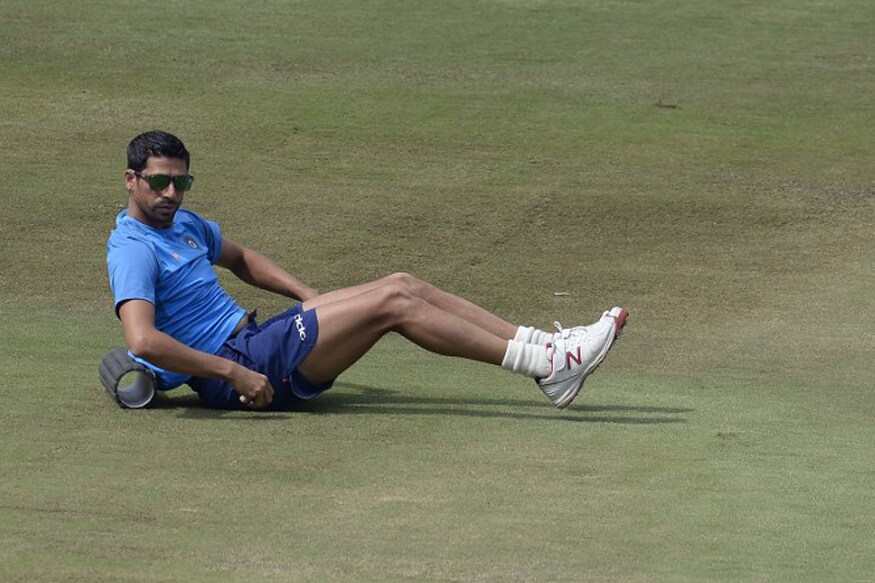 New Delhi: Sport, especially cricket, is never known to have fairytale endings. The decision to call it quits is the most important as well as the most difficult decision any cricketer or athlete has to take in his career.

Greats like Rahul Dravid, VVS Laxman, Virender Sehwag to name a few, never had the luxury of retiring on their own terms or getting a farewell game. Sehwag in fact spoke on record and said that pain of not getting a farewell game shall always remain.

Ashish Nehra's career on the other end has been enigmatic to say the least. Just when you thought that we will see the best of Nehra, fate always took a cruel turn for the fast bowler.

He underwent surgery 12 times, but his will and determination saw him bounce back each time he looked to be down and out.

Statistically speaking, Nehra might not be among the greatest of bowlers India had but judging him by purely on the basis of stats would be unfair to say the least.

Nehra made his debut for India way back in 1999, under the captaincy of Mohammad Azharuddin. To put things in perspective, Nehra made his debut even before the current chairman of selectors MSK Prasad. India captain Virat Kohli was just 11-years-old and latest pace sensation Jasprit Bumrah was just 6!




"Nehra was one of the most positive guys around. It's important to know your own body, he made a comeback every time after injury and never gave up. He had that self belief about him," recalls Vijay Dahiya, who was Nehra's first captain when he made his Ranji debut for Delhi.

The left-arm fast bowler's work ethic remains second to none and he still remains one of the fittest members of the Indian team. His number on the dreaded yo-yo test are in fact close to Virat Kohli's, who is considered the fittest member in the Indian team.

"He(Nehra) can be an idol for any youngster watching. Being a fast bowler and bouncing back after so many injuries. He fought back and worked extra hard. Injuries are part and parcel of the game and can happen to anybody. But it is important to come back to the ground running, Nehra always did this," Dahiya adds, talking about Nehra.

Despite all the bad press it gets, Delhi cricket remains one of the most potent force in India, and in fact has produced superstars in the past decade, overtaking even Mumbai in terms of players who have shined at the highest level.

"Delhi cricket at that time had winners in the likes of Sehwag, Nehra. In the dressing room, you were sitting next to someone who had played for the country. There was a healthy rivalry among all players and no one even knew the name of the officials. Such was the self belief in the team," Dahiya recollects the Delhi dressing room which had the likes of Nehra, Sehwag, Gambhir among others.

His figures of 6/23 against England in 2003 remain best bowling figures by an Indian in a World Cup match. The memorable performance came in a match he wasn't even assured of starting after twisting his ankle in the previous game against Namibia.

The last ODI he played for India was in the 2011 World Cup, the semi-final against Pakistan where he ended with figures of 2/33 in 10 overs, before he fractured his finger while diving forward to take a catch.

Any other player would have called it quits but Nehra roared back again and came back into the squad after some impressive IPL performances. He came back to the Indian T20 setup and even played another T20 World Cup in 2016. In 18 matches since his comeback, Nehra has managed to take 21 wickets at an average of 21.66 and a strike-rate of 18.

Nehra's Test career lasted only 17 matches and it is something he has talked about in the past as being a regret. He had a choice to comeback in Test matches under Dhoni with then coach Gary Kirsten asking Nehra to consider a comeback into the longest format, but Nehra focused on limited overs cricket to give his international career one last chance. His Test career will always remain a question of 'What could have been' rather than 'What was.'

When Nehra walks out for one last time at the Feroz Shah Kotla, the same place where it all once started, spotlight for once will firmly be on him and he deserves every bit of it. Nehra has been nothing less than a gladiator for Indian cricket and deserves one final goodbye.


First Published: November 1, 2017, 9:00 AM IST