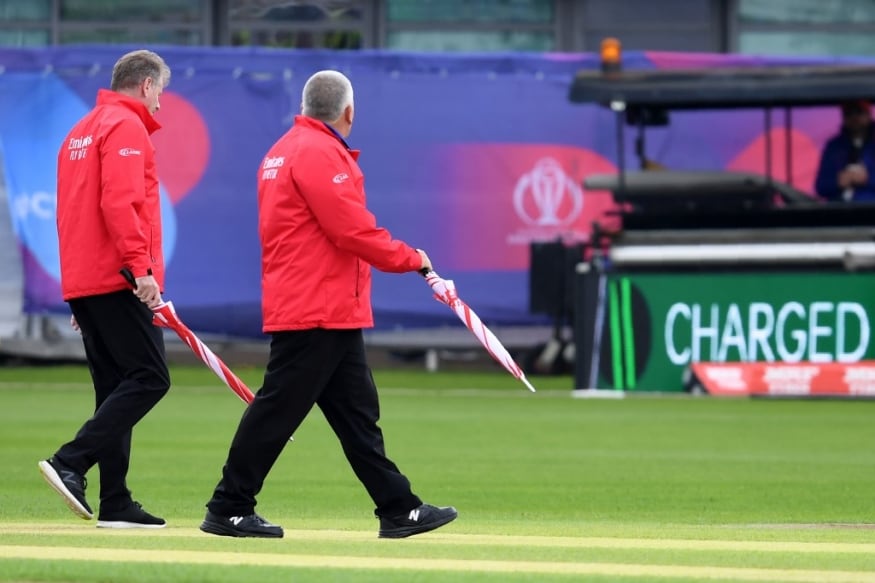 Rain played spoilsport yet again at the ICC World Cup 2019 as the highly anticipated clash between India and New Zealand was called off.
Both sides were unbeaten heading into the contest at Trent Bridge but the weather was forecast for rain throughout Thursday. While it was initially felt that a shortened game could be possible, the weather turned sour and the teams had to split the points.
There were varied reactions to the result, some serious and some poking fun at how the rain has reigned supreme once again this week.
This again. pic.twitter.com/sFvyS7Dr8n

— mark butcher (@markbutcher72) June 13, 2019
It does rain in England people 🌨 Can't help for that - just if you're on the right side of it great for your team 👌🏼Blackcaps a shoe in for semis now surely

— Robin John Peterson (@robbie13flair) June 13, 2019
So, the Ind vs NZ game has become a case of "water on the ground, adjacent to a bridge".. #CWC19 #ICCCricketWorldCup2019 — wv raman (@wvraman) June 13, 2019
Rain Wins Another One 🙈 #IndvNZ #CWC19 — Aakash Chopra (@cricketaakash) June 13, 2019
A World Cup comes around every four years. We just can't risk so many wash-outs. If India Pakistan gets washed out, and teams just miss out because of losing pts to rain, it would be be such a shame. — Joy Bhattacharjya (@joybhattacharj) June 13, 2019
All I am saying is, ever since they bad mouthed the 1996 World Cup opening ceremony, there hasn't been a single ICC event hosted in England that has had a smooth opening ceremony, weather permitting. Karma, she's Indian! — if Shrikant,who can? (@HomerOpines) June 13, 2019
Rain has more wins than any other team in this world cup. #CWC19 — Johns (@CricCrazyJohns) June 13, 2019
Haha Kedar Jadhav asking rains from England to shift to Maharashtra 😂❤️ #INDvNZ #CWC19 pic.twitter.com/ZcdoKcypkT

— Saurabh (@Boomrah_) June 13, 2019
Ziva : Rain Rain Go Away, I want to watch Daddy Play!😡😒#DhoniAtCWC19 #INDvNZ #Dhoni pic.twitter.com/GTGmHIo9pl — MS Dhoni Fans Official (@msdfansofficial) June 13, 2019
So that's 7 out of 10 teams who've had to split points due to washouts. Pak, SL (twice), Ban, SA, WI, Ind & NZ. And none against Afghanistan. In a way, the rain's being fair to all. Now just for the Aus v Eng fixture to be washed out. #CWC19 — Raunak Kapoor (@RaunakRK) June 13, 2019