Manchester: You've heard it by now. That Virat Kohli dismissed Kane Williamson in the Under-19 World Cup semifinal in Malaysia 11 years ago. They were captains of their sides then, and are captains of their sides now.
Before we proceed, hear how both remember that game.
"I'll remind Kane also, I'm sure he remembers, when we meet tomorrow I'm going to remind him," laughs Kohli. "It is quite a nice thing. A lot of players from that whole World Cup, from our batch, from their batch, from other teams as well, made it to the national teams and are still playing, which is I think a great thing to see. No one, neither me nor him, could have ever anticipated that one day this will happen."
Now Williamson.
"I actually hadn't thought about that at all so I guess that's kind of cool, isn't it, that a few years later, we're here again, perhaps on a slightly different stage," he said. "But pretty special and a lot of respect to being able to lead your country out in a semifinal on the biggest stage."
Funnily enough, neither remembers that it was Kohli who dismissed Williamson.
"Oh dear. Tell me how," Williamson chuckles. "He used to be an all-rounder I think back in the day, but hasn't bowled as much recently."
"I got Kane's wicket? Did I?" wonders Kohli. "I don't know if that can happen again."
(ICC/Twitter)
Both knew back then that the other would go on to make it big. In fact, Kohli sensed it a year earlier.
"It's not even 2008, I remember in 2007 we went to New Zealand and we were playing an Under-19 Test match and he played a shot off one of our fast bowlers, who was quick, off the back foot," says Kohli. "I remember standing in slips and telling guys standing at slip, 'I have never seen anyone play a shot like that'. He was special, along with a couple more guys, who didn't make it surprisingly.
"We always knew he has the special ability to go all the way and now he's controlling the tempo of the game for New Zealand every game that he plays and he's contributing so well. And he's a lovely guy. We get along very well."
Williamson isn't as elaborate, but the respect is obvious.
"Yeah, he was a formidable player, growing up -- that seems odd to say because we were at the same age playing against each other on a number of occasions and then to go into international cricket at a youngish age, then IPL and these different sorts of things. So it's obviously been a pleasure watching Virat play and evolve into the superstar that he is."
Both journeys have been incredible; they're both a part of the 'fab four' in people's lists of best batsmen around the world. Their stats in Test cricket are similar. Kohli's numbers in the other two formats are better, but Williamson's are damn good too.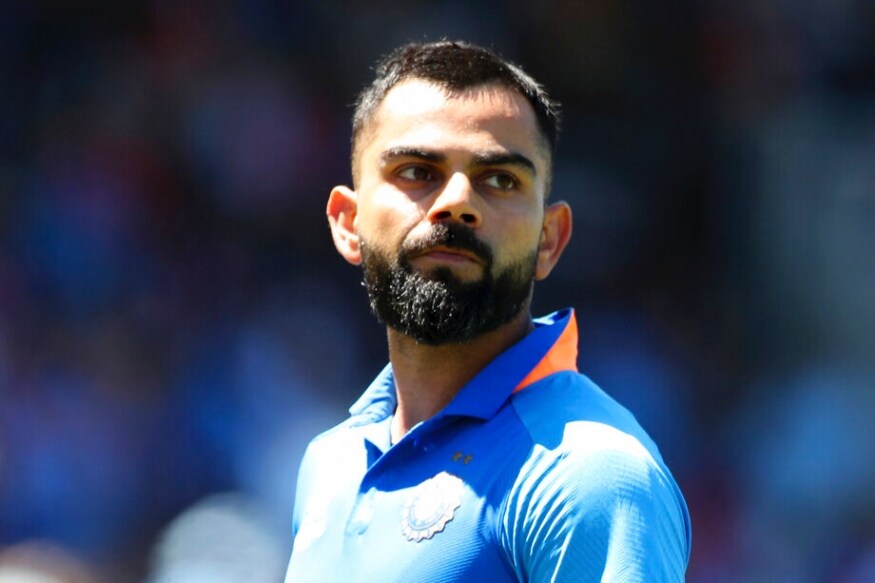 (Source: AP Photo)
The aura around them though is different and is reflective of their respective teams. Kohli is 'King'. Williamson is...just Williamson. India are 'favourites'. New Zealand are 'underdogs'. Kohli brings passion and intensity to the Indian side. Williamson brings calmness.
Almost all the focus is on India. It's partly because of the way they've made it to the semifinal, as the top team in the league stage. It's also a lot to do with the countries as such - India is massive in size and population and perenially busy. It's estimated that New Zealand have more sheep than humans. The countries view cricket differently too; it's a religion in India, but it's not even the main sport in New Zealand. Rugby is.
But it's also due to the superstar status of the players, led by Kohli himself. New Zealand have no 'superstars'; the closest to that is Williamson.
There's a massive difference in the number of people surrounding the two teams too, and it comes out in a matter of one day. On Sunday, there was hardly any media to watch New Zealand train. On Monday, there was a whole battalion of cameras at The Old Trafford. India had arrived.
The questions at the press conferences reflect the drastic difference too. Kohli is asked about the pressure of expectations from fans. He's even asked how fans would react if India lose to New Zealand. Williamson is asked about being underdogs because the focus is always on India. He's asked if the attention on India frees up his side.
Williamson even agrees with the above suggestion.
"I guess there's truth in that, that India are a very successful side and very popular side with a large population and a lot of cameras, which is great," he smiles. "They bring so much to the sport that we are fortunate to be a part of."
New Zealand like to be in the space where they generally slip under the radar, almost surreptitiously. This time around, there are even questions over whether they deserve to be in the top four. There were suggestions that the other three teams in the semifinals would have loved to face New Zealand.
Tags matter little in World Cup knockouts. Williamson says his side isn't 'fired up' because of such suggestions and stresses his side deserves to be here.
But the tags are there because it reflects the history of the two sides. India have won the World Cup twice, apart from a few other victories in other ICC events. New Zealand have been in the World Cup semifinal seven times, but are yet to win the trophy. They have only reached the final once, in 2015.
It's not surprising that both have very similar numbers in this World Cup too. Ironically, Kohli is doing the Williamson role - holding one end together, rotating strike and guiding the team in the middle overs. Williamson is doing his role and more, thanks to the failure of his openers. He's even done what Kohli is yet to - score centuries. Not one, but two.
The auras might be different, but there's little to separate the two when it comes to batting, especially in this World Cup. Kohli won the battle in 2008 and has since gone on to become 'King'. Eleven years on, can Williamson pull one back and get to the crown?