Pakistan take pride in their unpredictability. They were "Unpredictable" when they emerged from nowhere to win the 1992 World Cup. Then, 25 years later, they pulled a similar heist at the Champions Trophy where, despite their lowly ranking and a soul-destroying loss to India in their opening game, they came roaring back to claim the title.
So, despite their topsy-turvy start, only a fool would write them off. They have a habit of turning the form-guide on its head and have done so already in this tournament. After being humiliated by the West Indies – bundled out for just 105 on the highest scoring ground in the world and losing the game in just a total of 35.2 overs - they surged to a morale-boosting win over favourites England, scoring 348 at the same venue, Trent Bridge.
A washed-out game against Sri Lanka and a loss to Australia means that Pakistan are now in a very similar position to 1992, with their backs against the wall.
The game against India at Manchester thus assumes even more significance than it usually would. Two points there and Pakistan's campaign would be back on track and they would have scalped two of the pre-tournament favourites.
Pakistan began the World Cup with what would have been Plan A – playing five bowlers plus two part-timers, and trusting their batsmen to put up enough runs for their bowlers to defend. On a juicier than usual Trent Bridge track though, their batting came apart against the pace of the West Indians, who peppered them with short-deliveries to which they had absolutely no answer.
(Image: AP)
Stunned, Pakistan reverted quickly – perhaps too quickly – to Plan B. Gone was the five-bowler strategy, replaced instead by their highly unsuccessful strategy of 2015, where they played just four bowlers and hoped to fill in with the part-time left-arm spin of Haris Sohail. This time, the part-timers were Mohammed Hafeez – with a reworked action that has made him a shadow of his former self and Shoaib Malik, who has bowled only sporadically recently – just seven overs in his last ten games leading up to the World Cup.
Luckily (or perhaps unluckily for Pakistan) the strategy worked against England, where the duo bowled a combined 10 overs for 53 runs, picking up two wickets in the process. Now, Pakistan's strength, their penetration through the middle overs, had been compromised and strategy of containment had been adopted. It didn't work against Australia, where the two went for 86 in 11 overs.
The failure against the West Indies meant that in order to strengthen their weaker suit – their batting – they were ready to compromise their strength – their bowling.
Not just that, they dropped their two most consistent bowlers, spinners Imad Wasim and Shadab Khan – Imad against both England and Australia and Shadab against Australia – ensuring that their attack looked rather one-dimensional, despite the presence of two left-arm pacemen.
In the first two matches they played, Pakistan went in without a proper new-ball partner for Mohammed Amir. Both Wahab Riaz and Hasan Ali prefer bowling with the older ball towards the middle and end of the innings. It was only in their fourth game that they brought in Shaheen Shah Afridi, though he had been expensive in the recent past, going for over 80 in every game he played in the recent series against England.
Hasan Ali's recent form is a huge cause for concern as well. At his peak in 2017, he took 45 ODI wickets at 17.04 and ended up on top of the ICC ODI bowling rankings. This year though, he has only picked up six wickets at an average of 90.16 and an economy of 6.32.
Meanwhile, Pakistan's batting relies a lot upon Fakhar Zaman to provide the muscle up front, but he hasn't struck form just as yet. Their middle-order, despite the presence of the hugely-talented Babar Azam, is largely one-paced, and so they have been forced to turn to Asif Ali to be their power-hitter, replacing Imad. In these conditions though, he has struggled, though not as much as veteran Shoaib Malik.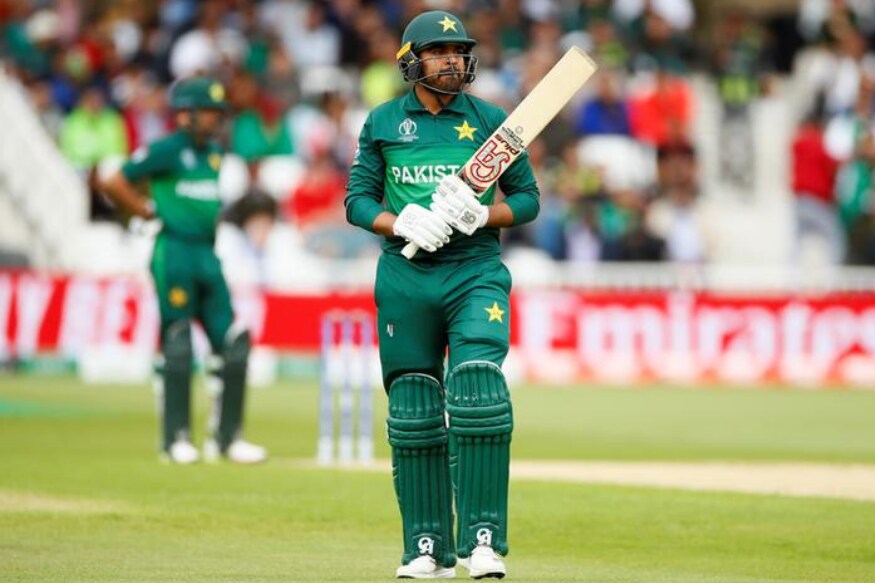 (Photo Credit: Reuters)
Playing his last tournament, Malik has scored only 10 runs in two games, and despite skipper Sarfaraz Ahmed claiming that he was only one good innings away from becoming a match-winner again, his recent numbers suggest otherwise. In 27 ODI innings in the United Kingdom, Malik has just one fifty and averages a dismal 13.57. Meanwhile, Haris Sohail (who Malik has replaced in the XI) averages 52.57 this year.
Much has been made of Malik's exploits against India and perhaps this was one of the major reasons for his selection. He has four centuries against them and has had much success in the past. But those four centuries were all scored before 2010. Since then, he averages 33.37 against India with just one fifty in nine innings.
What is Pakistan's best XI then?
Firstly, they need to play to their strengths. And despite Hasan and Shaheen misfiring, their strength lies in their bowling. Five bowlers are an absolute must. If conditions allow, both spinners should play, despite the fact that the Indians are good against spin. Shadab Khan is a potential match-winner with ball as well as being Pakistan's best fielder. He's handy with the bat too. Imad Wasim provides Pakistan with a new-ball option, particularly because Rahul struggles against spin in this format, averaging just 27.20 as against 40.66 versus pace.
In case rain is around, Imad would need to sit out and it would probably be a four-pronged pace attack with Shadab and Hafeez as the spinners. It would mean that the top order would need to shoulder more responsibility, but the lower order has already shown some fight, with both Wahab Riaz and Hasan Ali playing handy cameos.
Every player in this XI other than Shaheen has scored at least one fifty in ODIs and if the top order delivers, would be good enough to add some handy runs down the order. The big question though is whether Pakistan will be brave enough to cancel the insurance policy on their batting and have faith in the strength of their bowling. In stock-market terms, will Pakistan's approach to the crucial game against India be bullish or bearish? We'll just have to wait and see.