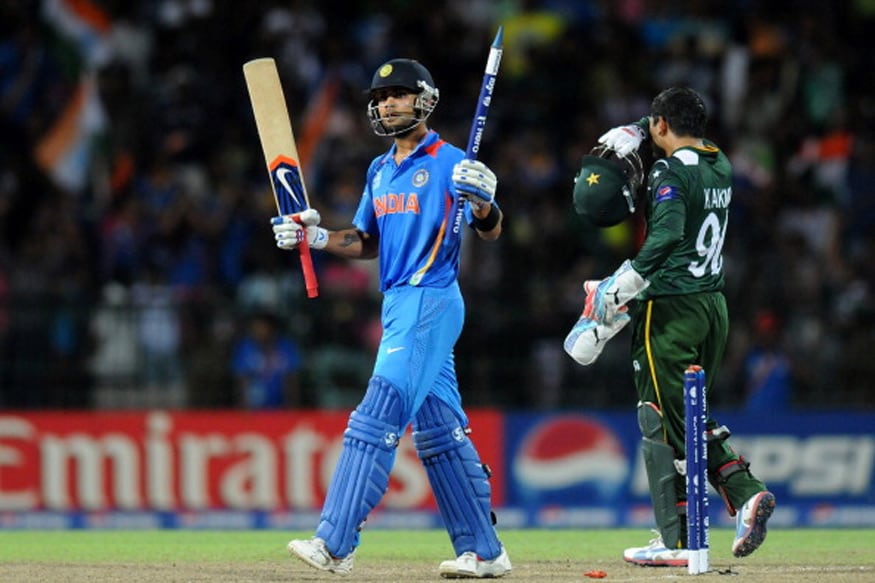 India and Pakistan have played each other 129 times in ODI cricket. India has won 40% of these matches; 52 games, to be precise. Pakistan has been the more dominant side having won 73 of these encounters. However, their dominance ended in the mid-2000s. From 2006 India has been the more dominating side having won 17 of the 28 matches they have played against their arch-rivals.
It is, therefore, worth seeing how the two teams have fared in ODI cricket since the 2015 World Cup Down Under.
India has been the second-best team (after England) not only in terms of win-loss ratio but also in terms victories in series/tournaments.
During this period, India has won 10 bilateral series (out of 14 played) and lost just the solitary one in England a couple of months ago. They have won in Sri Lanka, West Indies and South Africa.
Pakistan has the eighth-lowest win-loss ratio in this time frame – below the likes of Afghanistan, Hong Kong and Bangladesh. They have also played 14 bilateral series and won 8 – but three of these have been against Zimbabwe, two against Sri Lanka (whose win-loss ratio of 0.5 places them even lower than Scotland, Netherlands and Ireland), two against West Indies and one against Ireland.
But Pakistan experienced a mini-renaissance of sorts post their thrashing victory in the final of the ICC Champions Trophy at The Oval against India last year. This was the second time the two teams had met since the 2015 WC – India had beaten them comprehensively in the group encounter in Birmingham.
Since then, Pakistan have won 11 and lost 5 of the 16 matches they have played overall.
Let us now analyze the strengths and weaknesses of the two teams.
Top Order (1-3):
The Indian top-order has scored 9541 runs from 185 innings at a staggering average of 60 and strike rate of 93.15 - such has been the dominance of Rohit Sharma, Shikhar Dhawan and Virat Kohli.
There is a gulf of approximately 12 runs per dismissal between the Indian top 3 and second-placed (in this regard) England. No other team (apart from India) has three top-order batsmen average above 48 during this period.
No one has scored more hundreds and fifties than the Indian trio during this period. It does not come as a surprise that Kohli is the leading run-scorer in this period. No one has reached a hundred more number of times (13) or aggregates more runs per dismissal (84.6) than the Indian captain.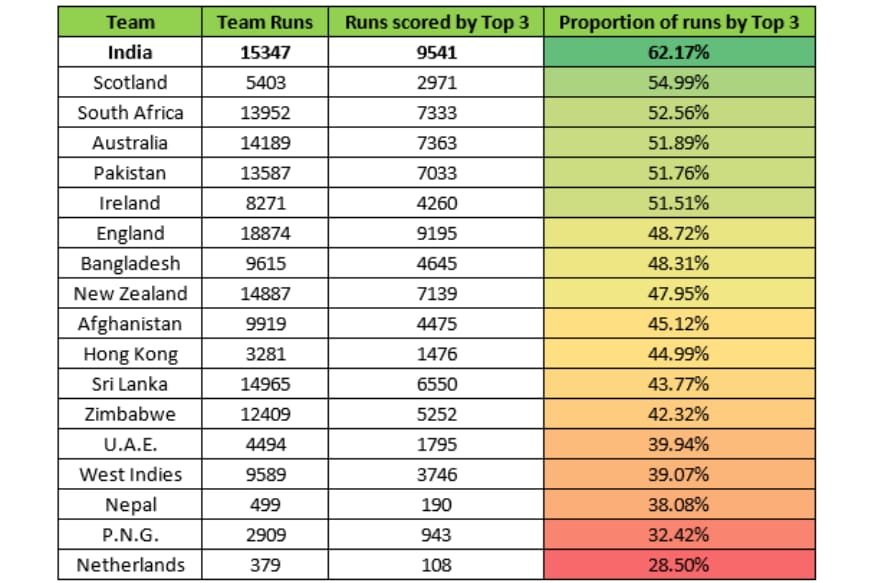 There is a percentage difference of almost 10% between the runs contribution of India's top-3 and second-best South Africa (not counting Scotland) – that shows the dominance of Virat, Rohit and Dhawan in ODI cricket in this time frame. It also shows India's dependency on them.
Babar Azam has been Pakistan's leading run-scorer during this period. His 1491 runs have come at an average of 62 (though this has been bolstered by 7 not outs). He has also been their leading centurion with 8 tons. Fakhar Zaman has been the maverick in Pakistan's top-order.
He has scored his runs at an average of 73 and a strike rate of 102. This includes a double ton against Zimbabwe (first Pakistani batsmen in history to score a double ton) and a match-winning 114 against India in the Champions Trophy Final last year.
Strike rate of Top 3 in ODIs since 30 Mar 2015: -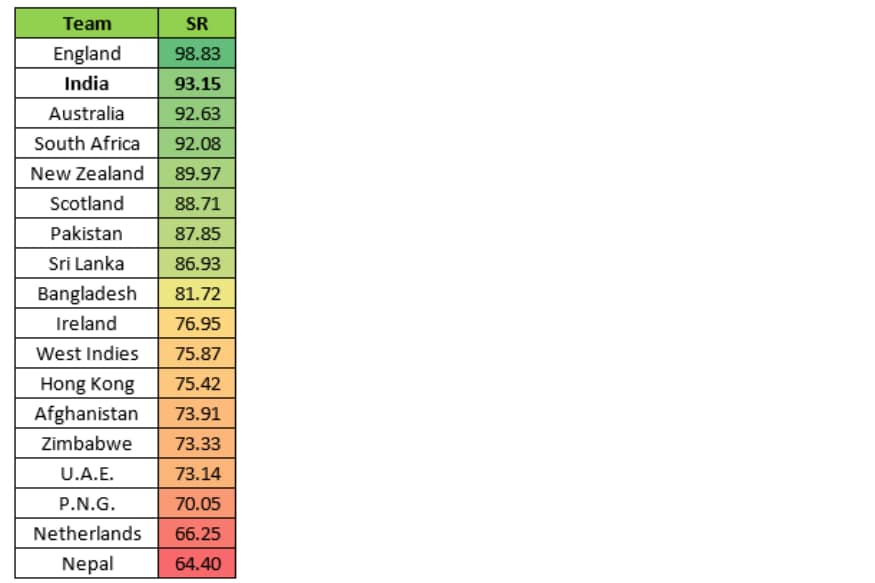 It is not surprising that Pakistan's top-order are marginally behind with their scoring rate in spite of Fakhar Zaman scoring at more than run a ball. Babar Azam and Imam-Ul-Haq have a strike rate in their mid-eighties while Azhar Ali scores at 78 per 100 balls – a fact further proven by the low percentage of boundaries they score – it is the lowest amongst all teams barring PNG!!
Middle Order (4-7):
This is where India has had problems in the last three years. Their middle-order averages just about 35 per wicket. Pakistan's corresponding average is 37. Their frequency of fifties is also higher than India's in this time frame – in fact it is the best for any team in this period.
Dhoni is not the same finisher he was before as is reflected in his strike rate of 83 in this period. Hardik Pandya has crossed 30 only once in his last 30 ODI innings whereas Kedar Jadhav missed the IPL and the England limited overs tour due to injury.
India find it difficult to rotate the strike in the middle overs. Their ball rotation (number of ones, twos and threes) is lower compared to Pakistan's. It is only because of the high proportion of boundaries they score (India's middle order scores 45.45 % of its total runs from boundaries. Pakistan's 41.72%) that their overall strike rate (92) is higher than Pakistan's (88).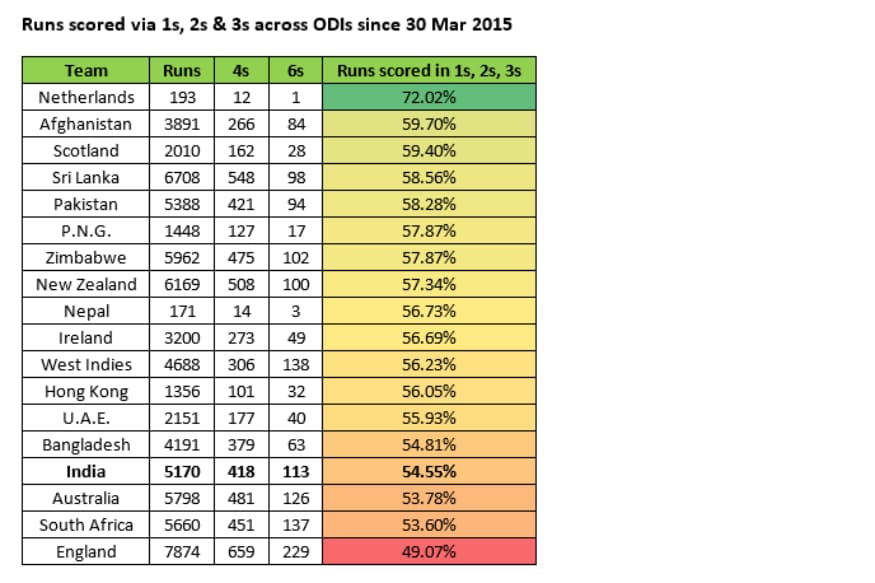 India has one major problem in their middle order – they need to solve the number 4 conundrum. They have tried as many as 11 batsmen (in this period) at this position but no one yet has been able to own the position.
Lower Order (8-11):
India's top order has been so good that the lower order has hardly ever been tested. However, India's 8-11 do not really inspire confidence. They average just a shade above 13 and have a collective strike rate of approximately 75 (both, among the lowest). Their balls faced/sixes ratio is also among the lowest.
Pakistan's lower order has been more dependable. They average 18 at a strike rate of 93.
Bowlers:
India's bowling has been a revelation in the last few years. They have a potent bowling attack in pace and spin, both. Their ability to pick up wickets stands out and separates them from past Indian teams. Their aggregate bowling average of 32.77 is lowest among all major teams.
Jasprit Bumrah is the mainstay of the Indian pace attack. He is among the top 5 wicket-taking paceman in world cricket post the 2015 WC. He also has the lowest economy rate among the top 10 wicket takers (fast bowlers) during this period.
Interestingly, India and Pakistan have been the most restrictive teams in ODI cricket during this period. While India has conceded at a rate of 5.25, Pakistan has been marginally better giving away 5.19 runs per over.
Jasprit Bumrah has been the most restrictive pace bowler in world cricket (with excellent control in the death overs) conceding just 4.6 runs per over (among all the major teams in the world). Mohammad Amir has not been far behind with only Bumrah and Mustafizur Rahman conceding less runs per over than him.
Only Rashid Khan has given away lesser runs and bowled lesser balls per wicket than Kuldeep Yadav and Yuzvendra Chahal among all spinners in world cricket during this period. The Indian spin duo has also been very restrictive during the middle overs for India.
Pakistan has variety in their attack with a combination of both left and right arm quickies in their repertoire. Hasan Ali is the pick of the Pakistani bowlers – no other bowler in the world except Rashid Khan has a better innings/wickets ratio (70 wickets in 34 innings) in this time frame (for all bowlers who have taken at least 50 wickets). Only Mustafizur Rahman has a better bowling average than Ali (20.55) amongst all fast bowlers during this period.
Ali also picks up a wicket every 4 overs – the best for any fast bowler in the world. Usman Khan and Faheem Ashraf have had a promising start to their ODI careers and Shadab Khan, the leggie, leads the Pakistan spin attack. He has not only been very restrictive but also been among the wickets.
India, though top-heavy, has a much stronger batting unit. Pakistan has more variety in their pace attack but India might just have the edge in the spinning department with a leggie and chinaman among their ranks.
Both the teams have improved dramatically as far as fielding is concerned. Hot conditions will play a major factor and this is where Pakistan has the advantage. They have played 13 matches in UAE during this period while India have played none.
If both teams play to their potential, India should win. But they are sans Virat Kohli and that may just turn out to be the difference in the end.