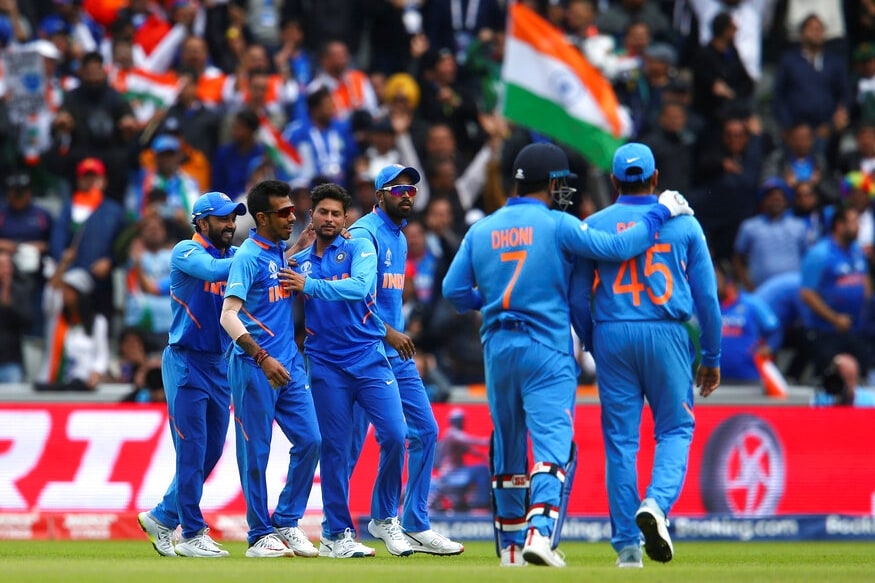 India continued their unbeaten run against Pakistan in World Cups after securing an 89-run win at Old Trafford on Sunday.
Dominating. Emphatic. One Sided.

Well done, Team India #IndvPak #CWC19

— Aakash Chopra (@cricketaakash) June 16, 2019
And #India wins against #Pakistan @cricketworldcup @bcci @icc @imVkohli #IndvsPak pic.twitter.com/1ZeBEAm9Zy

— Wriddhiman Saha (@Wriddhipops) June 16, 2019
A very professional display by #TeamIndia. Top job by @imkuldeep18 and @hardikpandya7 for the wickets. Rain can't be predicted but Team India has checked all the boxes. Well played, lads. #INDvsPAK #CWC19 pic.twitter.com/htuKH1lIQJ

— Suresh Raina (@ImRaina) June 16, 2019
Put to bat first, Rohit Sharma and KL Rahul walked out together to open the innings for the first time in ODIs. No wonder there was lack of communication between both of them while running initially. Luckily for them, the Pakistani fielding was even worse.
Running is nuts.

Luckily for them, so is the fielding.#IndvPak

— Gaurav Sethi (@BoredCricket) June 16, 2019
India's running between the wickets vs Pakistan's fielding. A match made in heaven.#CWC19 #INDvPAK

— Pritam Sharma (@VanDiablo) June 16, 2019
Is Wahab Riaz serious? Never seen a more lacklustre fielding effort at backward square. What's going on?

— Peter Lalor (@plalor) June 16, 2019
peak pakistan already. some dropped catches coming next...and then a crazy spell where 5 wickets will fall in 9 balls #IndiaVsPakistan #CWC19

— Gaurav Kalra (@gauravkalra75) June 16, 2019
Running of these two bigger danger than any of the bowlers.

— Saurabh Malhotra (@MalhotraSaurabh) June 16, 2019
After a slow start, KL Rahul slowly got into the groove. The 27-year-old went on to score his first half-century in World Cup as he starred in a 136-run partnership for the opening stand with Rohit.
I KL Rahul

— Kevin Pietersen (@KP24) June 16, 2019
Sarfaraz sledging: "Big Shot coming boys"

*KL Rahul hits a massive 6*

Sarfraraz: pic.twitter.com/EmYp4xtDmf

— cricBC (@cricBC) June 16, 2019
With all the attention on Rohit, who has been magnificent, KL Rahul has quietly played himself in. This is a valuable 50

— Harsha Bhogle (@bhogleharsha) June 16, 2019
KL Rahul is the second Kohli in all aspects including running with Rohit. #CWC19

— Manya (@CSKian716) June 16, 2019
Rohit Sharma, who has been in sublime form, scored his second century of the tournament. His knock of 140 runs came from just 113 balls as he hit 14 boundaries and three sixes.
Nightmare start from Pakistan. Rohit Sharma is usually happy to tick along quietly for the first 10-15 overs.

The fact that he's already off to a belter should concern Pakistan hugely...this could be a 350-400 day. #INDvPAK #CWC19

— Radio Cricket (@RadioCricket) June 16, 2019
India doing India things! Making the neighbours go, "Look at Sharma ji's son doing so well!" Literally! #CWC19 #WhistleForIndia #INDvPAK @ImRo45

— Chennai Super Kings (@ChennaiIPL) June 16, 2019
Rohit and Sachin's shots. #IndvsPak pic.twitter.com/f3rgXbpMYR

— Sagar (@sagarcasm) June 16, 2019
Pakistani bowler steaming in, Mumbaikar on strike, six over backward point. We've seen this before♥️. #INDvPAK #CWC19

— North Stand Gang - Wankhede (@NorthStandGang) June 16, 2019
Not to be a jinx but with ~this~ fluent Rohit Sharma's century in 85 balls in just the 30th over, we should be on a bigger #HitmanWatch no?

— ZENIA D'CUNHA (@ZENIADCUNHA) June 16, 2019
Brilliant from @ImRo45 but Pakistan have missed a trick by not opening up with Imad Wasim! ‍♂️ #INDvPAK #CWC19

— Tom Moody (@TomMoodyCricket) June 16, 2019
Rohit Sharma's last 5 ODI inns:

95

56

122*

57

— Bharath Seervi (@SeerviBharath) June 16, 2019
Fabulous Rohit !!! How fluent and pleasing to the eye was that hundred.#INDvPAK #CWC2019 Congratulations @ImRo45

— Russel Arnold (@RusselArnold69) June 16, 2019
Ro 'Superhit' Sharma. What a century....dominance and class in equal measure. #CWC19 #IndvPak

— Aakash Chopra (@cricketaakash) June 16, 2019
Chatting to Rohit at ipl time ! Discussion about getting starts but not getting big runs , and I was like you don't know what lies ahead of you it's happening for a reason ! Same words told to me by @sachin_rt before 2011 wcup , my mos of 2019 prediction from india @ImRo45

— yuvraj singh (@YUVSTRONG12) June 16, 2019
A remarkable hundred from Rohit. Making batting look so easy #INDvPAK

— VVS Laxman (@VVSLaxman281) June 16, 2019
The greatness of Rohit Sharma lies in the fact that whenever he gets out after making a ton, people are disappointed that he didn't make a double century.#INDvPAK#CWC19

— . (@_cleanbowled) June 16, 2019
Skipper Virat Kohli walked in at No.3 as he scored a fantastic 77 runs. In the process, he also became the fastest to cross 11000 runs in ODIs.
Pic 1 : Pakistani fans when KL Rahul got out

Pic 2 : Pakistani fans after realising that Kohli is the next Batsman #IndiaVsPakistan pic.twitter.com/cyd0L5jI43

— Roshan Rai (@RoshanKrRai) June 16, 2019
Virat Kohli is undoubtedly one of the greatest batsmen the world has ever seen. He has been breaking records for fun and it has been a pleasure to watch him bat effortlessly. #11KForVK

— Prajakta Bhawsar (@18prajakta) June 16, 2019
Virat Kohli went from from 10K runs to 11K runs in just 17 innings - the second-fastest 1000-run period for Kohli.

Earlier, had gone from 7k to 8k in only 14 innings. #INDvPAK #Kohli

— Sreshth Shah (@sreshthx) June 16, 2019
Mohammad Amir was the lone positive for Pakistan as the rest of the bowling lineup was being taken for the cleaners. He picked up a couple of wickets in the form of Hardik Pandya and MS Dhoni.
It looks like a repeat of the match against Australia: Amir at one level, and the rest at another. Fielding effort the same. #INDvsPAK

— Sambit Bal (@sambitbal) June 16, 2019
To think Pakistan were contemplating not bringing Amir to this World Cup at some point. What would this attack look like without him? Operating at a different level. #CWC19 #INDvPAK

— Anand Vasu (@anandvasu) June 16, 2019
Amir in his last 15 overs in this WC has conceded just 2 boundaries. Only if he had some support from the other end... #IndiaVsPakistan

— Mazher Arshad (@MazherArshad) June 16, 2019
Play resumed and there was controversy as Virat Kohli walked after a missed hook shot off Amir. Ultra Edge showed there was no edge.
The only one who can get Virat Kohli out is Virat Kohli!#INDvPAK#ViratKohli

— Snehal Pradhan (@SnehalPradhan) June 16, 2019
All of us @ Kohli pic.twitter.com/P7A8FT4nzQ

— Sunanda (@YoursLegallyy) June 16, 2019
Aamir's putting in a tight, clever spell at the 'death'. Kohli's wicket at this stage could see India finish fewer than looked likely at the rain break

— Cricketwallah (@cricketwallah) June 16, 2019
Eventually, India finished with 336/5, with Vijay Shankar and Kedar Jadhav striking boundaries at the end.
Good first innings score from team India in the high pressure game. Where the avg first inning winning score was 268. All thanks to @klrahul11 57 @ImRo45 140 & @imVkohli 77 nicely set up the game for India. Now it's time for the bowlers to show their class. @BCCI #INDvsPAK

— Vinay Kumar R (@Vinay_Kumar_R) June 16, 2019
336 is a hefty score. India's bowling also has more depth, variety and, going by the past couple of years, far more consistency. Pak batsmen will have to play out of their skin to win this

— Cricketwallah (@cricketwallah) June 16, 2019
Am I allowed to praise Pakistani cricketers on Twitter these days? If yes, Amir has been the player of #CWC19 so far.#INDvPAK#PAKvIND#IndiaVsPakistan

— Abhishek Mukherjee (@ovshake42) June 16, 2019
Indian seamers troubled the Pakistan openers early. Bhuvneshwar Kumar had to go out due to an injury, and Vijay Shankar, who came on to complete the over, struck with his first ball.
Shankar makes Bhuvi's absence midway thru the over into opportunity for himself to do a star turn. Wicket with his first ball! He'll never forget this moment

— Cricketwallah (@cricketwallah) June 16, 2019
Vijay Shankar becomes only the 3rd man to take a wicket off his very first World Cup delivery. Emulates Malachi Jones of Bermuda (remember Uthappa's edge to Dwayne Leverock?) and Ian Harvey. #INDvPAK

— Sreshth Shah (@sreshthx) June 16, 2019
*Pandya-Rahul gets banned*

Vijay Shankar makes debut

*Rayudu has bad IPL*

Vijay Shankar gets is Squad

*Dhawan gets injured*

Vijay Shankar gets in Playing XI

*Bhuwaneshwar gets injured*

Vijay Shankar bowls, gets a wicket

Naseeb ho toh Vijay jaisa, varna na ho#IndiaVsPakistan pic.twitter.com/ITdc583lke

— YEAH OK I GET IT (@yeahokigetit) June 16, 2019
Babar Azam and Fakhar Zaman stitched together a decent stand for the second wicket. Just as Pakistan seemed like they could attempt to get on par with the required run-rate, Kuldeep Yadav struck for India, and soon picked up Zaman.
That was a ripper from Kuldeep. #IndvPak

— VVS Laxman (@VVSLaxman281) June 16, 2019
Ball of the match from Kuldeep. Babar was looking good.The drift and turn are what a wrist spinner dreams of.

— Harsha Bhogle (@bhogleharsha) June 16, 2019
There was talk of Kuldeep being dropped to accommodate a seamer. That talk will now stop. He's bowled with superb control and guile today to dismiss two of Pak's best

— Cricketwallah (@cricketwallah) June 16, 2019
Shoaib Malik, Mohammad Hafeez and Sarfaraz Ahmed were dismissed in a short span of time. Rain interrupted play once again and play had to be stopped after the 35th over. Pakistan needed 136 in five overs after play resumed, and eventually fell short by 89 runs.
And so, another one-sided #INDvPAK contest. Other than hoping to get in through D/L at one stage, Pakistan were never in the hunt.

— Harsha Bhogle (@bhogleharsha) June 16, 2019
7-0 well done team India #indvspak

— Irfan Pathan (@IrfanPathan) June 16, 2019
The difference in quality is very evident. Well played India. #IndiaVsPakistan #CWC19

— RK (@RK_sports) June 16, 2019
You'd have to have a pretty good reason right now not to fancy India for the World Cup.

— Lawrence Booth (@the_topspin) June 16, 2019
Another World Cup win. Dominated like Champions. Well done India ! pic.twitter.com/3Lk9Bjdr11

— Mohammad Kaif (@MohammadKaif) June 16, 2019
Powerful all round performance by India. Snuffed out Pakistan's challenge with dusdain. Well played Kohli & Co!

— Cricketwallah (@cricketwallah) June 16, 2019
Fireworks in Bangalore

Congratulations boys! pic.twitter.com/EdnKt5i5e7

— Sushma Verma (@ImSushVerma) June 16, 2019
Despite all the hostility whipped up by the media, the fans at the ground, from both Indian and Pakistani, are generally good-natured. After all, we are similar in almost every way..sport should foster friendships, not hate..and it was a great atmosphere today..#PAKvIND #CWC19

— Hemant (@hemantbuch) June 16, 2019
India all the way.. well done boys @BCCI proud of you guys 7-0 now vs

— Harbhajan Turbanator (@harbhajan_singh) June 16, 2019