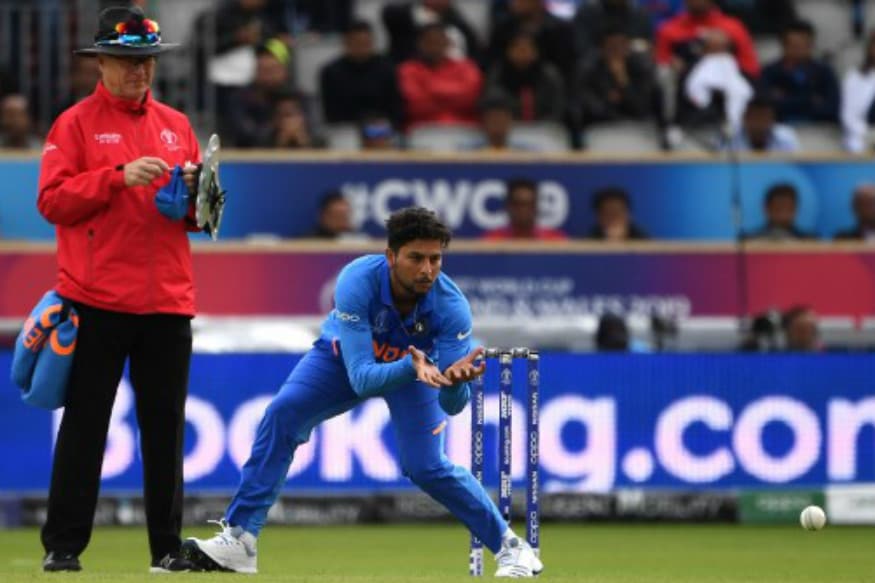 Manchester: Kuldeep Yadav had a rough IPL 2019. He played only nine matches, picking up a mere four wickets at an economy of 8.66 - his highest-ever in the T20 tournament. He even broke down after being hit around in a match, and was even dropped from the Kolkata Knight Riders side.
Kuldeep came into the World Cup low on form, but has gradually improved in confidence over three games. He had a couple of decent spells against South Africa and Australia - 1/46 and 0/55 - but was at his best in Sunday's game against Pakistan in Manchester, picking up 2 for 32 in the chase. His dismissals of Babar Azam and Fakhar Zaman triggered a collapse and nailed the game for India.
Kuldeep stressed he never doubted his skills, and explained that T20 form had nothing to do with ODI cricket.
"I have been bowling well from the first match, I don't ever doubt my skills," he said after India's win. "This is a 50-over game, it is a very long format, it is not like T20 format. Sometimes you bowl well and can still get hit, you may not get wickets. So at that time, it is very important to back yourself. In the match against Australia, I kept the scoring in check because good players were batting. Although I didn't get wickets, their required rate kept going up. When the ball leaves your hand nicely, slowly the wickets also start coming."
Kuldeep's confidence has also been kept high with help from the entire team. After India's win over Australia in London, bowling coach Bharat Arun had said the coaching staff was pepping up Kuldeep showing him things he did right when he was among the wickets.
The centurion on Sunday, Rohit Sharma, too stressed on the need to keep Kuldeep confident.
"Kuldeep is someone who needs a lot of confidence before going into his spell," he said after his ton against Pakistan. "As a team, we've been talking about him, how big a match winner he's been for us in the last year or so. He's got 47 games and almost 90 wickets. That is almost two wickets per game. That's a hell of a record for a spinner, and most of the wickets have come out of the sub-continent for him.
"He's our match-winning bowler in that middle overs phase, and today also you saw how important those crucial wickets were. Both the batsmen were set. Of course, he didn't start the tournament the way he would like to, but for us as a group around him, our job is to just make sure that he gets that confidence, he gets that backing from the team.
"He understands his bowling really well as well. So it's just about giving him that confidence, making sure that he knows that he's one of our premier bowlers, and we've done that. You know, when you do that as a team, the individual always wants to step up, and I think he did it today," Sharma said about Yadav.
Kuldeep definitely did, picking up wickets just when Pakistan would have entertained thoughts of accelerating to match the DLS par scores. His delivery to Azam was the ball of the day - it drifted away, dipped and turned in to beat the batsman's defence and hit the stumps.
"It was a very good ball, it is the kind of ball you dream of," he said. "It was an important wicket, the team needed a wicket at that stage because they were in the middle of a good partnership. So that wicket was very important for me.
"Babar and Fakhar bat well against spinners, rotating the strike and attacking when needed. It was very important to break the partnership and Babar is a good player of spin. Taking his wicket was very important and when Fakhar got out almost immediately afterwards, they came under pressure under DLS, they needed a lot of runs suddenly and that was a plus point for us.
"It felt really good. It's always a high intensity game, India-Pakistan. The fans have a lot of expectations and it is always a big match, especially if it is in the World Cup. It is my first World Cup match against Pakistan, so the expectations were a lot from friends and family."
Kuldeep met the expectations and did more. His confidence is back too, which is a good sign for India going into the latter stages of the World Cup.