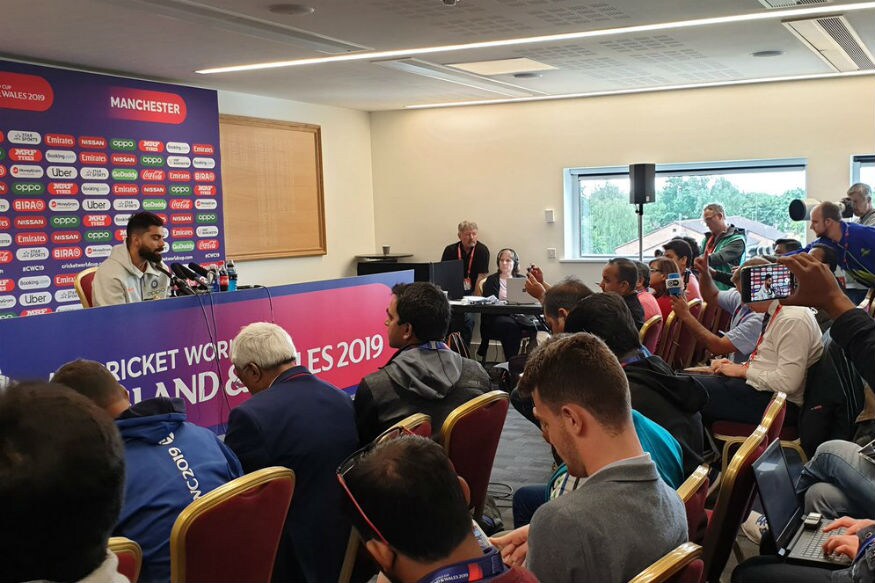 Manchester: Just another game or big game?
Stay updated with our live blog for India vs Pakistan Live Score and latest updates of ICC Cricket World Cup 2019 Match that is being played at Old Trafford in Manchester
India are treating Sunday's clash against Pakistan in Manchester as just another game. In their minds or in practice, they're doing nothing out of the ordinary. According to Virat Kohli, the team has 'literally' not discussed anything different from what they have since arriving in England.
The Indian captain, in ten different ways responding to ten different questions meaning the same thing, explained that India will purely focus on their own game irrespective of the opposition.
"As cricketers who have been selected to play for their country, our responsibility is to treat every game equally because you have to be committed to play for your country every game that you play regardless of the opposition," he said on the eve of the game.
"We can't get too emotional or too over excited with any occasion that we play in. So obviously, the mindset of the player is always going to be different from the fans. You can't mix the two.
"You can't expect the fans to think in a professional manner, focusing on each ball. Our attention span has to be very precise on the field because we have that split second to make a decision.
"But from the fans' point of view, looking at the atmosphere and frenzy around the game, I wouldn't say it's easy to think like a player. For the players, it's very, very crucial to be absolutely professional and beat any team you're up against."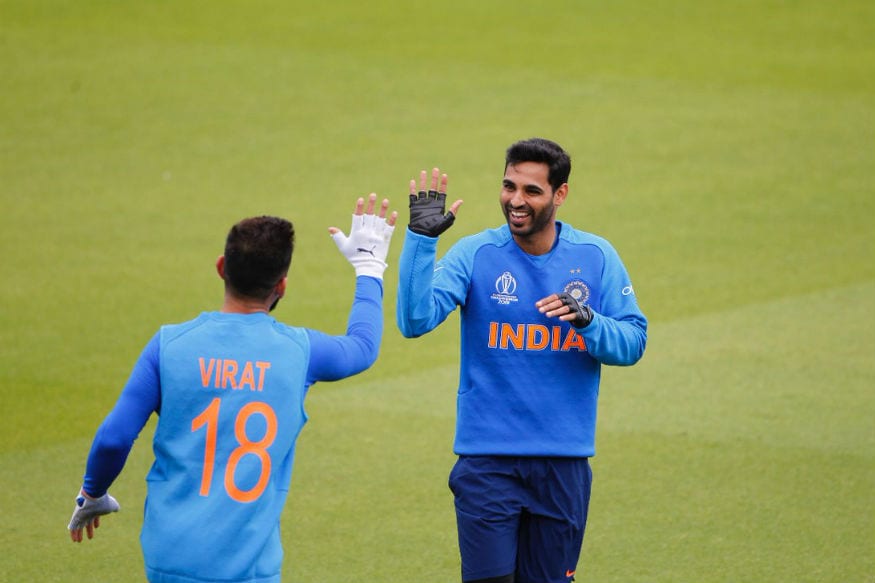 Twitter/ BCCI
For Pakistan, Sunday is a big game. And it's not just because they've won only one of their four matches this World Cup. Their coach Mickey Arthur said his side team is prepared and ready to tackle the 'hype'. He insisted that his team is 'excited' at the opportunity ahead.
"There's always pressure in any game, and these games carry exactly the same amount of points. They carry two points. Obviously, there's a massive hype that's created a lot of time by the media really. Our guys are prepared. We're ready," he said. "We're comfortable that we can get out there and perform, and we are so excited about the opportunity tomorrow."
On the other hand, Kohli played down the media hype in incredibly admirable manner irrespective of how the question was framed. Sample this for a response when asked about a 'key battle' between himself and Mohammad Amir, the man of the final in Champions Trophy 2017.
"Look, neither do I want to come here and say thing for the TRP nor do I want come here and create some exciting news. You agree with me or not, if there is any bowler in front of me I only see the white ball or red ball," he said.
"You have to give respect to the bowler's skill set. I said the same about Rabada ahead of the South Africa match. You have to always pay attention and be wary of the strengths of the impact bowlers in the world cricket. But (at the same time) you need to have enough belief in your own ability that you can go out there and score runs against any kind of bowler. So in my mind there is never any contest against anyone, neither do I keep a competition with anyone nor I have a though process that I have to go out and win a competiton to show the world.
"Such things don't come to our minds. All this is talk from the outside. I have never entertained such things ever nor will I do that in future."
Arthur was at the other end of the spectrum. Responding to a question on Shoaib Malik's poor form, the coach said he expected the all-rounder to do well 'on the biggest stage tomorrow'.
In fact, it's not just a 'biggest stage' according to Arthur. He is prepping his players telling they could become heroes overnight, by doing 'incredible' things that could be 'remembered forever'.
"I don't want to say it's the biggest rivalry in sport, but I saw some stats, you know, which said I think the soccer World Cup final attracted 1.6 billion viewers. Tomorrow likely to get 1.5 billion. It doesn't get bigger than that," he said. "It doesn't get more exciting. I'm telling our players in the dressing room, you could be a hero tomorrow. Your careers are going to be defined by a moment in the game. You do something incredible tomorrow, you'll be remembered forever.
"Our kind of mantra is how do you want to be remembered? We've got 15 incredible cricketers in that dressing room, and we keep stressing to them, how do you want to be remembered? You're the class of 2019. What are they going to say about you in history? And tomorrow presents an unbelievable opportunity for these guys to really make a mark."
For Kohli, the best approach is to look at the larger picture. Irrespective of what happens on Sunday, India has a bigger aim.
"I think the best way to approach something like this - if one focuses too much on what's going on the outside, it's to understand that the game starts tomorrow at a certain time and it finishes at a certain time, so it's not going to last a lifetime for you, whether you do well or you don't," he explained. "Our tournament - whether we do well as a team or we don't do well - won't finish tomorrow. So even if we have like a good performance as a team or a performance where we feel like we can improve in more areas, the tournament still has to go on.
"So I think the focus always has to be on the larger picture, but on that particular day, you need to come out there as a team and execute the plans that you have as 11 guys on the field so that way no one person takes more pressure than the other, even if you talk about the youngsters on the side. They will feel like they have the support of seniors. As a whole unit, you understand that 11 guys share responsibility, and that's been our message from the day that we came here and it's all about the team."
India's calmness reflected in their body language at training. They were jovial, fooling around with each other and just generally enjoying themselves. Kuldeep Yadav gave MS Dhoni a 10-ball challenge when he walked in to bat. Dinesh Karthik, Yuzvendra Chahal, Kedar Jadhav and Vijay Shankar were bantering while fielding. There was nothing extraordinary, there was no need to.
The one slight concern for India has been the preparation of the fast bowlers. Since their game against Australia last Sunday, the Indian pacers have hardly bowled. India had only one training session through the week, but then too, the bowlers stayed away due to wet outfield. The pacers bowled for a brief time separately at Old Trafford, while the batsmen faced net bowlers elsewhere.
But Kohli was not panicking. He said he was confident the pacers were in good mental space. Kohli was not panicking about Shikhar Dhawan's injury either, saying India selected a squad for all eventualities.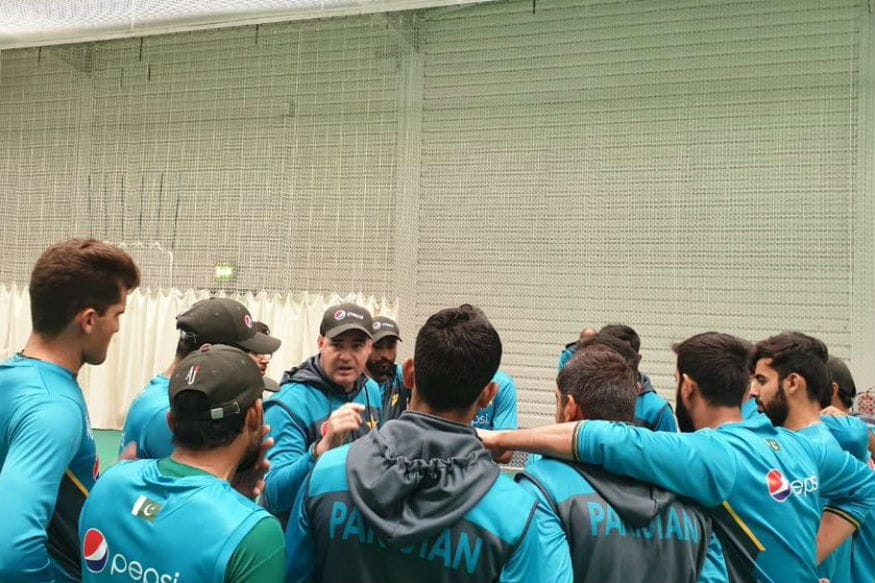 Twitter/ Pakistan cricket
Like the entire team, Kohli appeared relaxed and confident, speaking about some tense and funny moments from past India-Pakistan matches.
"Tense was Champions Trophy 2009, where Yuvi fractured a finger, and I was literally flown in and in two days time I was playing against Pakistan at Centurion," he said. "I hadn't experienced anything like that before, and I played a very bad shot, and I couldn't sleep until 6:00 in the morning. I was looking at the ceiling and thinking, that's it, I've flown in, and now I'm finished.
"The most funny moment... I mean, I can't explain the incident properly, but it happened during the World Cup 2011 in Mohali. There was a little incident which I saw from the opposition side, which I can't really elaborate here. It was involving Shahid Afridi and Wahab (Riaz). I was standing with the striker, and I heard a conversation, which as I say, I can't elaborate here. But in a high pressure game, that made me laugh, that's all I can say."
Kohli even joked about the demand for tickets for Sunday's clash. Before he left the room, he had a message to the fans: "enjoy the game".
Which approach will work on Sunday?