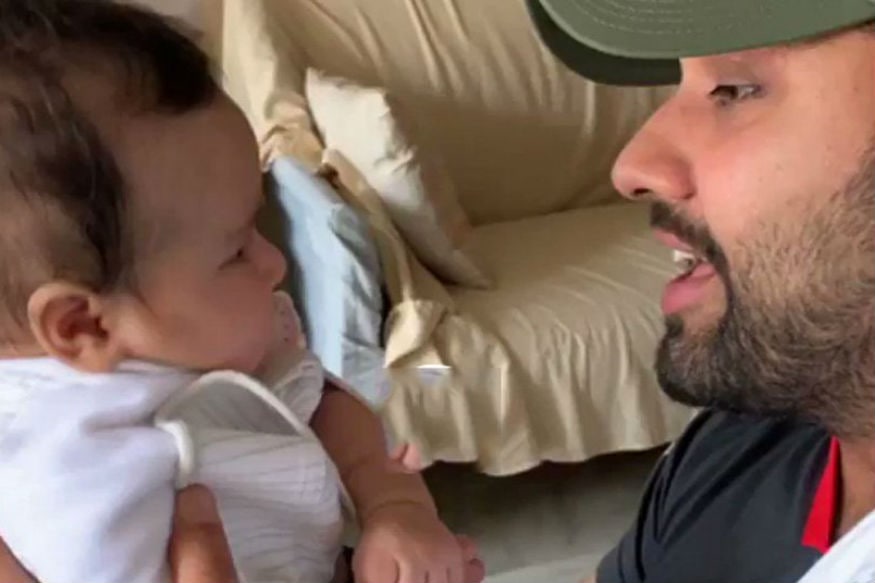 Manchester: A century against South Africa in Southampton, a half-century against Australia in London and now a century again against Pakistan in Manchester. Rohit Sharma is having a dream ICC World Cup 2019 and credited his newly born daughter for putting him a 'good space' that has led to success all over.
"I think it's just the space I am in right now. It's a very good phase in my life. Having a daughter, a newly born daughter in my life actually has put me in a good space," Rohit said in the press conference after India's victory on Sunday.
"I think I'm enjoying my cricket, coming off a great IPL campaign and then starting off here. We always know how important it is to start well. So the focus was always to start well and then see where the team is heading and then the individual. As a team we're heading in the right direction. For us it is important to just keep ticking all the boxes, and I think, as a team, we have done that most of the time."
Rohit had earlier said his century against South Africa - a 144-ball 122* that helped India chase 228 on a tricky track - was not a 'typical Rohit Sharma innings'. The opener stayed clear of rating this knock, but explained that his batting was all about assessing conditions.
"As a batsman, when you are playing where the conditions are going to challenge you, you just got to assess the conditions first because the pitch was under the cover for a long time," he said. "The last two days we were here, the pitch was under the covers, and it was a little soft when we started. So assessing the crucial phase of the innings, the first phase of the innings was important for us, and not to lose wicket at that point was very crucial.
"Your job is to assess and make sure that you don't try and lose too many wickets up front because, when the conditions are like that, it becomes more of a new ball game, and then the opposition can put pressure if you lose a few wickets. So the idea was not to lose wickets and build a platform and try to take the game forward after that."
While the conditions did aid pace bowling initially, only one bowler in the opposition utilised it. Mohammad Amir bowled a probing first spell of 4-1-8-0, but he was let down at the other end by ordinary bowling from Hasan Ali and Wahab Riaz. They were guilty of bowling short, trying in vain to attack Rohit with bouncers. In all, Pakistan bowled 27 short balls to Rohit, conceding 53 runs.
Rohit said he wasn't bothered about Pakistan's strategy but said short balls was his area of strength.
"I don't know what happens in their team meeting, whether it's to bowl up or bowl short. They bowled, I guess, pretty well in the first half. The first 10 overs, they bowled pretty well. Of course we know in England, once you're in, it's very hard for the bowlers to come back and there's not enough room for error. If you make an error, you're going to get punished. That is pretty simple. We've seen it over the years in this part of the world.
"Of course, certain games, certain conditions will challenge you as a batsman, but it did us in the initial phase because the shot making wasn't that easy. But I really can't read into what was going in their mind, whether to bowl up or to bowl short. They did bowl up a fair amount, but then, again, as a batsman you are ready to just pounce on it when given a ball to your strength. I think it is my strength when someone bowls short to me."