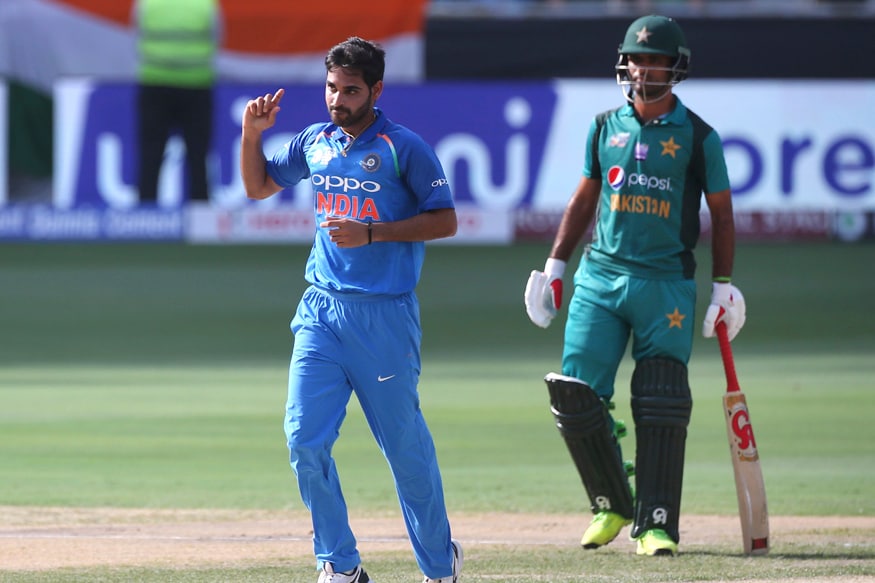 India's opening game at the Asia Cup against Hong Kong left a bitter-sweet feeling. They won the match by 26 runs but were hardly convincing at any stage. However, they brushed aside the disappointment and roared back in style to score an emphatic eight-wicket win over Pakistan at the Dubai International Stadium on Wednesday.
The architect of India's victory was fast bowler Bhuvneshwar Kumar, who returned excellent figures of 3 for 15 in his seven overs to skittle out Pakistan for a meagre 162 in 43.1 overs and was named Man of the Match for his efforts.
"It was good, got the Man of the Match, feeling good," said Bhuvneshwar to BCCI.tv in an interview conducted by his new-ball partner Jasprit Bumrah. "But the main thing is that like, we had our match with Hong Kong, we won, but it was not as convincing as it should have been. But, the bowling unit stepped up today to register a comprehensive win."
The 29-year-old is coming back into the Indian side after a long injury lay-off. He suffered a lower back injury during the third ODI against England which kept him out of the final two games as well as the subsequent five-match Test series that India lost 4-1 to England.
The pacer looked a bit rusty in the first game against Hong Kong where he conceded 50 runs and went wicketless in a nine-over spell. He admitted being nervous after the long injury lay-off.
"I was quite nervous about yesterday's game," said Bhuvneshwar. "Not because I was playing an international match after a while but was concerned about my injury.
"When you return after an injury, at the back of your mind you are always nervous about it recurring at any point. But, as soon as I bowled the first four-five overs, I got pretty comfortable and when I came into this match I was feeling pretty confident within myself."
India were playing Pakistan for the first time since the 2017 Champions Trophy final and while the stakes were high going into the game, Bhuvneshwar said that it was important to not flow into the emotion of it and treat it as just another game.
"At the end of the day, it is just a game," he reiterated. "Preparation remains the same. But, being such a high profile game, so you get the motivation to go out and perform well.
"Especially against Pakistan, if the performance is good, the confidence automatically goes up. The rivalry which has been there for so long, that lingers in your mind."
India next play Bangladesh on Friday in a Super four tie followed by Pakistan and Afghanistan on Sunday and Tuesday respectively.