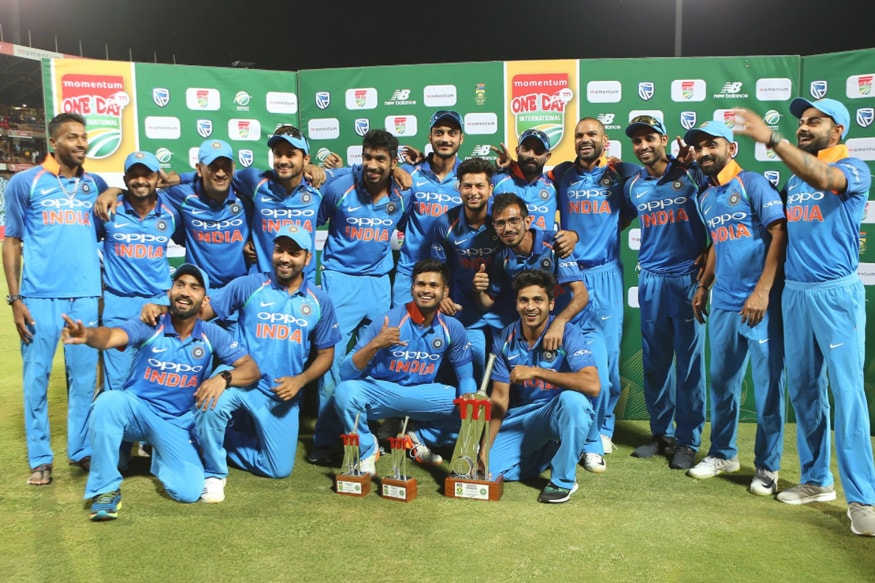 New Delhi: Virat Kohli and his troops once again produced a scintillating all-round display as they beat South Africa by eight wickets to register a comprehensive win in the sixth and the final ODI at SuperSport Park in Centurion on Friday.
Courtesy of this 5-1 win, the 'Men in Blue' sealed their first ever series victory against the hosts in the 'Rainbow Nation'. Cricketnext takes a look at the report card of each and every Indian player from the series.
Shikhar Dhawan: Rating 8: Verdict: Very Good (I: 6, R: 323, 100: 1, 50: 2)
After a disastrous outing in the Test series, Shikhar Dhawan roared back to life in the ODIs as he slammed one ton and two fifties en route to being the second highest run-getter in the series. Dhawan's quick-fire innings at the top were crucial for India getting a good start in the matches after early wicket and his couple of 100+ stands with skipper Virat Kohli in the series helped the team put on big totals and chase down whatever score the South African put up for the visitors.
Rohit Sharma: Rating 4: Verdict: Average (I: 6, R: 170, 100: 1, 50: 0)
Hot-shot opener Rohit Sharma may have scored one century in the series but apart from that he had nothing to show in the 6-matches that he played in. Rohit score a blazing century in the fifth ODI in Port Elizabeth and won the Man of the Match award as well for his 17th ODI ton but that was it for the right-hander as far as his contribution in the series is concerned. With scores of 20, 15, 0, 5 and 15 in the other five matches, Rohit will be hoping to be more consistent in future foreign tours.
Virat Kohli: Rating 10: Verdict: Excellent (I: 6, R: 558, 100: 3, 50: 1)
There are not many things that are permanent in life but the one thing that comes close is runs from the bat of India skipper Virat Kohli. The right-hander has reached such a level in ODIs that former greats have been forced to call him as the best limited-overs player of all-time. The pace at which Kohli breaks records with just a willow in hand is unheard of and with his unbelievable scoring spree in South Africa, he only enhanced his reputation as the best in the business.
With three tons and one fifty to his name, Kohli was the runaway leader as far as leading run-scorers in the series is concerned as he amassed a mammoth 558 runs in just six innings. Kohli also became the highest scoring batsman in a bilateral series surpassing Rohit Sharma's 491 against Australia in 6 matches in 2013/14 season. While with his latest ton in Centurion, Kohli now has 56th International centuries to him name and he has become the 5th most prolific century-maker in international cricket behind Sachin Tendulkar (100), Ricky Ponting (71), Kumar Sangakkara (63) & Jaques Kallis (62).
Ajinkya Rahane: Rating 4: Verdict: Average (I: 5, R: 140, 100: 0, 50: 1)
It was a case of missed opportunity for Ajinkya Rahane as apart from one 79-run innings in the first ODI in Durban, he didn't do much for his team or for himself. In Cape Town and Johannesburg ODIs, Rahane had ample time to put on a good show after the dismissal of Shikhar Dhawan and Virat Kohli receptively, but his poor shot selections cost him his wicket on both occasion. Much has been said about Rahane exclusion from the team from time to time but for once, he didn't do justice to his inclusion in the playing XI by putting on a rather inconsistent performance.
Kedar Jadhav: Rating 1: Verdict: Very Poor (I: 1, R: 1, O: 6, W: 0)
Kedar Jadhav missed the final three ODIs due to an injury but one would be forgiven to think that he played no part in India winning the first three matches either. Kedar got a chance to bat in the third match after a mini collapse and had ample time to hit a few out of the park but a very reckless shot meant he was out for just 1. Meanwhile, he bowled just 6 overs in the series and remained wicket-less as well. Not much to say about India's batting all-rounder as he had more or less nothing to do in India's historic series win.
Shreyas Iyer: Rating 4: Verdict: Average (I: 2, R: 48, 100: 0, 50: 0)
Shreyas Iyer was included into the playing XI for the final three matches in place of injured Kedar Jadhav. And, although the right-hander got a chance to showcase his talent in two innings but he failed to deceive with the bat. Iyer got starts in both Johannesburg and Port Elizabeth ODI receptively but he couldn't score big to put pressure on the regular India middle-order batsman.
Hardik Pandya: Rating 5: Verdict: Average (I: 4, R: 26, O: 44, W: 4, E: 4.90)
Hardik Pandya is regarded as one of the best all-rounders to come out of India in recent years, however, the lanky lad didn't do justice to that tag by any means in South Africa. In four innings, Pandya could only muster 26 runs and didn't offer anything down the order when India needed runs. With the ball though, Pandya showed glimpses of magic but overall, his line and length was very out of place. His economy rate was around 5 and that was saving grace for Pandya in an otherwise disappointing ODI series.
MS Dhoni: Rating 5: Verdict: Average (I: 5, R: 69, 50: 0, 100: 0)
Behind the stumps, Mahendra Singh Dhoni is still one of the best in business but when it comes to batting, his hitting prowess seems to be long gone. During the course of the series, Dhoni became the first Indian keeper to effect 400 dismissals in ODIs. But with the bat, apart from one score of 42*, the former Indian skipper couldn't do much to set the Rainbow Nation alight. However, Dhoni's invaluable comments from behind the stumps for youngsters like Kuldeep and Chahal were the talk of the town throughout the series and he was even heard giving instructions to 'Cheeku' aka Kohli, which help.
Bhuvneshwar Kumar: Rating 4: Verdict: Average (M: 5, O: 33, W: 4, E: 6.09)
India pacer Bhuvneshwar Kumar didn't have the best of series as far as wicket as concerned as he scalped just two in the 33 overs he bowled in four matches. Also, his economy rate was above six and that doesn't look good on someone who claims to be India's premier pacer in ODIs. Bhuvi was rested for the final match of the series and his replacement picked four wickets in just one match. That says it all about the bowling performance from the right-arm pacer.
Kuldeep Yadav (M: 6, O: 51, W: 17, E: 4.62) & Yuzvendra Chahal (M: 6, O: 52.1, W: 16, E: 5.02): Rating 10: Verdict: Excellent
In future, if these two are seen as a regular feature in all three formats of the game for India, both home and away, then this series will be remembered as the tour which helped them arrive on the big stage. Kuldeep and Chahal scalped 17 and 16 wickets respectively and it was because of these two that India manage to thrash the hosts in the fashion that they did. Bumrah was the third highest wicket-taker (across both teams) with 8 scalps to his name and that says it all about the might of these two spinners. Kuldeep and Chahal hunted in tandem and always performed whenever Kohli threw the ball at them to break a partnership or finish off a game.
Jasprit Bumrah: Rating 9: Verdict: Very Good (M: 6, O: 42, W: 8, E: 3.97)
Over the last year or two, Jasprit Bumrah as established himself as one of the best bowler in limited-over format of the game and he only enhanced his credentials with another excellent display. Bumrah has a knack of picking early wickets and he did so throughout the course of the series and gave India the ideal starts in matches. Moreover, he was one of the top wicket-takers of the series and his economy rate was the best across both teams.
Shardul Thakur: Rating 8: Verdict: Very Good (M: 1, O: 8.5, W: 4, E: 5.2)
Shardul Thakur was given a chance to showcase his talent in the final game of the series after India sealed the series in the 5th ODI, and boy did the 26-year-old pacer took the opportunity with both hands. Thakur gave India the ideal start in the match as he scalped two early wickets of Hashim Amla and Aiden Markram, while he came back in the middle over to pick two more. Although he gave away runs at a rate of more than five per over, his wicket-taking ability would have definitely made the India skipper happy.