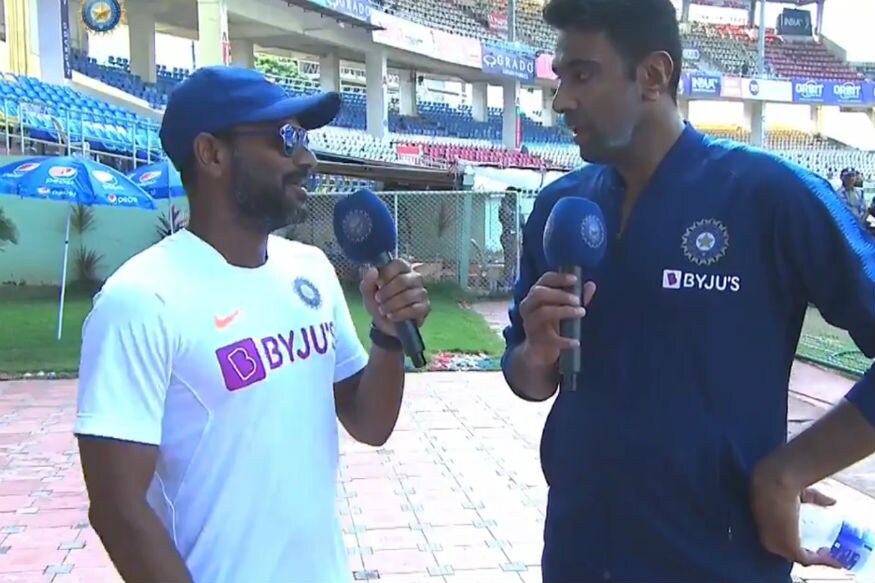 India off-spinner Ravichandran Ashwin spoke to fielding coach R Sridhar after becoming the joint-fastest bowler to 350 Test wickets, equalling the record of Sri Lankan spin great Muttiah Muralitharan. In a rather interesting coincidence, Sridhar had also interviewed Ashwin after he reached his 300th wicket.
In a tweet posted by the BCCI, there is a flashback to when Ashwin spoke to Sridhar in 2017, and then it cut to the present day when the two spoke to each other once again.
The journey of an interview

Same people, different years, different landmarks. From 2017 to 2019, we look at the past & present of @ashwinravi99's achievement with the ball in a conversation with fielding coach @coach_rsridhar. By @RajalArora

Full 📹📹https://t.co/BsR6IPyooq pic.twitter.com/ovAHjRepUt

— BCCI (@BCCI) October 6, 2019
"I don't really feel the sense of it soaking in. Hopefully there are better things to come, and this will fall by the wayside and I'll do a lot more spectacular things for the team," Ashwin had said back in 2017 after taking his 300th wicket.
After winning the first Test against South Africa in Vizag on Sunday, Ashwin was asked how he felt reaching the milestone of 350 wickets.
"Obviously, these things happen over a period of time and it's not like you can plan any of these things. I've been very lucky in my career with where I've got with these records. But it's important to stick to the process every single day and try and stick to the basics, try and keep it as simple as possible, because that's what makes it easier for you every time you go into the next game," he said.
"I want to keep my bowling as simple and straightforward as possible. I want to be as prepared as possible and try and tick all boxes before a game. Try and be in the best mental and physical space getting into that match, assessing the pitch really well.
"All these are things that I play inside my head and try and be as prepared as possible getting into a game. With regards to how I go about my work, how I don't want to chase anything again and again, I want to keep it very simple. That's what I've learnt over the last year or so."
Ashwin registered excellent figures of 46.2-11-145-7 in the first innings and 20-5-44-1 in the second innings, contributing massively to a 203-run win.