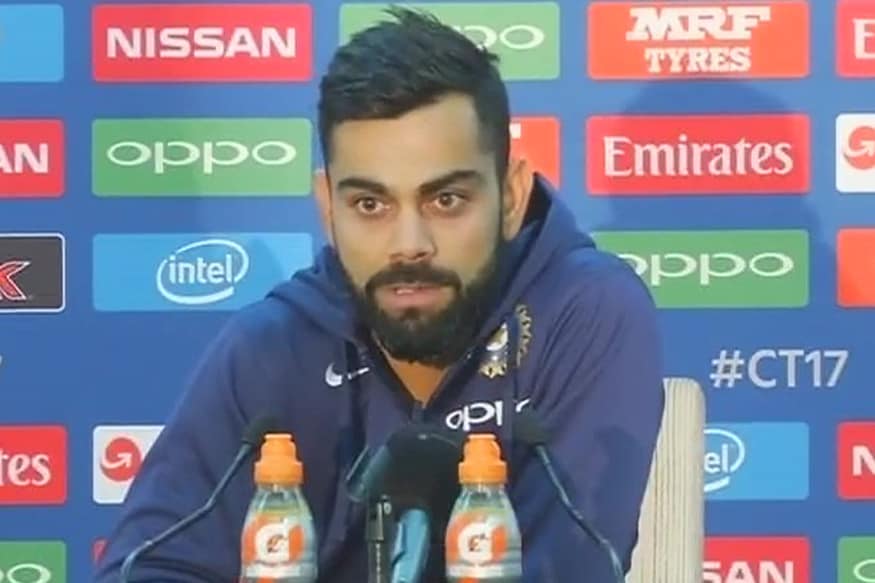 India vs South Africa: Live Blog
India vs South Africa Live : Full Scorecard
London: India skipper Virat Kohli has stressed on the fact that composure will be the key during India's virtual quarter-final clash against South Africa in Champions Trophy 2017 at the Oval on Sunday.
Speaking on the eve of the blockbuster contest, Kohli warned that over-excitement could prove to be costly and players will have to keep a check on their nerves if they want to achieve a positive result.
"You need to have a good balance of being competitive and being passionate and at the same time not getting over-excited. I think the team that treats the game as normal as possible are in a better position to get the right result," said Kohli.
"Lot of times, teams try to do something special and end up messing the game up in important situations. The team that will have better composure will have a better chance of winning the match tomorrow (Sunday). That it what I have experienced in the past."
With so much at stake, Kohli said that the players should relish the chance to show their best form in front of the watching world.
"As a cricketer honestly for me personally, I crave games like this. You want to be part of matches that are as important as this one and then if you perform in that and your team gets across the line, it's a different feeling," said Kohli.
"It improves you as a cricketer. Everyone looks forward to games like these and everyone is very excited."
Earlier, off-spinner Ravichandran Ashwin was seen sweating it out in the nets and after sitting out during India's first two matches, he is expected to take the field against South Africa. Also, the Proteas have three left-handed batsmen in their top order and that increases the possibility of Ashwin featuring in the playing XI.
Also Read: All Eyes On Ravichandran Ashwin On Eve of Must-win Clash
However, Kohli chose to not spill any beans regarding the playing XI and said that they are looking at all permutations and combinations possible.
"There are all kinds of possibilities. We definitely have looked at the last game and where we can make a bit of a change. We have already discussed those things. But I am not going to reveal anything now," said the India skipper.
Kohli also heaped praises of southpaw Yuvraj Singh, who is just two matches shy of becoming only the fifth Indian ever to play 300 ODIs.
Yes, it will be a magnificent achievement. Obviously you have to be super-skilled to be able to play that many matches for the country and noone as ever as any doubts over the ability that he possess to win games and he he done in big tournaments. Tomorrow is a big game as well. Two man of the tournaments in World Cups and India winning both of them. Personally in his life as well he has fought with bigger battles and that is a proof of character that he possess," said Kohli.
First Published: June 10, 2017, 5:49 PM IST