Southampton: At one end was Kagiso Rabada, breaking bats with his speed. South Africa were defending just 227, and Rabada bowled like a ferocious man who knew his spell was their only chance.
Rohit Sharma should have been out third ball he faced, a sharp bouncer from Rabada lobbing off the glove towards the slips. But Faf du Plessis could not dive forward in time. A furious Rabada ups the speed next ball, which Rohit can't touch.
At the other end was Chris Morris, enjoying the new ball after a long time, getting the ball to kick up and seam around from awkward lengths. Morris' second delivery whizzes past Rohit's edge. His third ball does find Rohit's edge, but the ball lobs just behind backward point.
Rabada again. He's breathing fire, and beats Rohit's bat twice in the next over. Soon, he has Shikhar Dhawan nicking behind. He welcomes Virat Kohli - about whom he has had a few interesting things to say recently - with three slips, and fires in a bouncer first ball. At the other end, Morris backs him up with a maiden over to the Indian skipper.
India managed just 14 for 1 in the first seven overs. If the ball wasn't white and the jerseys weren't coloured, one could have very well mistaken this to be a Test match; that's how intriguing the bowling was.
It's this passage that made Kohli call Rohit's century - a 144-ball 122 - "by far his best ODI innings". Kohli himself had a brief taste of the South African intensity, and could imagine what it must have taken as a batsman to ride through the storm and come out on top.
"In my opinion this is by far his best ODI innings because of the kind of pressure the first game brings from a World Cup point of view," Kohli said at the press conference. "And then I know, as a batsman, when you go in and a few balls bounce like that, it's not easy to gather yourself again and play in a calm manner.
"A lot of times batsmen tend to hit their way out of the situation. But he was very composed. Of all the brilliant innings I have seen him play, I think this, for me, was the top of the pile because of the way he compiled his innings. At no stage did we feel like, or he felt like he is going to throw it away."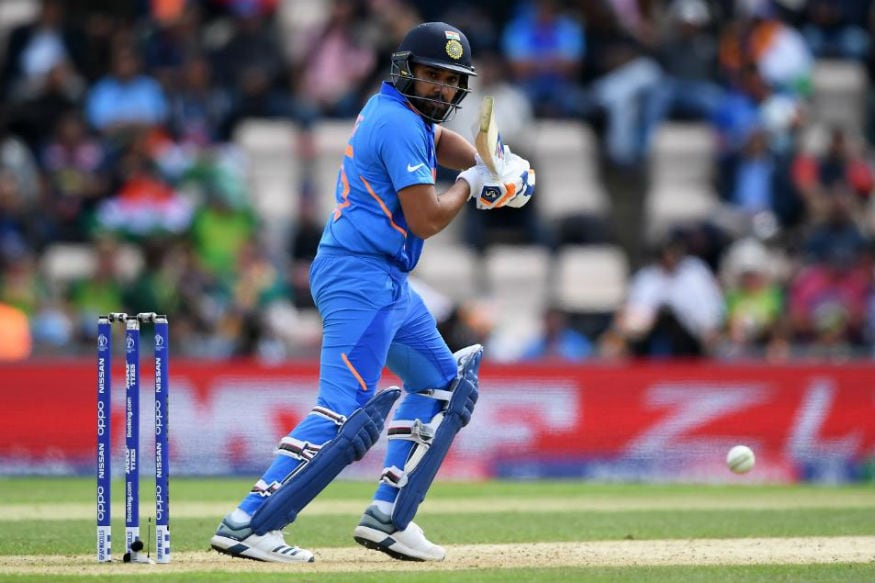 Rohit Sharma attempts a shot. (Twitter/ ICC)
As Kohli said, the easier option in the initial period would have been to throw the bat around and hope to connect. Rohit did that once when he loosely swung at the first ball of the eighth over, bowled by Rabada. However, he was quick to adjust immediately. Not by going into a shell, but by attacking only when the opportunity arose. Sensing an opportunity in Rohit's perceived impatience, Rabada banged in a short ball, but Rohit swivelled to hook it away for six. The next ball was full and outside off, and Rohit guided it past the slip cordon. Two balls later, he played an authoritative cut past backward point for four.
The three boundaries took pressure off the new batsman Kohli, but India still managed just 34 runs in the Power Play. That's exactly what South Africa put up, for one wicket more, but the difference between the sides from there on was Rohit. Rabada (5-0-21-1) and Morris (4-1-10-0) had completed their first spells, but Andile Phehlukwayo and Imran Tahir still did a decent job of keeping India down. Phehlukwayo nearly had Rohit LBW and even accounted for Kohli, bringing in the middle order which has been an area of concern for India.
India do not have a batting order that produces too many surprises. Their game plan is set, almost predictable. No batsman, barring maybe Hardik Pandya later on, is going to attack from the outset like a Jos Buttler. Definitely not KL Rahul, who will be keen to keep his No. 4 spot. And no way is it going to be MS Dhoni, who will always play only the situation. Sanjay Bangar called it a unique aspect of India's cricket, their ability to score runs without risks.
It's thus imperative that a set batsman goes on to make it big. Rohit did just that, being the constant factor in multiple small partnerships to guide India home. He allowed Rahul to ease into his first World Cup game, dominating an 85-run stand for the third wicket. While Rahul took 42 balls for his 26, Rohit kept India going. He put away the bad balls and targeted the weak link - Tabraiz Shamsi. He did that again with Dhoni, who was marginally quicker at 34 off 46 in a 74-run stand.
Through it all, Rohit paced his innings to perfection after the initial test. He made just 5 off his first 22 balls. From there on, he just had to bat. The low target meant he didn't have to do anything extraordinary. The extraordinary was done in the first phase, now he just had to bat. And bat he did. 5 off 22 became 50 off 70 which became 100 off 128.
It was his slowest century in the format, but in that lay the speciality. In his own words, "it wasn't a typical Rohit Sharma innings", but that's precisely what India wanted for this game.