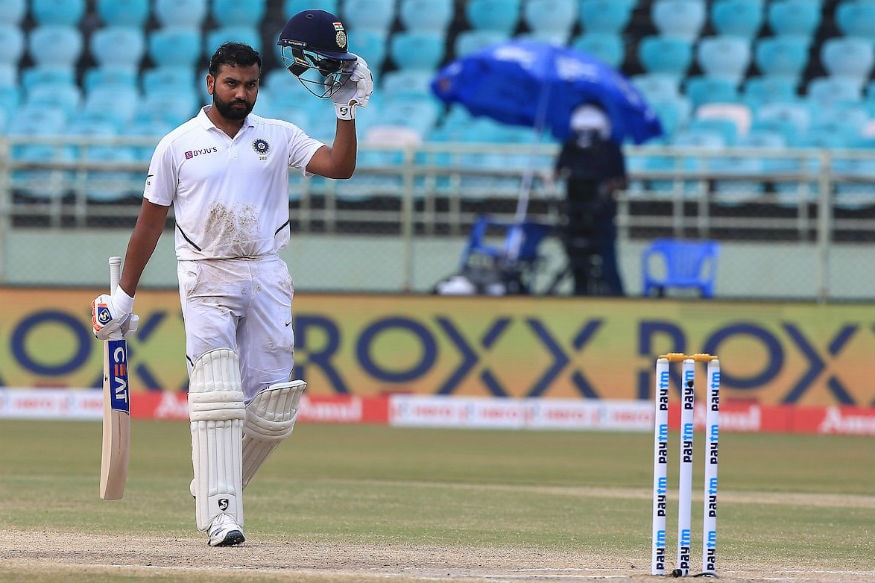 Rohit Sharma registered his maiden Test double hundred as his 212 off just 255 deliveries put India in a commanding position at the end of Day 2 of the third and final Test against South Africa at Ranchi.
2019 has been Rohit's year.
Second Highest Run-scorer in 2019
He has scored 1967 runs in 36 matches (and as many innings) in 2019 at an average of 56.2.
In terms of runs scored across the three formats, Rohit is second only to Virat Kohli (2047) in the calendar year. Joe Root (1551), Babar Azam (1495) and Quinton de Kock (1493) follow.
Rohit has scored 54.64 runs per innings in 2019, second only to Steven Smith (67.82). Virat follows with 53.87.
No one has registered more international hundreds than Rohit's 9 this year. Kohli is at number 2 with 6. No other batsman has crossed 4. This shows his appetite for the big runs.
Rohit is a big hitter and one of the best strikers of the ball. Not surprisingly, he has smashed the maximum number of sixes – 60 – this year.
He was the highest scorer of the ICC World Cup in England with 648 runs in 9 innings at an average of 81 and strike rate of 98.33. Only Sachin Tendulkar (2003) and Matthew Hayden (2007) aggregated more in any single edition of the World Cup. His 5 hundreds were the maximum for any World Cup.
Rohit has (thus far) aggregated 529 runs in just 4 innings (3 Tests) in this series – it is the fourth-highest aggregate for an Indian batsmen in any Test series comprising of a maximum of three Tests, behind Kohli (610 against Sri Lanka in 2017), Virender Sehwag (544 against Pakistan in 2005) and Sourav Ganguly (534 against Pakistan in 2007).
Rohit has registered three hundreds in the series. Only two other Indians – Mohammad Azharuddin (against England in 1984-85) and Kohli (against Sri Lanka in 2017) have registered three hundreds in a Test series (of a maximum three Tests).
Prolific 2019 as Opener
Among the 82 openers who have scored a minimum of 1500 international runs in any calendar year, Rohit's 2019 exploits rank him at number 15.
In terms of runs per innings, Rohit is at number 7 after Graham Gooch (59.46, 1990), Alastair Cook (58.73, 2011), Graeme Smith (58.16, 2008), Tendulkar (57.5, 1998), Hayden (55.08, 2002 and 54.90, 2001).
Only Tendulkar (1998), Graeme Smith (2005) and David Warner (2016) have registered as many hundreds in any calendar year as Rohit in 2019 – 9.
Among the Best Hundred-scoring Frequency
Overall, 84 batsmen have aggregated more international runs in a single calendar year than Rohit. But in terms of runs per innings (amongst these batsmen) Rohit, with 54.64 runs per innings, jumps to number 13.
Only Tendulkar (12 in 1998), Kohli (11 each in 2017 and 2018) and Rahul Dravid (10 in 1999) have registered more international hundreds for India in a calendar year than Rohit's 9 in 2019.
Rohit's frequency though of crossing a hundred (once every 4 innings) in 2019 is the third-best for any calendar year amongst these 85 batsmen after Hashim Amla (10 hundreds in 34 innings) in 2010 and Sachin Tendulkar (12 in 42) in 1998.
Rohit's 60 sixes in 2019 are the fourth-highest in a calendar year for any batsman in world cricket. Interestingly, he holds the record for the top 2 positions too with 74 and 65 sixes in 2018 and 2017.
With Bangladesh and West Indies set to tour India in November and December and a maximum of 11 international matches to go for India, Rohit can scale unprecedented heights in 2019 and and break more records.