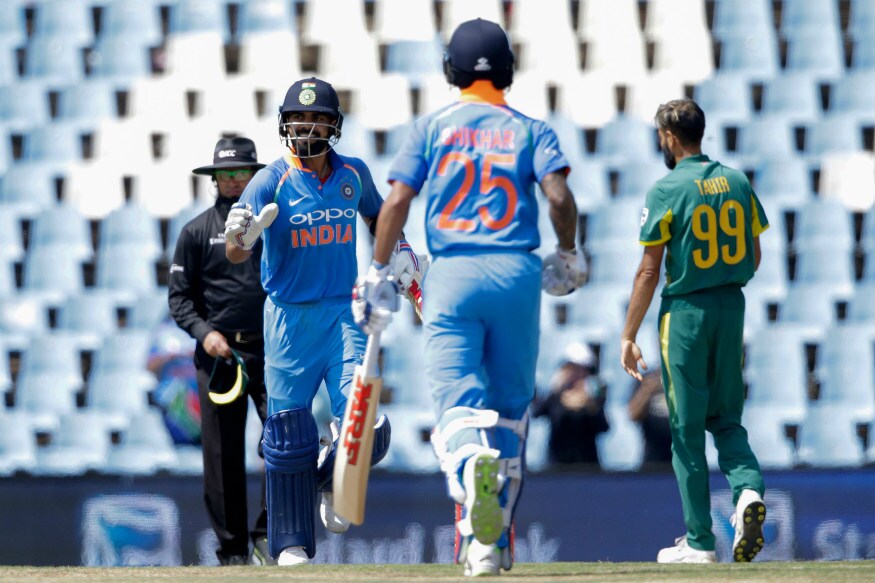 They won the World Cup at home in 2011. They beat hosts England in the final to win the Champions Trophy in 2013. They were unbeaten before losing the semi-finals to eventual champions Australia in the 2015 World Cup Down Under. They were the finalists in the 2017 Champions Trophy in England.
India have been simply phenomenal in world tournaments in ODI cricket in this decade. They have won 22 of the 27 matches they have played in these 4 tournaments (two World Cups and Champions Trophy tournaments each). Their 4 losses have come against South Africa in Nagpur (in 2011), Australia in Sydney (in 2015) and Sri Lanka and Pakistan at The Oval in 2017.
Their win percentage of 81.48% and win-loss ratio of 5.5 is by far the best amongst all teams in these four tournaments. India's dominance can be gauged from the gap between them and the second-best team in terms of these parameters.
If we restrict the analysis to world tournaments post World Cup 2011, India still has the best record. They have won 15 of the 18 matches in this period – a win percentage of 83.33%. They are followed by New Zealand who have a win percentage of just 60% (9 wins in 15 such matches). England and Pakistan follow with 8 wins each in 15 matches (53.33%).
What makes India's performance in these tournaments even more special is their consistency in domination. They won 9 of these matches with 6 or more wickets and 6 by more than 70 runs. Their average margin of victory batting first was 78 runs and 8 wickets when chasing.
INDIA'S SENSATIONAL BATTING
India's splendid and talented batting line-up has notched up some phenomenal numbers over these three tournaments – this is the main reason for the team's brilliant run in world tournaments in this period.
The collective batting average of India is 47.45 – by far the highest amongst all teams. Coupled with that is the rate at which they have scored these runs – 94.29 per hundred balls – and this is what makes the Indian batting so devastating and threatening.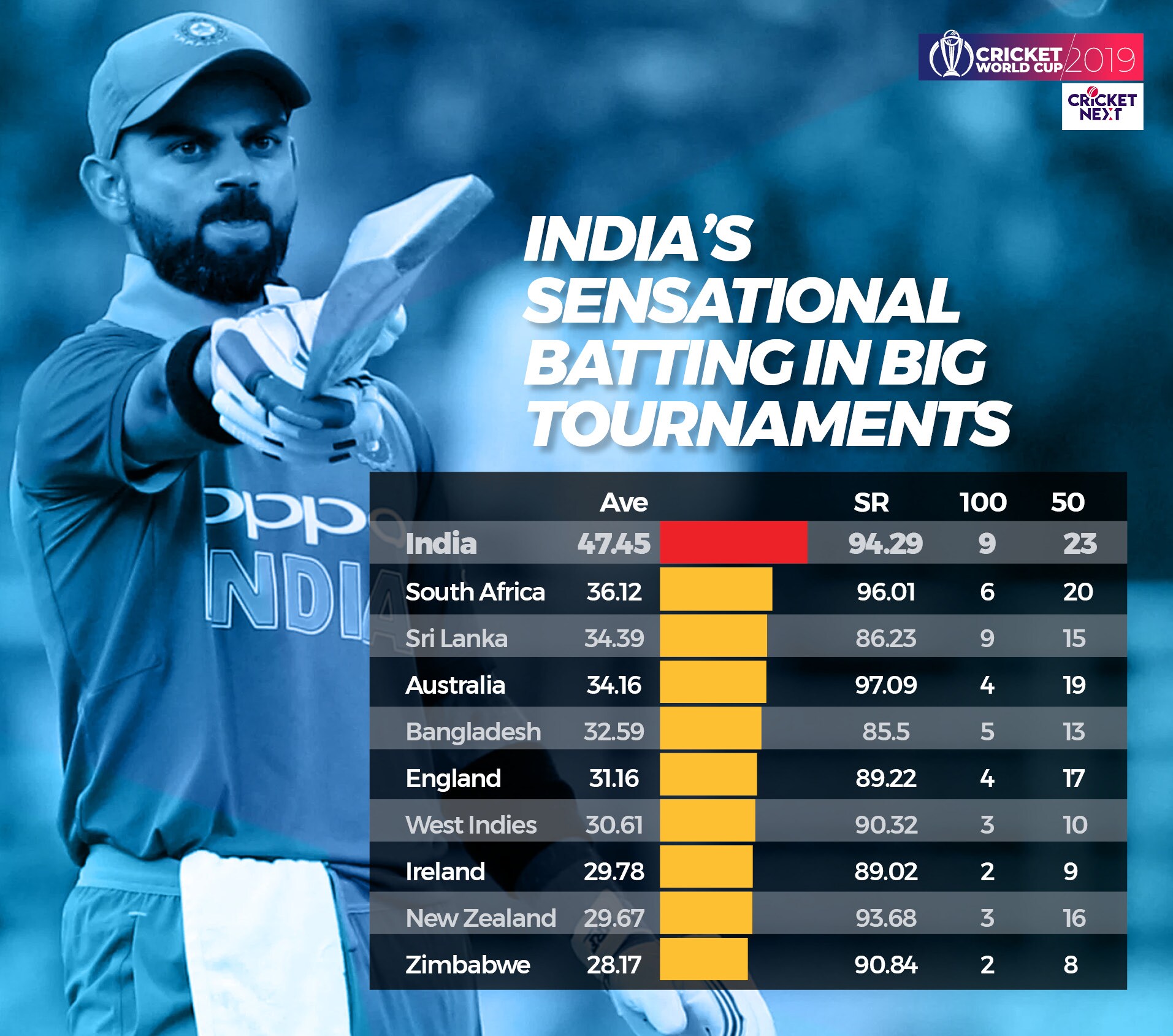 The difference between India and the second-best team in terms of batting average – South Africa – is more than 10 runs per dismissal. The Indian batsmen have scored big at a high strike rate. Not surprisingly, then, they have registered the maximum number of fifty-plus scores in these tournaments.
INDIA'S BIG 3 SCORE BIG RUNS ON THE BIG STAGE
India's big three – Shikhar Dhawan, Rohit Sharma and Virat Kohli – have notched some great numbers in ICC tournaments post 2011.
Dhawan is the highest scorer in the world in these tournaments with an aggregate of 1113 runs in just 18 innings. His runs have come at a brilliant average of 65.47 and strike rate of 97.71. He has registered as many as 5 hundreds, with only Kumar Sangakkara matching him on this count. His 114 in 94 deliveries in Cardiff in 2013 and 137 in 146 deliveries at the MCG in 2015, both against South Africa, were his standout innings.
He is followed by Rohit who has scored 811 runs in 18 innings at 50.68.
Kohli is the third Indian in the top 5 with 739 runs in just 18 innings at 67.18.
The presence of three Indian batsmen in the top 5 shows their ability to score big runs in the big tournaments – their temperament to rise to the occasion when it matters the most on the biggest stage of them all.
Kohli and Dhawan are also in the top 5 in terms of batting average.
Not surprising then that India have registered 6 300-plus totals in these tournaments – the maximum by any team.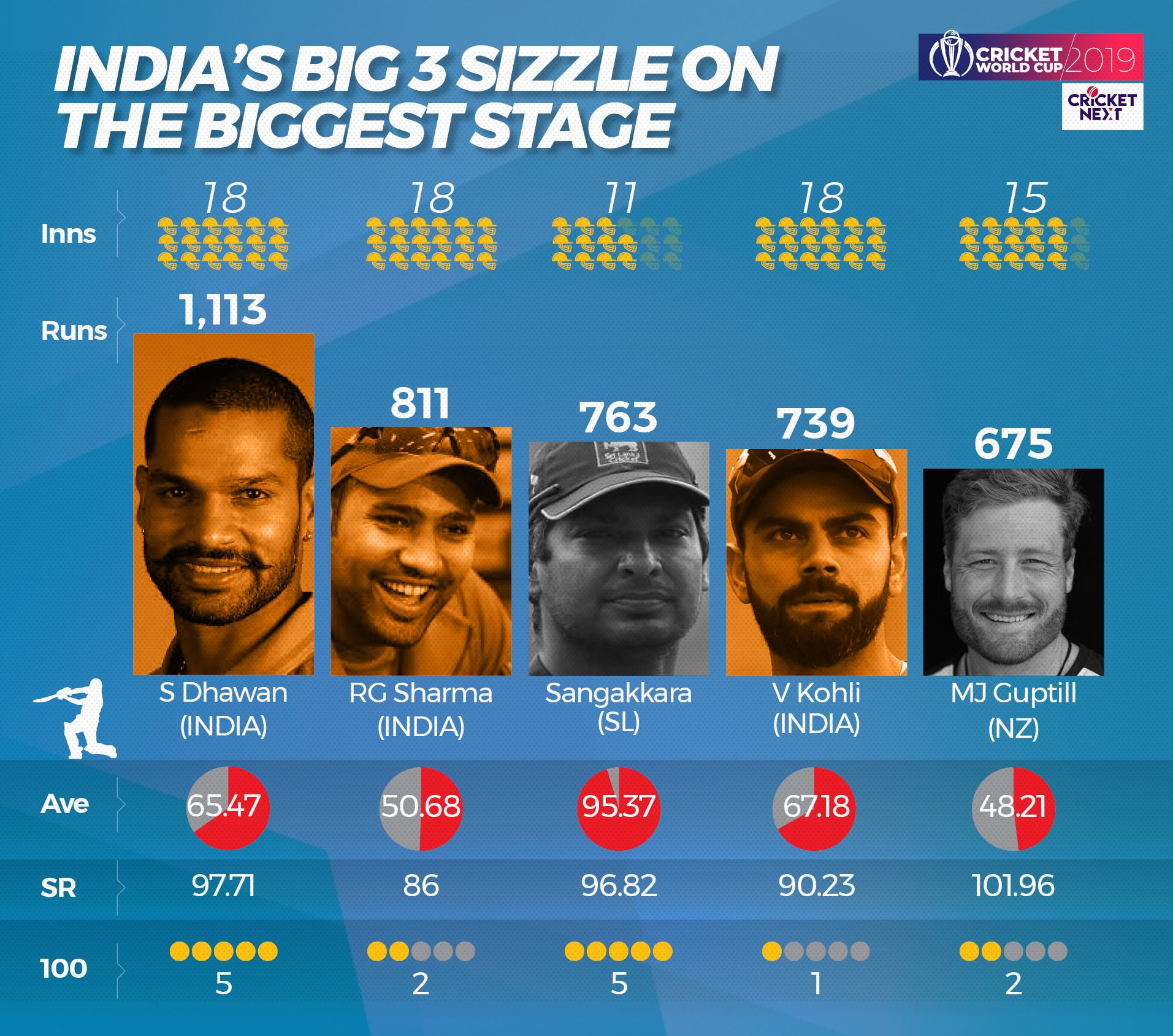 ECONOMY INDIA'S FORTE IN BIG TOURNAMENTS
India have the third-best bowling average and strike rate (after New Zealand and Australia) in big tournaments since World Cup 2011. The fact that they have bowled lesser balls per wicket and conceded lesser runs per wicket than teams like South Africa, Pakistan and England in conditions favouring pace bowlers (England and Australia) speaks volumes of their prowess with the ball – both with pace and spin.
But not only have the Indian bowlers threatened to take wickets, they have also been brilliantly restrictive. Their combined economy rate in these tournaments of 4.99 has been the lowest amongst all teams.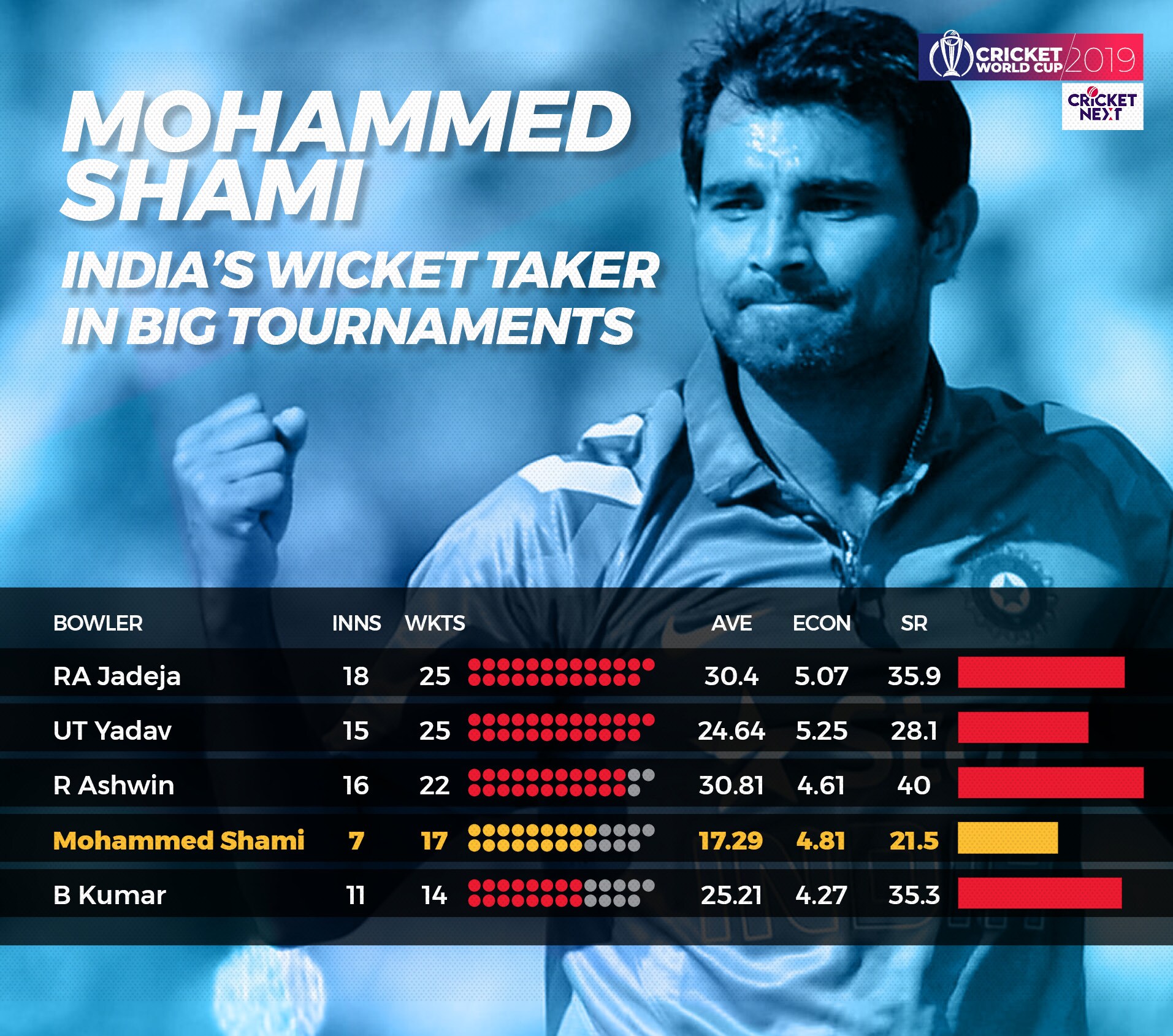 Three Indian bowlers – Ravindra Jadeja, Umesh Yadav and R Ashwin – are amongst the five highest wicket takers in these tournaments.
However, it is Mohammed Shami who has the most impressive record amongst all Indian bowlers with the best ability to pick wickets in the big matches. His average of 17.29 is the third-best after Hasan Ali and Mitchell Starc. He has picked 17 wickets in 7 such matches and also has the best strike rate for India (21.5).
Bhuvneshwar Kumar is India's most restrictive and the fourth-most economical bowler overall conceding just 4.27 runs per over.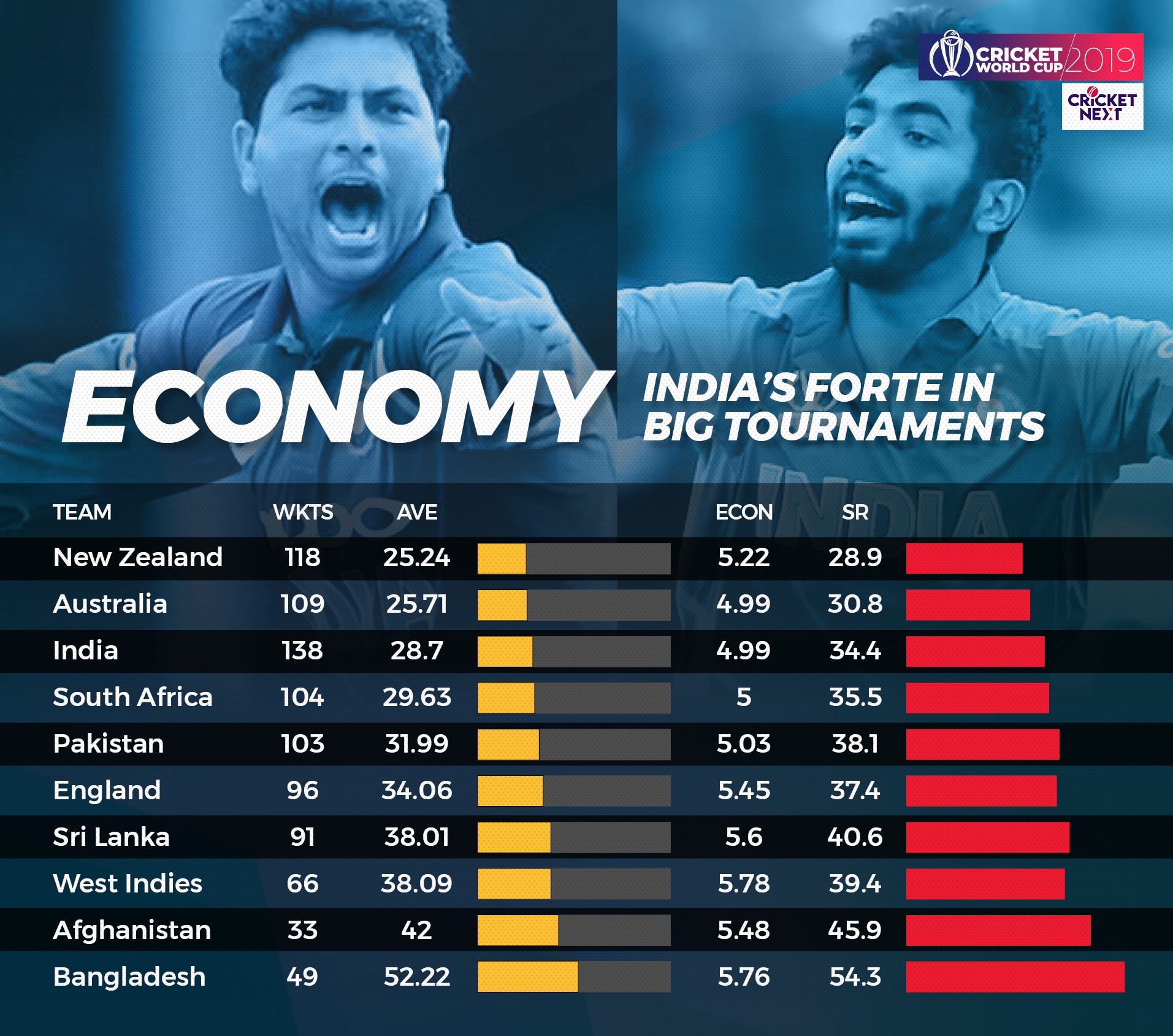 Clearly, the evidence suggests, India are the team to beat in the big tournaments. Their record is unmatched and their players have a special ability to raise their games on the biggest stage.