Unlike the ODI World Cup or even the World Test Championship, the T20 World Cup is the toughest format to build towards given the unpredictability of the format. 'Form' can change within minutes. Consistency is difficult to attain. Even if one manages consistency, it can all change in a matter of few overs.
The one thing within teams' control is preparation. India are leaving no stone unturned, doing all they can to build towards the tournament. India's eyes are trained on the T20 World Cup to be held in Australia next year. And maybe even the one following that the very next year.
India are set to play 17 T20Is from now till the IPL next year, with nine of those in 2019 alone. They've already begun their preparations with a 3-0 whitewash of West Indies in West Indies, their next challenge is a three-match series at home against South Africa.
Results matter, but not as much as experimentation. Coach Ravi Shastri said as much, pointing out that India would be looking to groom youngsters for the format with an eye on the T20 World Cup.
Indian team is in a situation where there is plenty of change, more in the bowling unit than batting. For the second consecutive series, India have rested Jasprit Bumrah, giving newcomers more opportunities. Bumrah doesn't exactly need bowling practise to stay in rhythm especially in T20 cricket. He can always walk into the side and do his thing.
Bhuvneshwar Kumar too is missing the South Africa series which means Navdeep Saini, Deepak Chahar and Khaleel Ahmed get more opportunities to make an impression. They've already done that, impressing in the West Indies tour.
The spin unit is fresh too; India have rotated out Yuzvendra Chahal and Kuldeep Yadav yet again, giving Rahul Chahar and Washington Sundar the baton with all-rounders Ravindra Jadeja and Krunal Pandya around too. Chahar had a highly impressive IPL and made his international debut in West Indies. The South Africa tour is an opportunity for him to enhance his reputation, with plenty of competition looming around. India are never short of spinners - apart from Kuldeep and Chahal, there's also the likes of Shreyas Gopal and Mayank Markande waiting in the wings.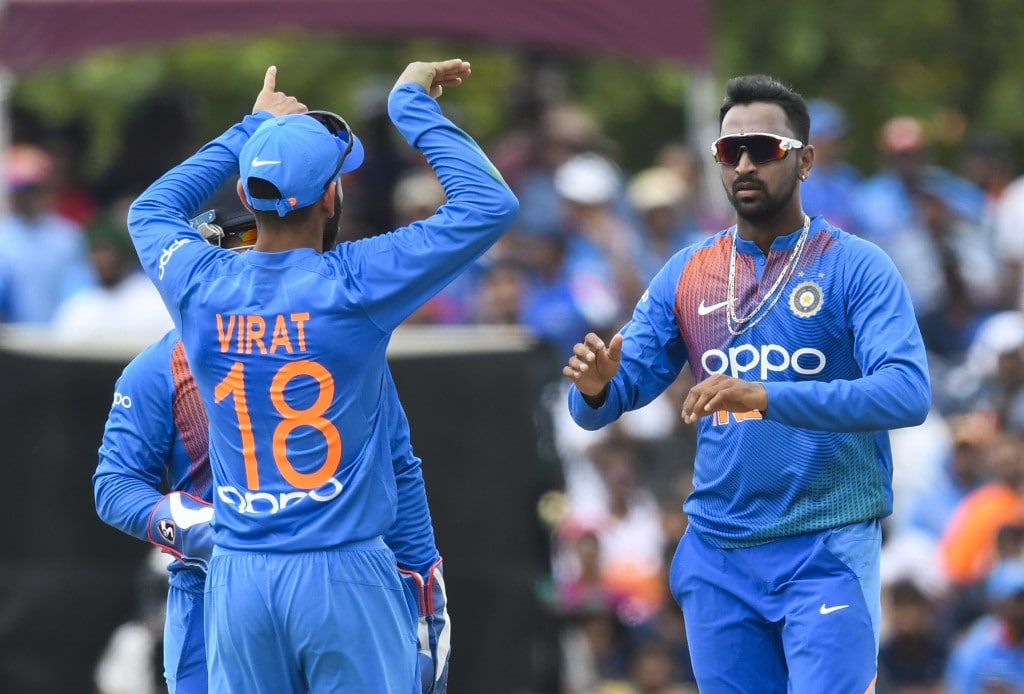 Krunal Pandya was brilliant with both bat and ball.
The more pressing issues are in their batting unit, which is largely settled but still needs some important things to fall in place.
It begins at the top - India have Rohit Sharma, KL Rahul and Shikhar Dhawan as three openers and have to decide on who their first-choice are. For the moment, it seems like they'd go with Dhawan and Rohit, but it's not easy with Rahul breathing down Dhawan's neck.
Dhawan had a poor tour of West Indies, scoring 1 (7), 23 (16) and 3 (5) in three T20I innings. India will hope it's a one-off and Dhawan bounces back soon.
Whichever combination India go with, they're known to be more 'steady' at the top than dynamic. It has worked for them, but there are occasions when that might have to change. The pitches in West Indies didn't allow India to bat freely, but the home series might give them that freedom.
India are a team with plenty of batsmen who can bat in the top order, but little dynamism in the middle. Rishabh Pant and Hardik Pandya provide that, but they also need to be more consistent, especially the former.
Pant was questioned for his shot selection in the first two T20Is in West Indies, where he slogged first and fifth balls respectively to be dismissed. He silenced critics with an unbeaten 65 in the third game, and needs to do more of that.
India played Manish Pandey at No. 5 in the West Indies tour and will have to decide if that's the best suited position for him. He scored 19 off 14, 6 off 8 and 2* off 5 in the three matches, and will hope for more games to seal the spot given he didn't exactly have a lot of time in the middle. The other batsman eyeing that position is Shreyas Iyer, but he isn't too different too.
Both Pandey and Iyer success in IPL 2019, Iyer more than Pandey. Iyer led from the front for Delhi, keeping an inexperienced and shaky batting line up together in the middle overs. He scored 463 runs, but yet again, all his success came from No. 3. Even then, his strike-rate was below 120. He's definitely not getting that position with Kohli around, which means he'll have to adapt to the middle order role.
Pandey too struck form in the latter stages for Sunrisers Hyderabad, with 344 runs from 11 innings after a poor start to the tournament. But his success too came after he was given a go at No. 3 - a position not vacant with the Indian side. He had a forgettable start in the middle order, and was even dropped for a few matches before he was promoted to the top order.
Krunal Pandya and Ravindra Jadeja can be trusted for a few cameos, but the 'stable' nature of the top order means the onus is on Pant and Pandya to become consistently dynamic.
It's such options that India will be searching for in building their T20 squad.