From the Bengaluru Test against Australia in March, 2017 till the Pallekele Test against Sri Lanka in August, KL Rahul was in prime form and had registered 7 consecutive fifties in as many innings – the frustration then was his conversion rate – the question then was – where are the big hundreds?
Since then the form has gone, the technique has changed and the career numbers have drastically dwindled.
The question now is – where are the runs?
From his debut in December, 2014 till the end of the Kolkata Test in November, 2017, Rahul was at his best in Test cricket. He scored 1421 runs in 20 Tests (32 innings) at an average of 45.83 including hundreds at Sydney, Colombo and Kingston (and one in Chennai). He also hit 10 fifties.
In 14 (of his 32 innings) he had registered a score of less than 20 (43.75% failure rate). He faced approximately 77 deliveries per innings which translates to roughly 13 overs which basically means he was at the crease for a session.
And then.
From the Nagpur Test in November, 2017 till the Kingston Test in August, 2019, Rahul has played 16 Tests (28 innings) and scored just 585 runs at a paltry average of 21.66 – a fall of over 50%! He has managed just a solitary hundred and a fifty in this time-frame.
His failure rate (% of innings below 20) is at a staggering 68% (19 times in 28 innings). The time spent at the crease has drastically gone down and on an average, Rahul has faced just 39 deliveries, per innings in this period – that is half the number of deliveries he faced before.
Amongst the 61 top-middle order (1-6) batsmen who have scored a minimum of 300 runs in this period, Rahul's average is the second-worst after Shai Hope of the West Indies – that is how poorly the Indian batsman has fared in this period.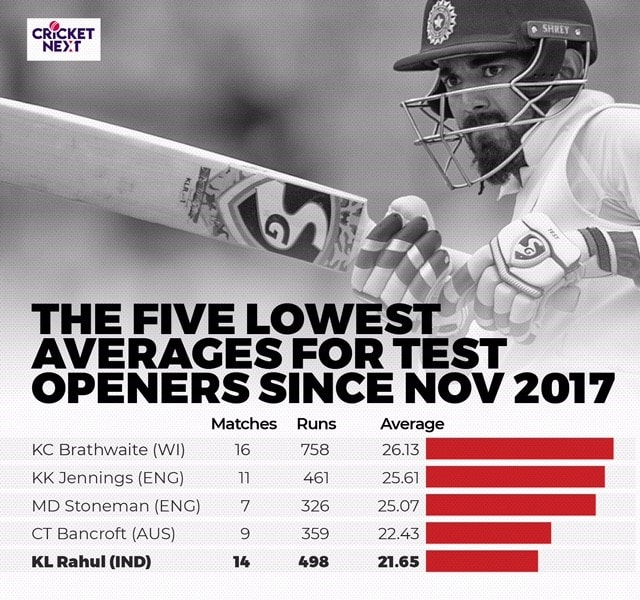 NOT IN THE LEAGUE OF BEST
His talent notwithstanding, Rahul's performance as an opener has been abysmal in the last couple of years (since 24th November, 2017).
He has scored just 498 runs in 14 Tests (24 innings) in this period at an average of 21.65. It is the worst average amongst all the 19 openers who have scored at least 300 runs in this time-frame.
Rahul, the opener has, on an average, faced 40 deliveries per innings in this period – again, the lowest amongst all the 19 openers.
His failure rate (% of innings scored below 20) is also the highest on this list. Rahul has scored below 20 in as many as 16 of his 24 innings as opener, ie a failure rate of 66.67% - which basically means that Rahul is failing 2/3rds of the times he comes out to face the new ball.
It gets worse. Rahul has been dismissed for a single digit score in half the innings he has batted in this period – 12 of 24 innings. Only Jeet Raval of New Zealand matches this dismal percentage.
Rahul's issues have been technical as well as in the head. He has been bowled or lbw in 13 of the 23 times he has been dismissed in this period. To tackle that and to reduce the gap between his bat and pad he changed his stance – instead of holding his bat at a 30-45 degree angle he started picking it much straighter. But the change in stance did not see any improvement in his numbers. Off late, he has been caught in two minds whether to play the ball or leave it and has had his share of difficulties in the corridor of uncertainty.
Rohit Sharma has been the preferred choice of the selectors in place of Rahul and as all set to open the batting against South Africa. The selectors are hoping he can do a Sehwag for India in Test cricket. Interestingly, Rohit's ODI career took a dramatic turn after he became a regular opener – in many ways emulating the career of Sachin Tendulkar.
The two potential openers to miss out were Priyank Panchal and Abhimanyu Easwaran.
Panchal has scored 6186 runs from 87 first-class matches at an average of 47.22 with 21 hundreds. He was the highest run-getter in the 2016-17 Ranji Trophy scoring 1310 runs in 10 matches. He was the fourth-highest scorer in the 2018 Ranji Trophy aggregating 898 runs in 9 matches (for Gujarat) at an average of 59.86 smashing 4 hundreds. His recent exploits include a 160 against Sri Lanka A in Belgaum in May 2019 and a couple of fifties in the Caribbean.
Easwaran , at 24, is five years younger to Panchal and has scored 4067 runs in 52 first-class matches at an average of 49.59 including 13 hundreds.
He smashed a match-winning 153 helping India Red to an innings victory in the Duleep Trophy in Bengaluru earlier this month. He had aggregated 861 runs in the 2018 Ranji Trophy at an average of 95.66. He also recorded a double hundred against Sri Lanka A in Belgaum earlier this year.
With Rohit in the mix as an opener and the likes of Panchal and Easwaran waiting in the wings, it might be a while before Rahul can work his way back into the Test XI.
With 7 single-digit scores in his last 12 innings (since his 149 at The Oval) at an average of 17.72 and a high of 44, Rahul has no one but himself to blame.