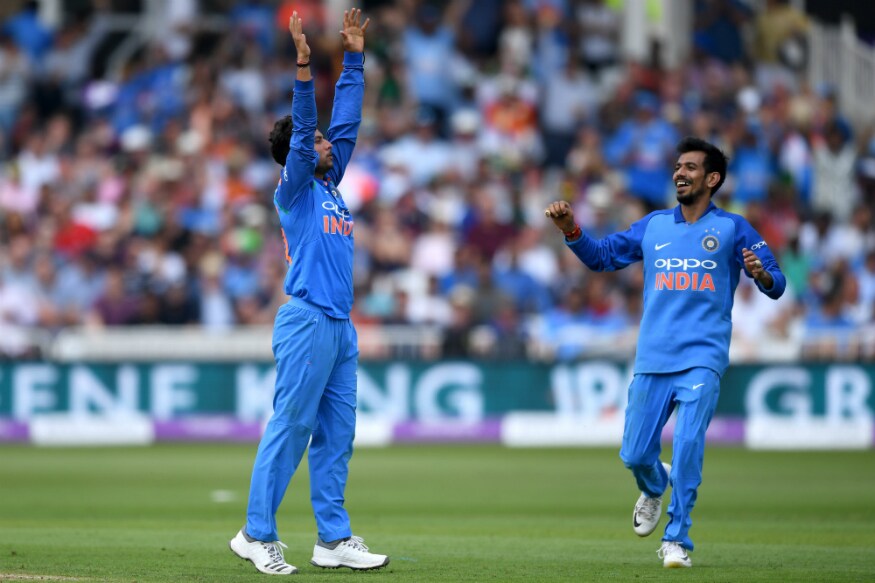 Not too long ago, India had to take some tough decisions in the bowling unit for sake of balance in their one-day team. In an ideal world with everyone in form, India would have played Kuldeep Yadav and Yuzvendra Chahal together with Jasprit Bumrah through the 50-over World Cup, making their attack varied and balanced. Mid-way through the tournament, though, they needed to work things around for various reasons, and they decided to split the Kul-Cha combo.
The 'various reasons' include an unsettled middle order and a lack of depth in the batting, along with loss of form of one of the spinners.
India have now gone the same way with their T20I side too. In fact, they've gone one step further, dropping both Kuldeep and Chahal from their squad for the second consecutive T20 series. Playing both Kuldeep and Chahal hurts their batting depth, and that's a strong enough reason for India to take the tough decision, at least temporarily.
"That (batting depth) was one of the reasons, it also to give opportunities to the guys who have done well in the domestic format and the T20 format, in the IPL also," Kohli explained ahead of the South Africa series.
"So, I think it's about finding the best balance that we can as a side and not necessarily stick to one kind of combination. If all teams across the world are batting till No. 9, 10 why can't we?"
"You need to take those calls at one stage. Bringing those guys (into the set up by dropping R Ashwin and Ravindra Jadeja) at one stage was also not taken well by people. Look, whatever decisions are made, are to make sure that the team has the best and strongest balance that we can have approaching the T20 World Cup that we have next year. So, it's part that (batting depth) and part to check out the guys who are up and coming."
It's an interesting call because it seemed improbable not too long ago. Chahal and Kuldeep were hailed, with good reason, for being wicket-takers in middle overs of limited-overs cricket. India tasted plenty of success when both operated together too. In 10 matches they played together, India won eight and lost just two. Batting depth wasn't exactly a factor too.
In the 10 games, India scored more than 150 six times, including three scores above 200. Much of that, as always, was down to the form of the top three batters.
Individually too, both spinners have good T20 records, Kuldeep better than Chahal. Kuldeep has 35 wickets from 18 T20Is, with an economy of just 6.72. Chahal has 46 wickets from 31 T20Is at an economy of 8. His T20 form has been on the wane since the tour of Ireland too, and it's not entirely surprising that he has been left out. Kuldeep, though, did little wrong apart from having a poor IPL.
That's why the duo might be out of squad, but are unlikely to be out of India's T20 World Cup plans. India are being proactive in trying out new combinations, which is not a bad thing after all.
Three of the four spinners in the current Indian T20I squad can be handy with the bat; Krunal Pandya and Ravindra Jadeja are good enough to be called all-rounders. Washington Sundar has been an opener in Tamil Nadu Premier League T20 tournament where he even has a century. He averaged above 31 in first-class cricket too. Rahul Chahar is lesser of a batsman, but not entirely a mug with the bat. India might also look at Shreyas Gopal, another legspinner with decent batting abilities, some time in the future.
Only Bhuvneshwar Kumar and to an extent Deepak Chahar are handy lower order batsmen among the pacers, which makes it important for India to try out spinners who can bat. In the three T20Is against West Indies, India went with lengthy batting line-ups, with handy batsmen up to No. 9.
The No. 9 might not exactly win T20 matches with the bat, but the perception of batting depth will allow the middle order to play with more freedom, especially in the 'transitional' phase.