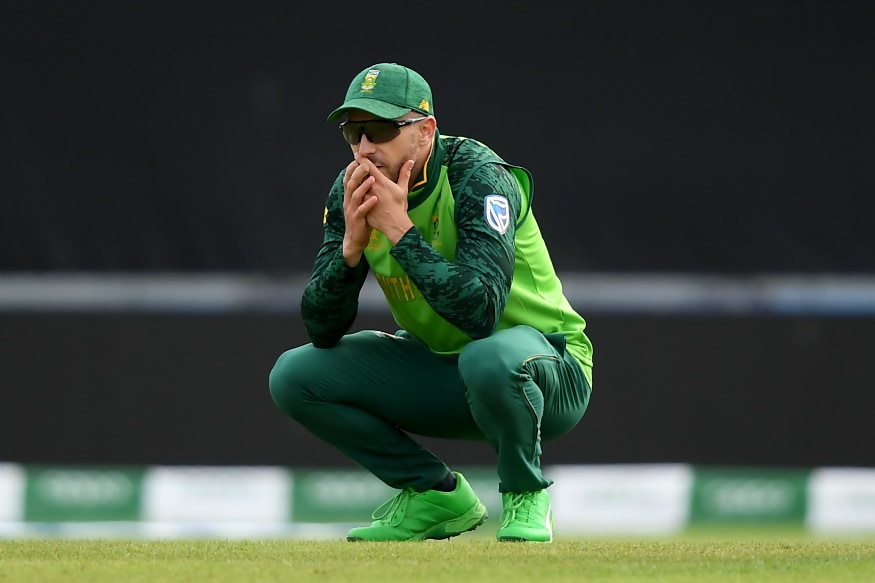 South Africa knew this would happen, because it already did.
In February 2018, they lost a six-match ODI series at home to India and their batting line-up only managed a total over 210 once. On South African pitches, Yuzvendra Chahal and Kuldeep Yadav took more than half of the wickets between them - 33 out of 60. And Faf du Plessis fractured a finger in the first match, ruling him out of the rest of the series.
Despite the result, South Africa used that series to mark the start of what they called "Vision 2019," their masterplan to win the World Cup. After that, South Africa went on to play 21 more ODIs before this tournament, and of those, they won 16 which makes for good reading. Take a closer look and the results are less convincing.
Eight of those victories came against Sri Lanka, including a 5-nil whitewash in the lead-up to the World Cup. Three others were against Zimbabwe, who are not even at the World Cup. The remaining wins were in a more closely-fought contest against Pakistan which South Africa won 3-2 and in Australia, six months after sandpaper-gate, before the return of prodigal sons Smith and Warner. Simply put, South Africa did not really face, or beat, formidable opposition between the India series where they were schooled and this tournament, where they are being schooled again.
In both instances, batting is the obvious problem, specifically batting against wrist spin perhaps best explained by the fact that even South Africa's most experienced batsman does not have a clue.
That's JP Duminy, who knew this could happen because it already has.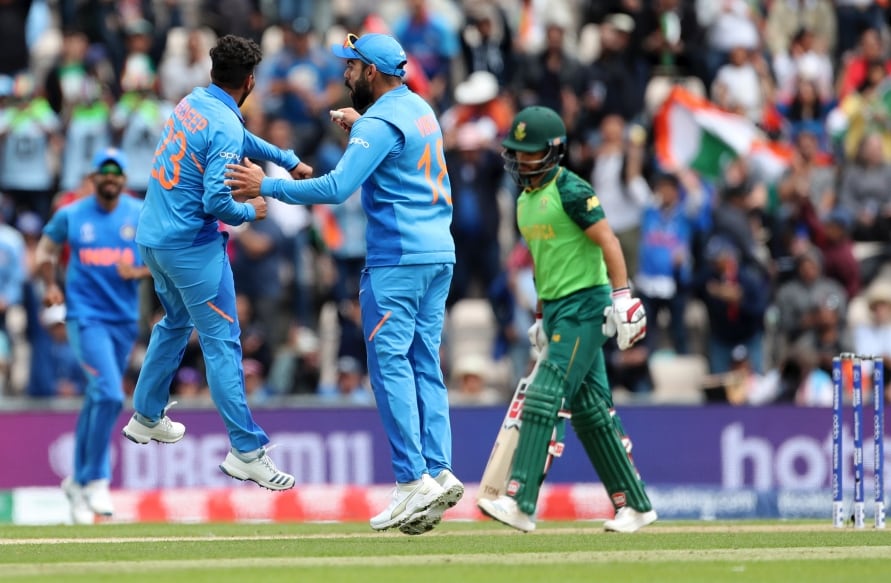 Kuldeep Yadav celebrates after taking the wicket of JP Duminy. (AP Photo)
Duminy was dismissed by Chahal and Yadav four times (twice each) in that series. He didn't pick the googly or the flight and he didn't anticipate the drift. Three out of those four times, he was trapped on the back foot, twice he was given out lbw and once, he was bowled.
Despite a decade-and-a-half as an international player, Duminy's average has not risen into the 40s since the 2011 World Cup. Still, he was part of "Vision 2019," even though he only played in 10 of the 21 ODIs that followed, spent months on the sidelines with a shoulder injury, did not score over 16 runs in any of his last five innings and announced his intention to retire from ODI cricket after the tournament.
It's harsh to single out one player from an XI that is wholly responsible for their position they find themselves in, with no points from three World Cup matches, but some responsibility has to be taken.
Faf du Plessis will have to explain why he chose to bowl first on a flat track against Bangladesh and bat first under cloudy skies against India but even though his decision-making is curious, his commitment is obvious. Du Plessis was hit on the back hand when batting today - and there may yet be some damage done - but he carried on. He dropped a catch and wrung out the same hand, and then strapped it up and carried on. As captain, he is facing his toughest challenge and he needs support from his senior core.
That's where the rest of the batsmen come in, more so because of the gap they are trying to fill. That 2018 India series was also AB de Villiers' last outing leaving South Africa with those 21 ODIs to seek a suitable replacement. They tried everyone from A(iden Markam) to (Ree)Za Hendricks and eventually settled on much of the same because they valued experience.
Duminy and David Miller would be the fulcrum and Markram and Rassie van der Dussen the other options. Ironically, van der Dussen, the least experienced of the lot, has shown consistent ability to absorb pressure.
In this match, he will be remembered for premeditating the reverse-sweep so far in advance that his front foot was stuck when Chahal sent the ball towards leg stump and he was bowled around his legs. Still, van der Dussen is South Africa's highest run-scorer so far and they would be foolish to go into the rest of the tournament without him, which shifts the focus to Duminy and Miller, It also begs the question of why Markram, who played for Hampshire immediately prior to the World Cup and was the fourth-highest run scorer in the Royal London One-Day Cup was left out of the XI today.
Yuzvendra Chahal reacts after picking a wicket. (Twitter/ ICC)
With South Africa in serious trouble, Duminy went back in his crease to Yadav and was struck on the pads. In vain, he used South Africa's review. Miller fared better today after he was effectively put on notice when he was left out of the team for the opener but also fell to the spin. He did not get to the pitch of a Chahal delivery and skied a simple return catch. When the same was offered to him in the field, late in the Indian innings when Rohit Sharma top-edged Rabada, Miller spilt a sitter. It was too late for it to matter to the result, but it does demonstrate the mindset of two of the men South Africa should be able to rely on. Their confidence has been crushed and it's up to the younger crop to lift South Africa.
In theory, that could happen as things are set to get a little easier for the next handful of matches against West Indies, Afghanistan, Pakistan and Sri Lanka before the final league match against Australia in early July. In practice, things were never supposed to get this hard. But maybe South Africa knew this would happen because it already has several times before.
South Africa picked a squad that included a just-more-than-half-fit Dale Steyn, and a pack of quicks who had all been injured in the lead-up, just as they have picked an injured Steyn (and Vernon Philander) before. They included their veteran opening batsman Hashim Amla on sentiment and not form, just as they had done with Jacques Kallis and Mark Boucher in years before. They had good game plans but made bad mistakes, as has been the case in tournaments past but the difference is that this time they are only beginning. There's still time for South Africa to script the ending that they haven't had before, but they need to start writing very, very soon.