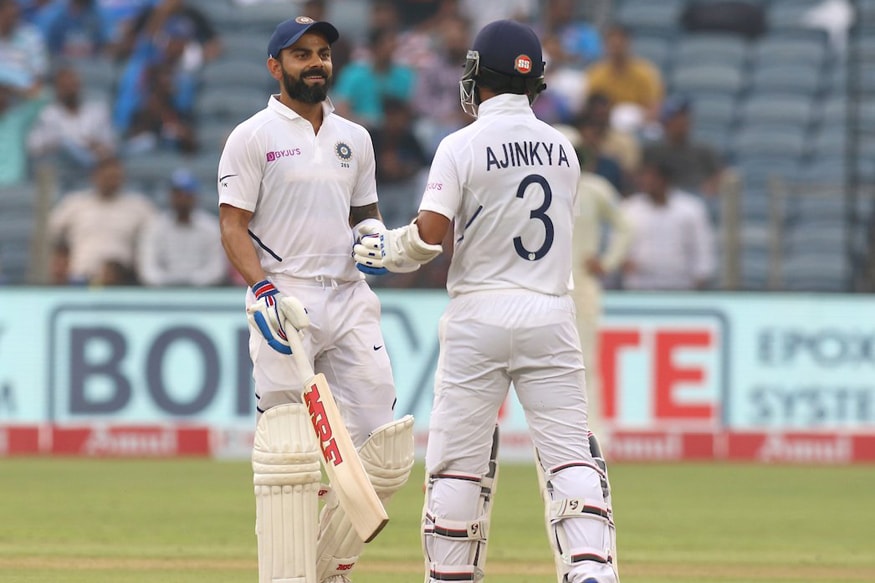 An outstanding first innings double century by Virat Kohli was crucial in setting up a massive record-breaking win in the second Test against South Africa in Pune. The Indian captain who put on a 178-run with his vice-captain Ajinkya Rahane explained that all through his only goal as captain is to put his side in a commanding position.
Kohli remained unbeaten on 254, and even though the thought of a triple century would likely have crossed his mind, the declaration on Day 2 was timed to perfection.
"The mindset is always to help the team and in that process, the big scores come. I think the moment you start thinking about the team, all the pressure goes away," Kohli explained in the post-match presentation ceremony.
"I am at a stage in my career where I am happy to be playing the way I am and contributing for my team. Putting the team in a commanding position is the only goal."
"It's been a natural progress to have a calm mindset over the years. I have a good understanding at that and hence the muted celebration."
Speaking about the crucial partnership with his vice-captain, Kohli explained that Rahane helps him stay focused.
"I enjoy batting with Jinks (Rahane), he has a great mindset. We communicate and run well between the wickets. We are probably the most successful Indian pair and the only reason is both of us play for the team. We take a lot of pride in that. Having him at the other end, keeps you focused."
The Indian team consolidated their position at the top of the points table of the World Test Championships with a second consecutive series win, and the skipper believes that it culminates from executing their plans well.
"The good thing is when we started, we were at number 7. The only way was up. We had laid down a few things and are all lucky to have this group of players."
"In the last 3-4 years, it's amazing to see that hunger for all the guys to keep improving. Wriddhiman Saha was back to his best, coming into Vizag you could see he was nervous. Ashwin has stepped up beautifully and it's the guys who are willing to work hard on those one or two percent things for the team that make the difference."
"It's been nice and looking at the larger picture - the Test Championship, every game has even more value."
With the series wrapped up, and in some style, India and Kohli move to Ranchi, the home of the skipper's predecessor. Kohli promised to crank it up further as they look to complete an emphatic whitewash in the first series of the home season.
"We are not going to take the foot off the gas in the third Test. We are looking for a result and hopefully make it 3-0.
"No-one's going to relax at any stage and that is a guarantee."