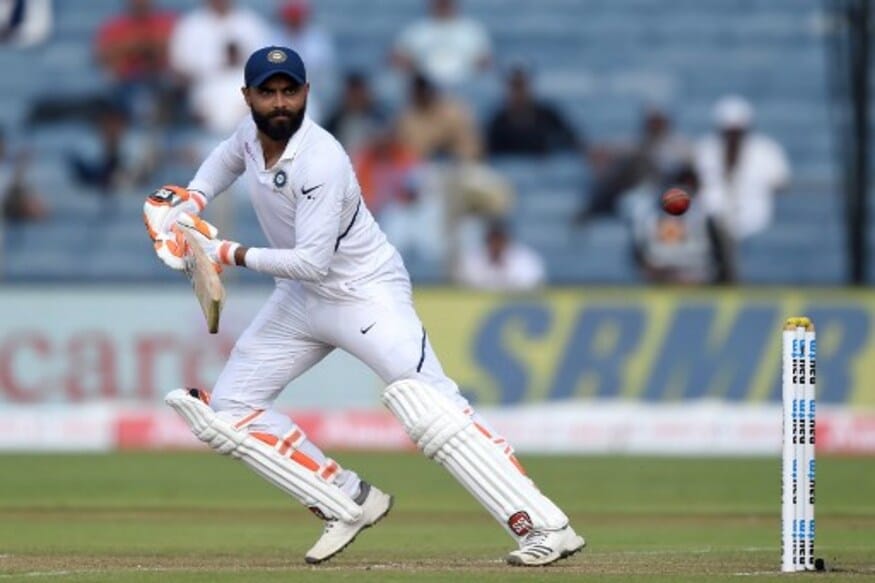 Rohit Sharma's three centuries. Mayank Agarwal's two centuries. Virat Kohli's double-century and Ajinkya Rahane's 11th Test century. Cheteshwar Pujara too has had two half-centuries, making this a great series for the Indian top order. These are the big contributions that win series.
While these are obviously the talking points from the series, the Indian team is known to talk a lot about 'small contributions'. During the last home season a couple of years ago, Kohli stressed on the importance of highlighting contributions that don't always appear big, yet play crucial roles. The role of the pacers during that home stretch was one such area that Kohli kept talking about.
In this series too, the Indian batting unit has had one such 'small' but regular contributor amid all the big guns. Ravindra Jadeja has made 214 runs from four innings at an average of 71.33, making telling contributions each time he has batted.
Jadeja made one such knock in the third Test against South Africa in Ranchi, making 51 to stretch India's total close to 500. He had played similar knocks in the previous Tests too, with India pushing for declaration in each innings; his scores read 30* and 40 in Visakhapatnam, and 91 in Pune.
The innings in Ranchi was slightly different. The previous knocks had all come at good pace, with 65 being his lowest strike-rate. Here, he took 119 for his 51, playing to the pace of the situation.
Incredibly, in a stat that shows the dominance of the top order, the 306 for 4 in this Test is the lowest score in which Jadeja has walked out at No. 6 (he was promoted to No. 4 in the second innings in Vizag).
The previous two times he walked out at No. 6, the scores read 376 for 4 (Pune) and 431 for 4 (Vizag). It dictated Jadeja's approach too, as he took a little more time than usual.
Jadeja played second fiddle to Rohit, who completed his double-ton. The steady batting continued in two mini-partnerships with Wriddhiman Saha and R Ashwin, before he fell caught behind to George Linde.
It was around the time he'd have liked to explode, but Jadeja fell one ball after reaching his half-century.
However, the knock was further proof of Jadeja's improvement as a batsman in the last one year. He can now be trusted to bat at No. 6 and not just to accelerate towards declaration. His batting is the main reason he's trusted enough to be the lone spin-bowling all-rounder overseas.
The turnaround for Jadeja the batsman started at The Oval against England last year. Jadeja was left out of the first four Tests, but grabbed his place on return scoring 86*.
He followed it up with a maiden Test century in the home series against West Indies. Three innings later, he continued his form with an 81 in Sydney against Australia. He scored a half-century in West Indies too, prior to this series against South Africa.
Jadeja's overall batting average in Tests is 34.74. His average since return at The Oval is 57.6. He's not just a dasher who throws his bat around with the tail, but a composed batsman who can play longer knocks according to situations.
He's shown he can be selfless too; he had a great opportunity to get his second Test ton in Pune, but he attacked in pursuit of big runs and perished nine runs short.
Jadeja is crucial to this batting order for he is the only left-handed batsman in the side, with India opting for Saha ahead of Rishabh Pant.
It's one of the reasons he has consistently got opportunities to bat at No. 6 this series, to take on left-arm spinners Keshav Maharaj, Senuran Muthusamy and now George Linde. He's made the most of these opportunities each time.
The top order's dominance this series has meant Jadeja hasn't had to face tough situations. Those challenges could come in later games, but for now, India will be pleased with the rise of Jadeja the batsman.