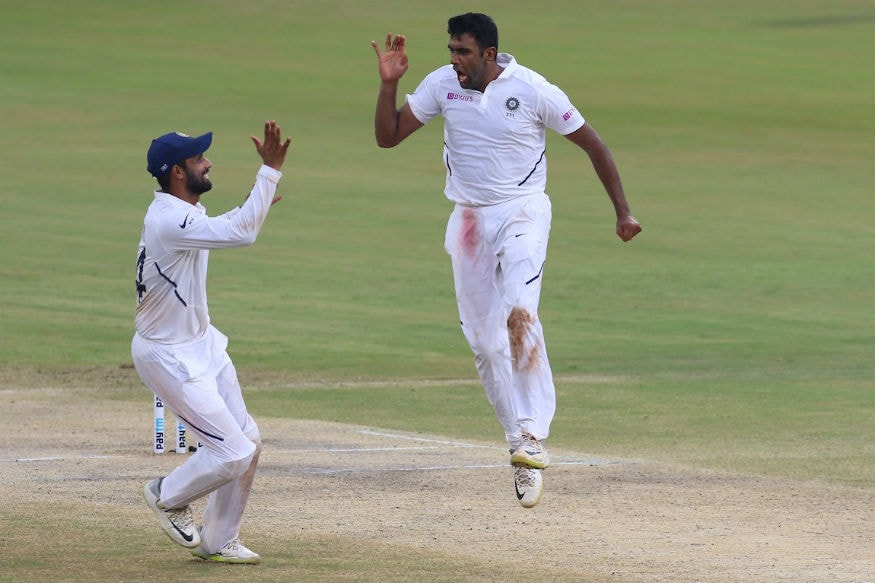 India sealed a memorable 203-run victory in the first Test at Vizag on Sunday. It might appear as a one-sided game if we look at the result but the game was evenly contested till Day 4 before the bowlers simply ripped through the South African batting line-up.
India ticked most boxes with openers scoring runs and all the bowlers contributing to the success as Kohli's men showed why beating them in home conditions is currently the toughest task in world cricket.
Cricketnext gives its player ratings for the Indian team for the first Test.
Rohit Sharma - 176 & 127 | (10/10)
Rohit Sharma in action (AFP)
There was a lot of talk about Rohit Sharma leading into the first Test with many raising doubts about his credentials as a red-ball opening batsman. However, Rohit answered his critics in style as he smashed twin centuries on debut as opener and showed what India had been lacking at the top of the order. He also smashed 13 sixes in the game – most in a Test match as he simply took the game away from South Africa, especially in the second innings where he scored at a strike rate of 85 and helped India quickly accelerate their lead. If he can maintain this consistency, then India might well have found their replacement for Virender Sehwag.
Mayank Agarwal – 215 & 7 | (9/10)
(Pic: AFP)
Agarwal became India's first opener to score a double century since his idol Sehwag. He hit shots all around the ground and forced South Africa into submission with his sublime strokeplay. He used his feet well against the spinners, giving them the charge and clearing boundaries at will. Agarwal also isn't afraid to grind it out when required, and often bats according to the conditions. He is also a safe fielder at forward short leg and silly point. Agarwal and Rohit have certainly solved India's opening puzzle for a considerable amount of time.
Cheteshwar Pujara – 6 & 81 | (7/10)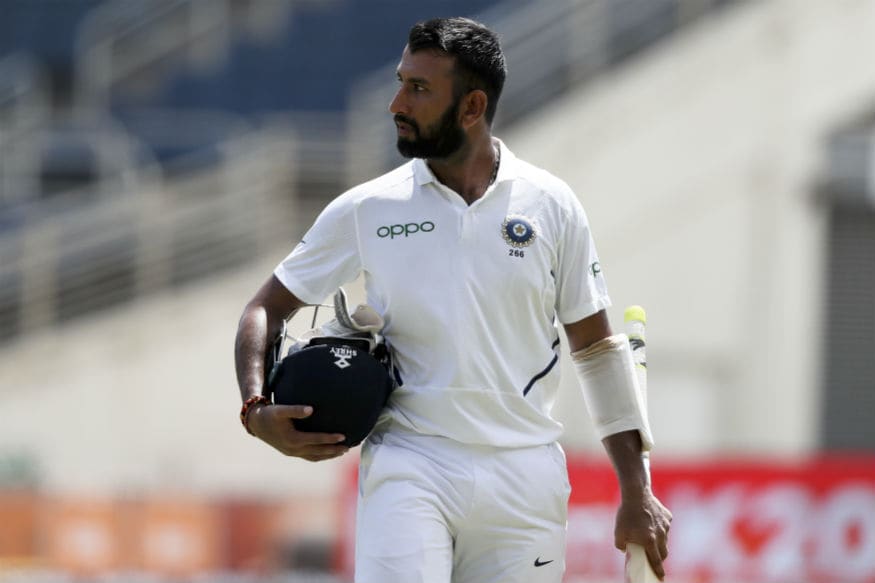 Twitter
Pujara needed a good performance after a disappointing tour of the West Indies. He got an absolute peach of a delivery from Philander in the first innings but we got to see a new Pujara in the second innings. He started off slowly but after settling down, he was outscoring Rohit Sharma. Pujara showed he is capable of playing the aggressive game when needed as he hit 13 boundaries and two maximums. He was unlucky to miss out on a deserving century as Philander removed him again. He also made an important contribution in the field, taking a good diving catch to remove Dean Elgar in the first innings.
Virat Kohli – 20 and 31* | (5/10)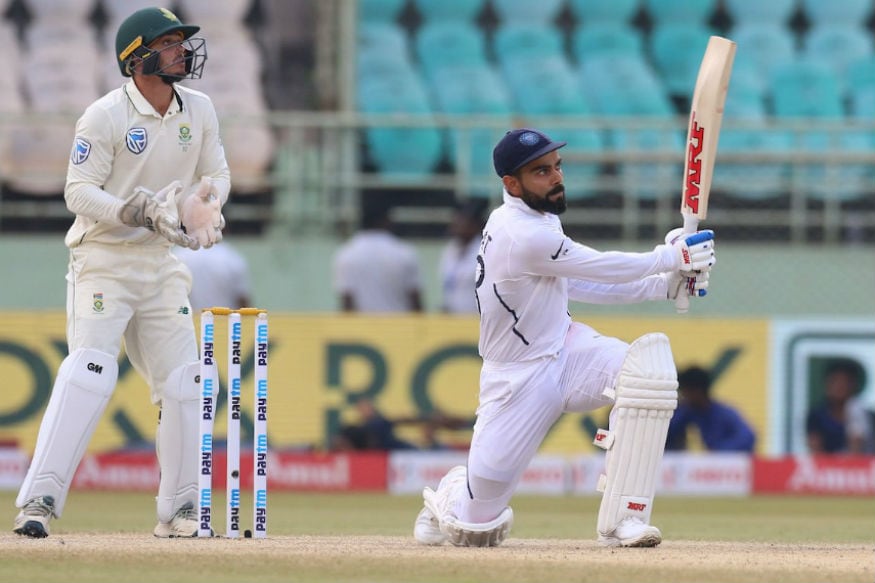 (BCCI)
Kohli didn't exactly have the best of games with the bat as Indian captain's weakness against spin was exposed. He became Senuran Muthusamy's first Test victim. Kohli's tendency to flick against slower bowlers has often cost him his wicket. Though it is a shot Kohli is extremely good at, but it's something he will have to look at – especially early on in his innings. He was spot on in his captaincy whenever it was really challenged. He will be looking to get back among runs in the second Test in Pune.
Ajinkya Rahane – 15 & 27* | (6/10)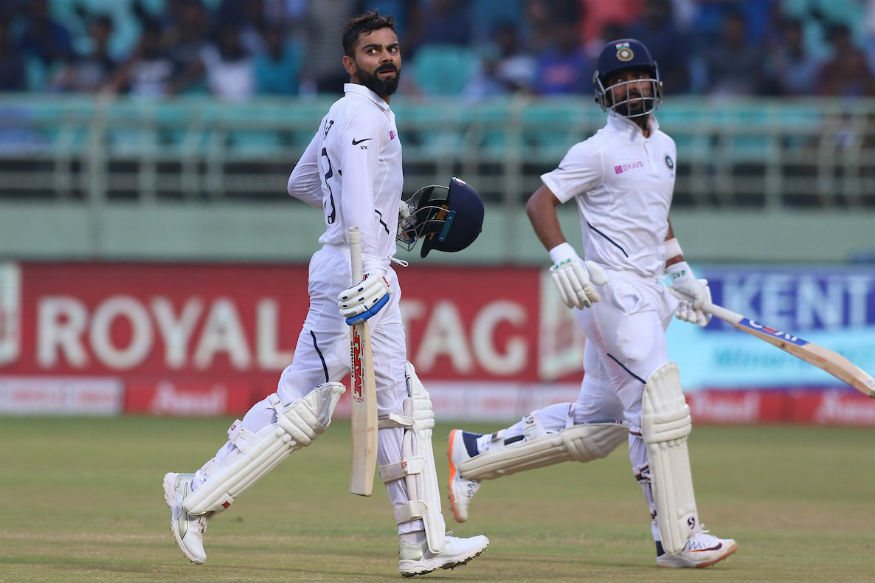 (BCCI)
Rahane came into bat when India were looking to accelerate in both the innings, thus he was forced to not play his natural game. Maharaj removed him in the first innings but Rahane stepped on the pedal rather easily in the second one, smashing quickfire 27 off just 17 deliveries.
Hanuma Vihari – 10 & DNB | (6/10)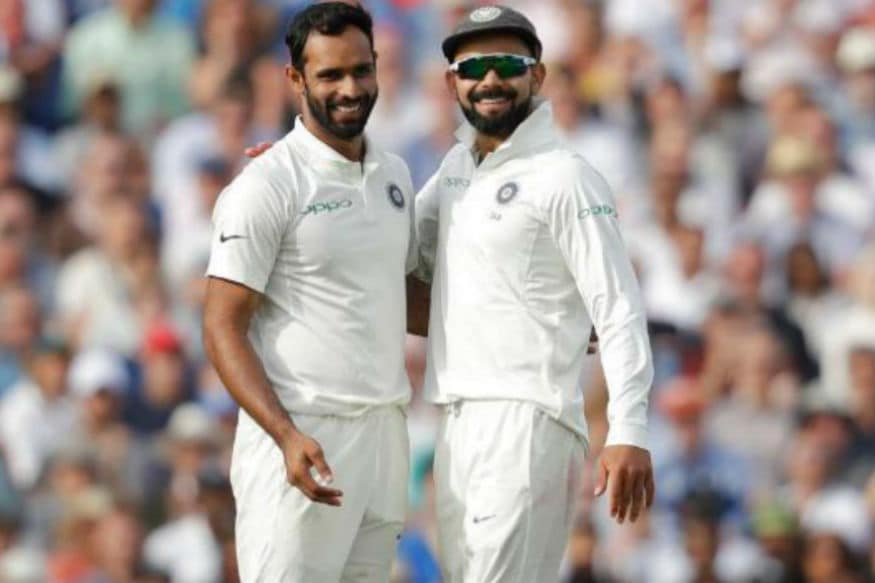 (AP)
Again, it will be slightly unfair to judge Vihari based on his batting as he came in when India were just looking to add runs. Though, we got to see another aspect of Vihari – that of an off spinner as he rolled his arm. His skills with the ball can be useful, especially in home conditions for Kohli. He also produced a couple of chances – though difficult ones which weren't taken by the fielders.
Wriddhiman Saha – 21 & DNB | (6/10)
Image: Twitter
Saha came into the match replacing Pant so naturally the spotlight was on his performance. He scored 21 off 16 when India needed quick runs and was usually safe behind the stumps but dropped Dean Elgar when the South African opener was batting on 74. He went onto make 160. Though Saha was certainly tidy behind the stumps as compared to Pant and should hold his place for the next couple of games.
Ravichandran Ashwin – 7/145 & 1/44 | (8/10)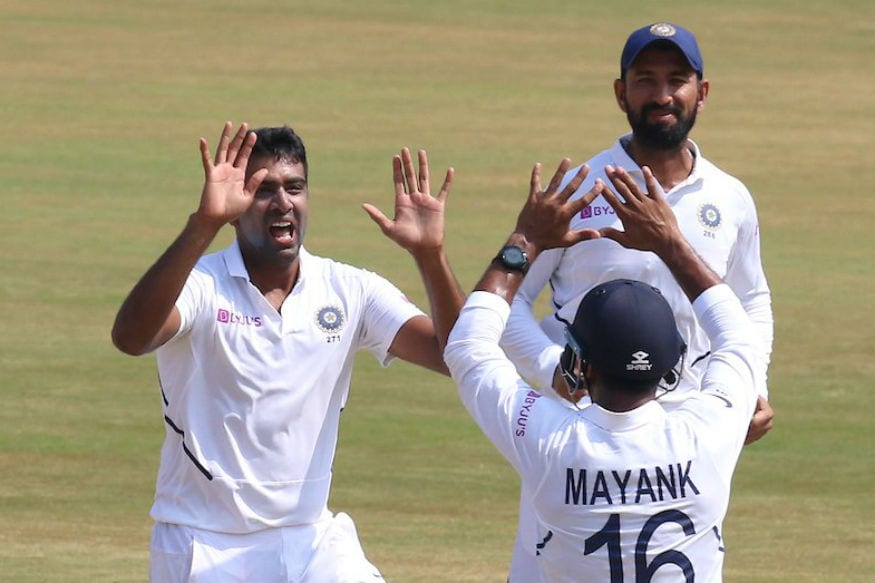 (BCCI)
Ashwin equaled Muttiah Muralitharan's record of being fastest to 350 wickets and he showed once again why he is the country's top off-spinner, especially in home conditions. Ashwin's ability to strike with the new SG ball has made him one of the top new ball bowlers. He was recently dropped from the playing XI in West Indies but they were hardly any doubts about his ability in India. His performance will certainly increase the headache for team management.
Ravindra Jadeja – 2/124/ & 4/87 | (7/10)
(BCCI)
If Ashwin was the star in first innings, then it was Ravindra Jadeja in the fourth innings. Jadeja's accuracy makes him deadly, especially on Day 4 and 5 on Indian pitches. He troubled the batsmen with extra bounce and spin, generated mainly due to the pitch. He also scored some quick runs when needed for the team. He provided important breakthroughs but will be slightly disappointed by the number of runs he conceded.
Mohammed Shami -0/47 & 5/35 | (8/10)
(Twitter)
At the start of Day 5, it looked as if we could be in for an intriguing finale but Shami had other plans. He was deadly accurate and bowled wicket-to-wicket, sending the furniture flying more often than not. When South Africa got a partnership going which seemed to frustrate the hosts, Kohli threw the ball to Shami and he immediately delivered. With his pace, Shami can be a difficult bowler to face on Day 4 and 5, and it also explains his outstanding record in the second innings. He will be looking to replicate that form in the first innings as well going ahead.
Ishant Sharma – 1/54 & 0/18 | (5/10)
(BCCI)
Ishant Sharma didn't have the best of games as he struggled to get the breakthroughs. His one wicket was that of Temba Bavuma, who he removed with a superb inswinger. He did create pressure from the other end but will be looking to add to the wickets column in the remaining matches.