It won't be wrong to call India's home series victory over South Africa as one of its most satisfying series wins mainly because of the way the home team outplayed the visitors in all the departments. India were a class apart with everyone in the team performing the role assigned to them perfectly and hardly any negatives throughout the series.
While India were no doubt favourites but the way they pulled it off would have certainly pleased Virat Kohli and Ravi Shastri.
Here is Cricketnext's ratings of all the players who played for India in the series.
1. Mayank Agarwal – 9/10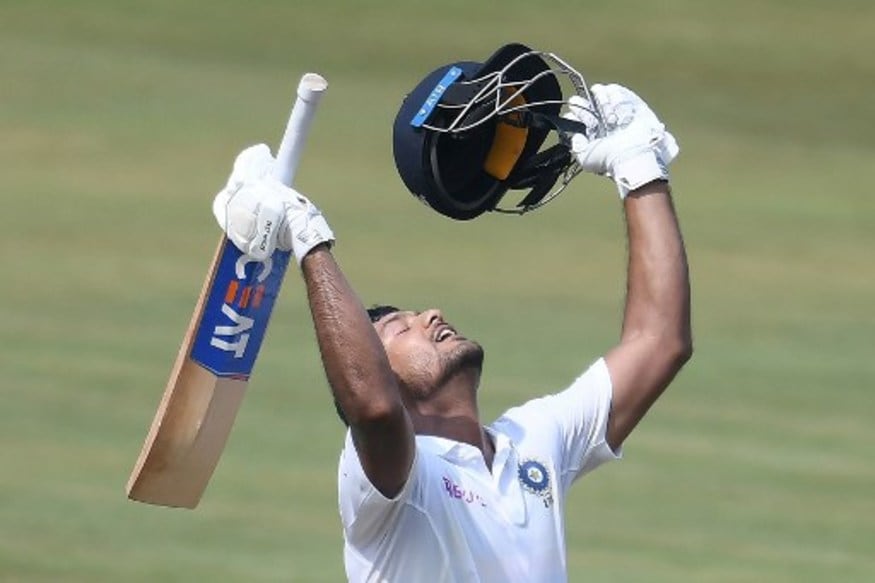 Mayank Agarwal celebrates his double ton (AFP)
Agarwal registered two tons and was dismissed cheaply only twice in the series. He played out the most difficult period to bat – with the new ball – with complete ease and looked in total control. The way he used his feet against the spinners and cleared the boundaries reminded everyone of Virender Sehwag. The series will give Agarwal confidence that he indeed belongs to the highest level and can be India's opener with the red ball for a long time to come.
2. Rohit Sharma – 10/10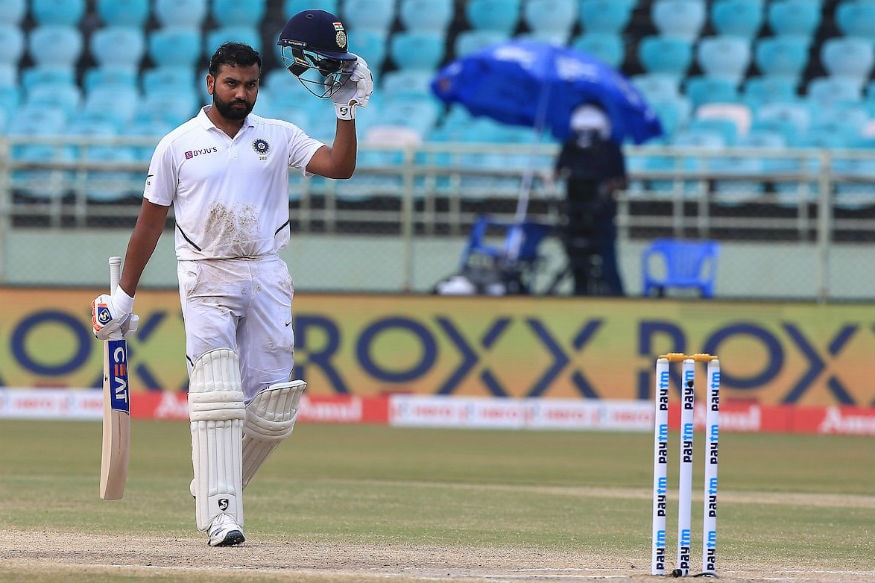 Rohit Sharma after his ton (BCCI)
All eyes were certainly on Rohit Sharma the opener before the series but he laid to rest any doubts and made all his critics eat humble pie as he dominated the proceedings. Scoring at a strike rate of 77.45, Rohit averaged 132.25 and amassed 529 runs to be named man-of-the-series. He was in a positive headspace throughout and that showed in his shot selection. He will now be looking to continue in the same vein in the coming series and also abroad.
3. Cheteshwar Pujara – 6/10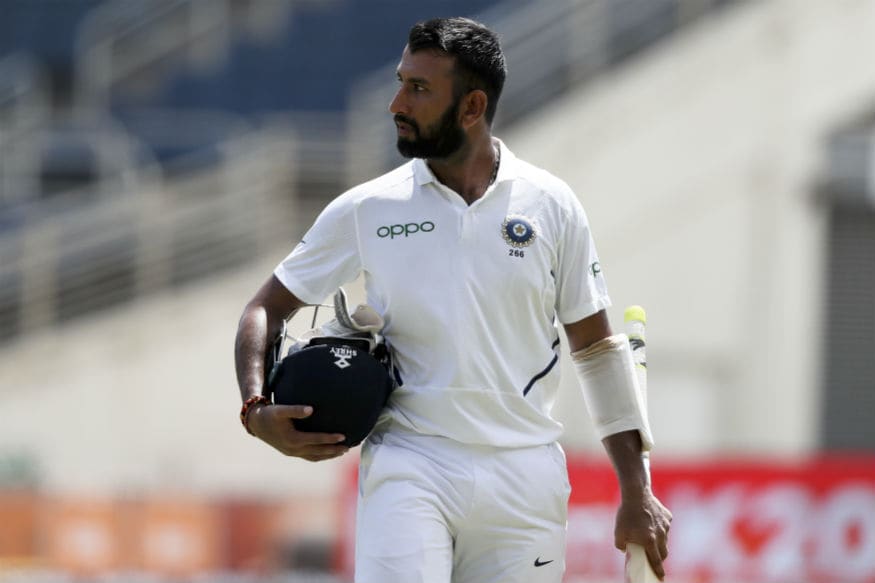 Pujara did manage to get a couple of half-centuries but he will be the first one to admit that this wasn't his best performance. Players around him scored tons and double tons. Though he got a couple of beauties from Rabada, but he will be disappointed that he didn't convert even one of his half-centuries into a big ton. It is not something that should worry him though as a one-off bad series happens with any player. India was still comfortable throughout the series and he will now be looking to get back among the runs in the upcoming games against Bangladesh.
4. Virat Kohli – 7/10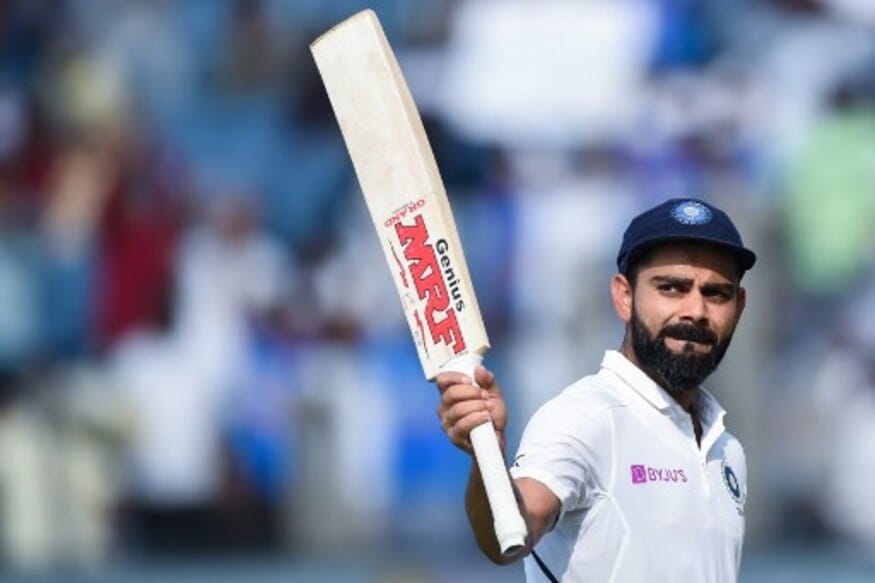 Kohli did register a career high score of 254* in the Pune Test and that was certainly one of his best innings but other than that Kohli scored only 63 runs in the other three innings he played. Nortje got him with a superb in-swinger while Muthuswamy also troubled the Indian skipper on occasions. His captaincy was never really tested as South Africa failed to put him under any sort of pressure. It was only in Pune that we got to see peak Kohli as he took the attack to South Africa and changed gears according to the match situation with real ease.
5. Ajinkya Rahane – 8/10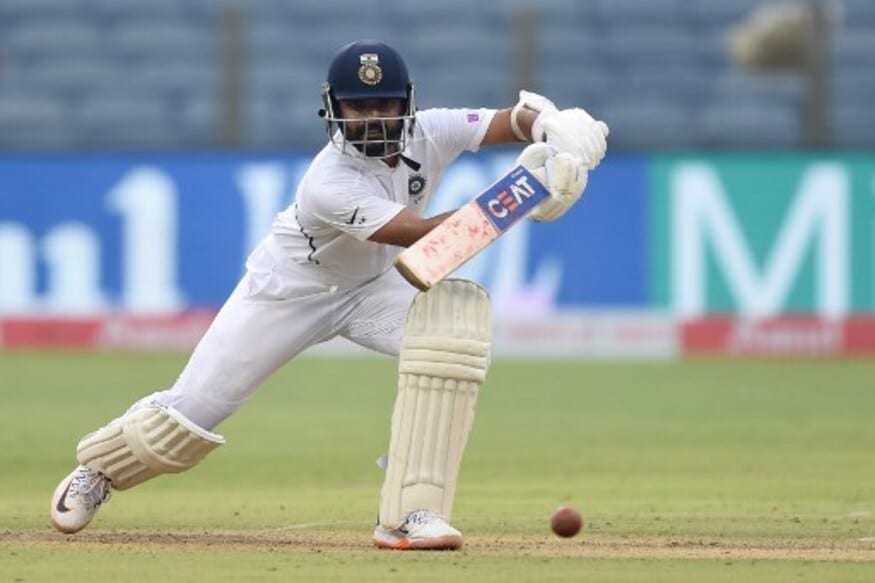 Rahane's performance in the sub-continent often come under the scanner as he tends to struggle on pitches where the ball doesn't come onto the bat. He scored one century and one half-century, both coming when India was under a spot of bother. For the ton, he stitched a partnership with Rohit Sharma when India had lost three early wickets. He scored 216 runs in the series and averaged 72. He showed why he remains one of Kohli's trusted assets in the Test format.
6. Ravindra Jadeja – 8/10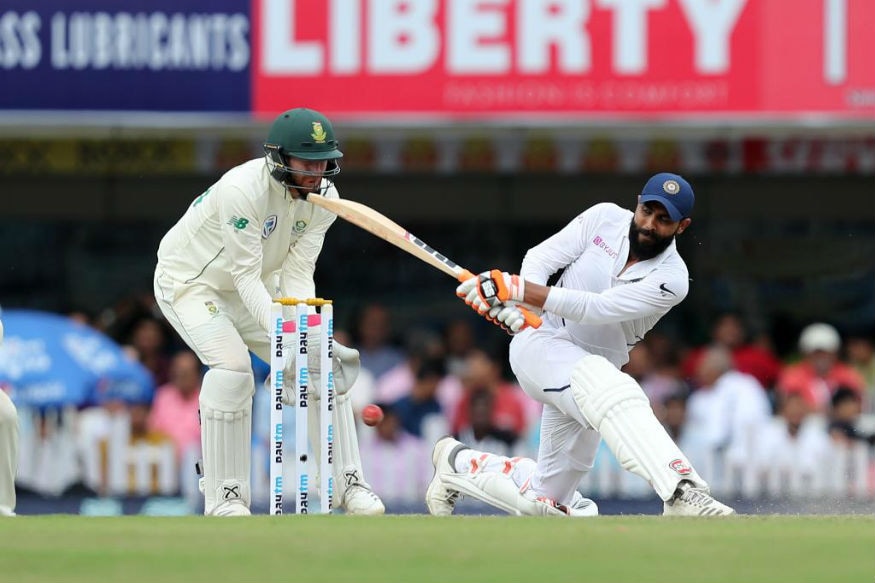 Ravindra Jadeja plays a shot. (Twitter/@ICC)
Jadeja had a fantastic series with both bat and ball. He picked 13 wickets at an economy of 2.67, something that was expected out of him on Indian pitches but what was more pleasing was his contribution with the bat. Jadeja has only grown as a batsman after his performance in the World Cup semi-final and that was on display as he scored 212 runs and was unlucky to miss out on a deserving ton as he threw his wicket away for the team's cause. He has only increased the team management's headache, especially in away games when India might want to go in with only one spinner.
7. Hanuma Vihari – It will be unfair to judge Vihari as he played only one game and came into bat when India was looking to score quick runs – something that isn't his natural game. He bowled nine overs and was wicketless with the ball, but it seems he will play most of his Test cricket away from India where Kohli might want the luxury of an extra batsman.
8. Wriddhiman Saha - 8/10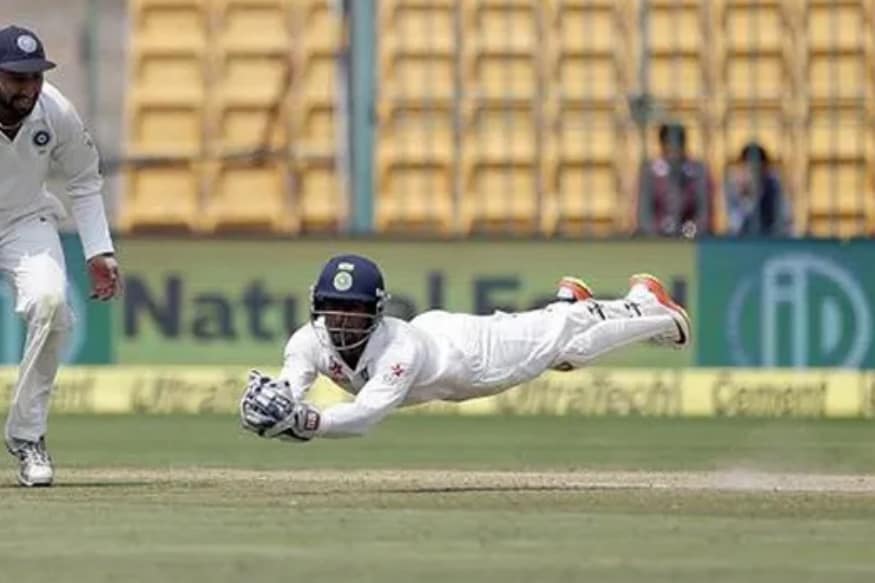 Though Saha didn't have much to do with the bat, he was safe as a bank behind the stumps. The catch to remove de Bruyn – for Umesh Yadav and Shabhaz Nadeem showed that he remains India's best gloveman by a long distance. He didn't let much go behind him and this will only increase the pressure on young Rishabh Pant to work on his wicket-keeping skills.
9. Ravichandran Ashwin – 7/10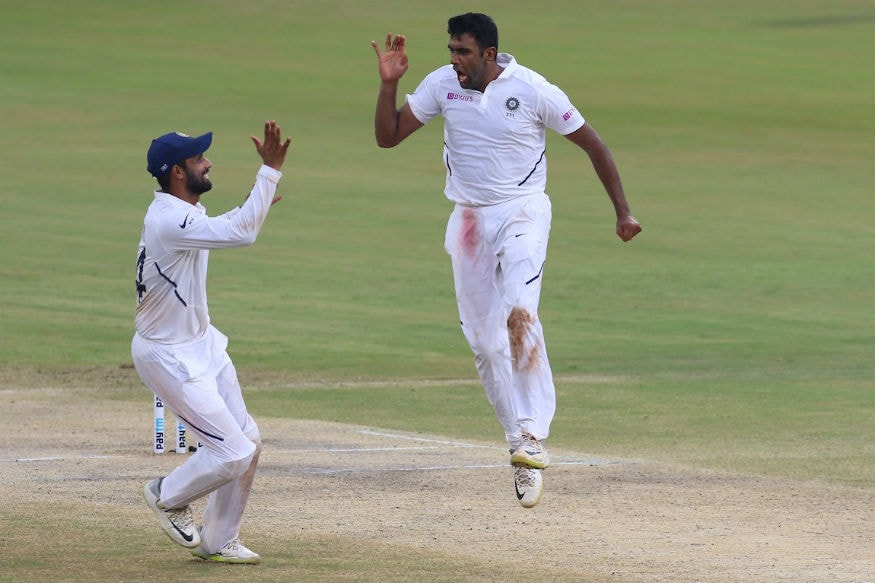 Ashwin celebrates a wicket (BCCI)
A lot of the workload on the spinners was taken off by the fast bowlers who picked wickets when needed and almost always provided early breakthroughs. Ashwin was still the highest wicket-taker in the series, picking 15 wickets at an average of 25.26 and an economy of 2.74. They were times when he looked to be struggling a bit but the way he bounced back was impressive. He remains India's no.1 spinner and the decision to drop him for Jadeja in West Indies didn't really seem to affect his confidence or change the fact that he remains the biggest threat on Indian pitches.
10. Mohammed Shami – 10/10
Shami was simply sensational with the ball and often sent the stumps for a cartwheel. 13 wickets at an average of 14.76 is outstanding for a fast bowler, especially in Indian conditions. The uneven bounce made him even more dangerous and he was certainly India's most impactful bowler in the series. He will now look to take this form into white-ball cricket as well.
11. Ishant Sharma – 4/10
Ishant Sharma celebrates a wicket (BCCI)
Sharma bowled only 38 overs in 4 innings before being dropped for the final match of the series. He picked only two wickets in the series and would have certainly liked to have made more of an impact, considering Kohli trusted him with the new ball.
12. Umesh Yadav – 8/10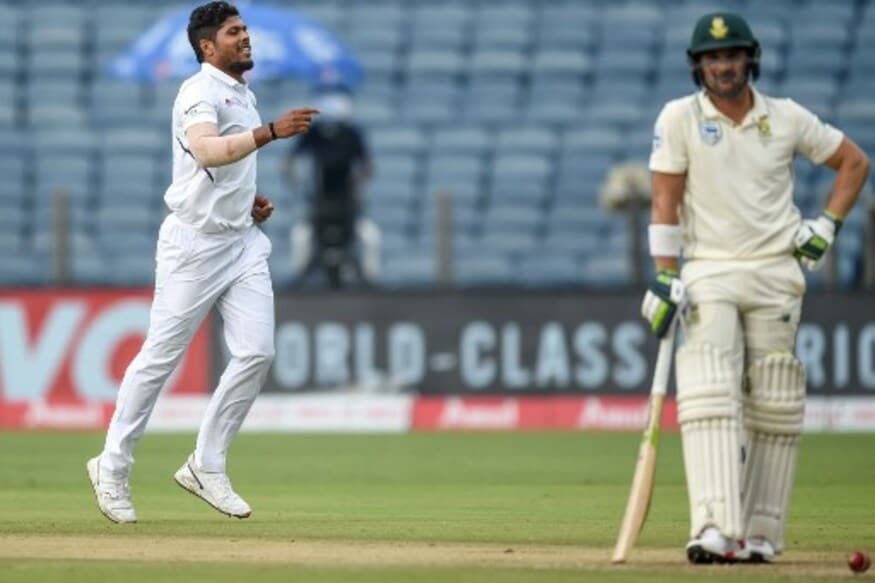 He played only one game in the series but showed the depth in Indian fast bowling department. Yadav ended with figures of 6/59 and picked wickets of top-order batsmen which was most impressive. He bowled at pace and also got the ball to move a bit early in the innings. He was also lethal with the old ball and looked like picking a wicket every time he was given the ball. It will be interesting to see who drops out when Jasprit Bumrah eventually returns from injury.
13. Shahbaz Nadeem – 7/10
AFP
Nadeem played only one match and was called in as a replacement for injured Kuldeep Yadav. He was playing on his home grounds and the conditions would have made him feel at home, but he was still impressive. He has been around the domestic circuit for more than a decade and a Test appearance was the right reward for his hard work. He ended with respectable figures of 4/40 and it will be interesting to see his position in the team going ahead.