The combined batting average of South Africa's top 5 in the ongoing series against India is just 19.85. Their top-middle order has scored approximately 12 runs per dismissal lesser than their lower order and tail (positions 6-11) – the latter averaging 32.15 in the series thus far.
The top 5 have registered just one hundred and no fifties in 20 innings. The bottom 6 have registered one hundred and 4 fifties in 24 innings.
The top 5, on an average, have faced 41.55 balls per batsman per innings. The bottom 6 have faced 57.63 balls per innings.
South Africa have failed to score 200 in two of the four innings they have batted in the series.
This sums up the series for South Africa. Their batting has been poor and their batsmen have let the team down – it has been a collective failure – a failure which saw them decimated in Pune where they faced their biggest ever defeat to India (by an innings and 137 runs).
South Africa's batting woes have accelerated post the retirement of AB de Villiers – their combined batting average went down from 30.16 between 1st of January, 2015 and 3rd of April, 2018 to just 22.96 in the period after.
WORST WIN-LOSS RATIO AND BATTING AVERAGE POST AB RETIREMENT
South Africa have won just 3 and lost 6 of the 9 Tests they have played in this period. Their win-loss ratio of 0.5 is the joint-lowest along with Bangladesh in this time-frame.
In terms of series, they have lost 3 of the 4 series they have played during this period including a historic first-ever loss to Sri Lanka.
South Africa's batting average of 22.96 post AB is lower than the corresponding averages for Afghanistan and Bangladesh and just marginally better than the West Indies.
Their top 5 have collectively failed with an average of just 23.45 in this period – second-worst after the West Indies amongst all major Test playing nations.
They registered just 3 hundreds and 8 fifties in 9 Tests – which is again the worst frequency of scoring a hundred and a fifty after the West Indies.
One of the main problems of the South African batsmen has been their inability to occupy the crease and bat for any significant periods of time. Not surprising, the average number of balls per innings their top-middle order has faced in this period – 44.61 – is the lowest amongst all the teams.
LACK OF BIG SCORES, OPENING WOES AND INDIVIDUAL FAILURES
South Africa's average first innings' score of 259 places them at number 5 amongst the 8 major Test teams in this period.
Their average second innings' score of 181 is the second-worst just ahead of the West Indies.
South Africa's average margin of loss (in terms of runs) of 227 has also been the second-worst in this period.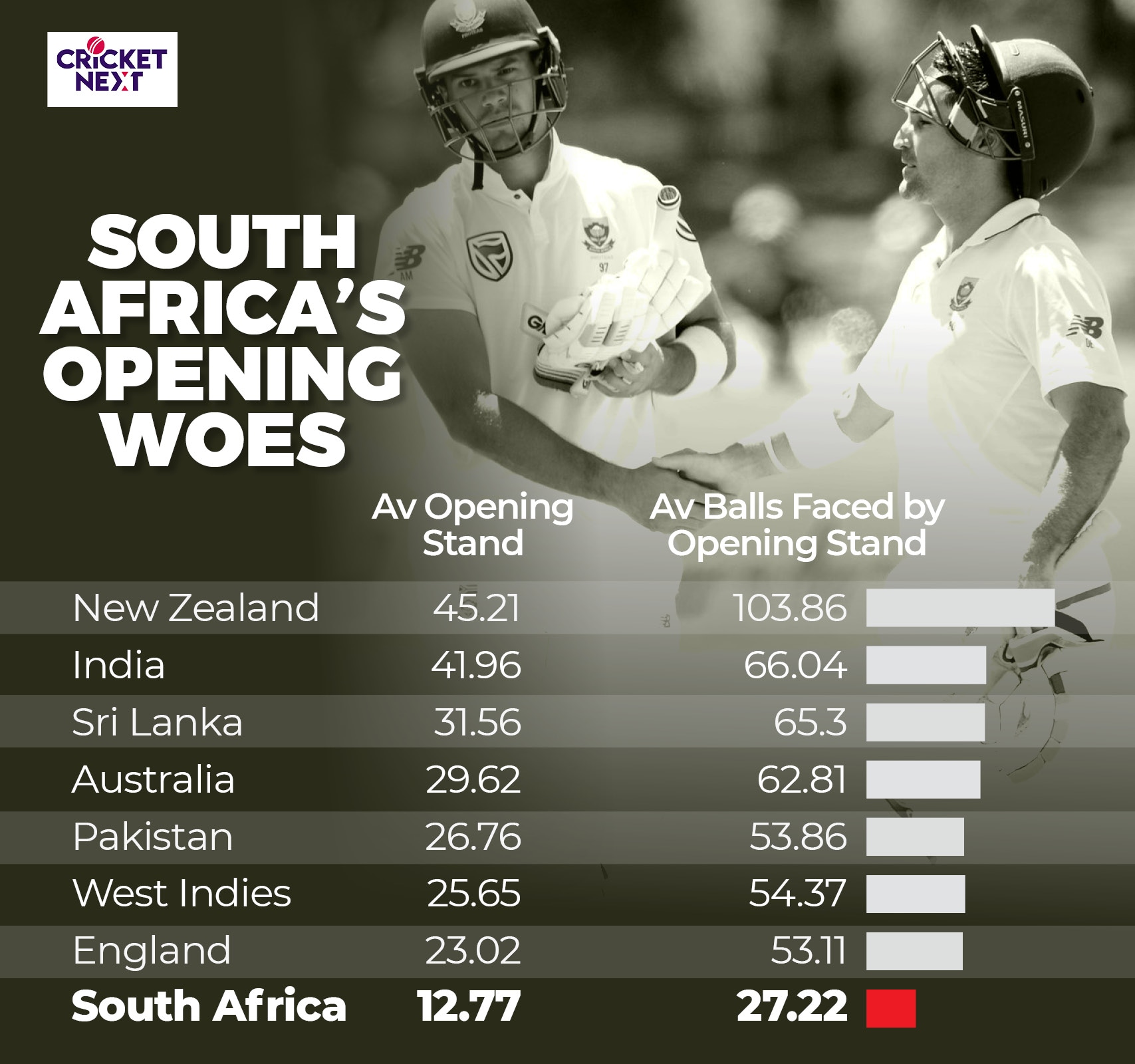 One of South Africa's biggest concerns has been their opening stands or the lack of them! Both, in terms of the average opening partnership and average number of balls faced by opening stand, South Africa has, by far, fared the worst. In fact, the difference between the second-worst team on both counts – England and South Africa is almost two times – that is how badly the South African openers have fared in this period.
Even in the current series against India, the South African opening partnership has failed with scores of 14, 4, 2 and 0 in the four innings.
Quinton de Kock has been the best South African batsman in this period and the only one with an average of above 40.
In fact, 5 of them have an average in the early to mid 20s in this period! They are outside the top 65 batsmen in terms of averages in this period (min. 200 runs).
Four of them have not faced even 50 deliveries, on an average, per innings in this time-frame.
South Africa's highest scorer – De Kock – is not even amongst the top 20 run scorers in the world in this period.
South Africa's top-middle order has had a torrid series against India. Temba Bavuma has aggregated 64 runs at an average of 16, Theunis de Bruyn – 52 at 13 and Aiden Markram – 44 at 11.
These are shocking numbers to say the least!
The combined average of the South African top 5 in the series of 19.85 is the fifth-worst in their Test history from the beginning of the 20th century, ie in 120 years!
Interestingly, this is not their worst performance in India. The top-middle order fared worse on their previous tour in 2015-16.
It should be a cause of great worry for South Africa that three of the worst five batting performances of their top-middle order (including their Sri Lanka tour in 2018) in the last 120 years of their Test cricket history have come in the last 4 years!