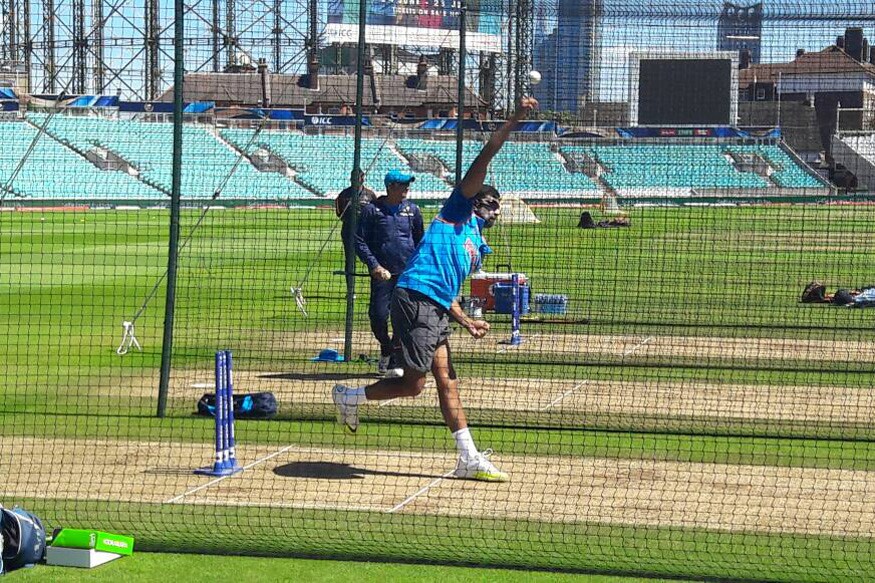 India vs South Africa: Live Blog
India vs South Africa Live : Full Scorecard
London: Virat Kohli and AB de Villiers, apart from being the captain and the best batsmen of their respective sides, are two men with a lot of respect and admiration for each other. So to see them both leading their side out against each other in a must-win encounter on Sunday will be an interesting prospect even for the neutrals.
The stakes couldn't get higher than this and both men know the importance of this game in their career as captain. For Virat Kohli it is a chance to take India into the knock-outs in his first big ICC tournment in-charge - an opportunity that he would want his team to grasp with both hands. On the other hand, for AB de Villiers, it is a chance to keep alive the great South African dream of winning a global trophy at last, for he is the torchbearer of a golden generation.
This though is not the first time that both men will be playing in a high stakes match. Kohli has been part of three finals in ICC tournaments, winning two and losing one, while de Villiers has been part of several semi-final defeats. Both men understand the pressure of the situation and stressed on the requirement of keeping a cool head in the pre-match press conference.
"Lot of times, teams try to do something special and end up messing the game up in important situations. The team that will have better composure will have a better chance in winning the match tomorrow (Sunday). That it what I have experienced in the past," Indian captain Virat Kohli said.
"It is a must-win game, but we've played quite a few of them in the last 12 to 18 months and we've had a lot of success in those must-win games. The guys generally perform better if they are relaxed in their mind sets and not too tense. That's partly my responsibility to make sure there's no panic," AB de Villiers said.
ASHWIN - WILL HE, WON'T HE?
The loss to Sri Lanka might not lead to wholesale changes in the Indian team but one change that is most likely to take place is the entry of Ravichandran Ashwin into the playing XI. Notwithstanding the fact that South Africa has a number of left-handers in their team and Ashwin's great record against them, the off-spinner's inclusion is a must keeping in mind the variety that he brings along with himself.
Ashwin hasn't often been part of India's scheme of things in ODI cricket outside the sub-continent, but Virat Kohli and Team India will do well to consider his big match pedigree and match winning skills before finalising the eleven against the Proteas.
If the impressions from the practice session is anything to go by, Ashwin looks a certainty for the Sunday clash. He bowled in the nets for long and with a lot of purpose. What was also interesting to see was the number of variations the off spinners was trying. His all new weapon, the leg spin delivery bowled with an off spinner's action, got the better of both Virat Kohli and MS Dhoni on a few occasions.
When asked about Ashwin's inclusion for the match, Kohli didn't give a straight answer but he also didn't rule out the possibility of Ashwin's inclusion.
Ashwin's record against South Africa in ODIs isn't the greatest but he has done well against Proteas in other formats. AB de Villiers knows that and he said his team is preparing to face him on Sunday.
"We are expecting to see him in the side tomorrow so we are preparing for it. If he doesn't happen then so be it. He is a great bowler and has taken a lot of wickets against us so I can't really say whether we would like to play against him or not, if he does play then we will try our best to face him," de Villiers added.
FORM OF THE CAPTAINS
The form of the captains coming into the match is also under the spotlight, with both men failing to open their account in the losses in their respective last clashes. While Kohli did get runs under his belt in the opener against Pakistan, AB de Villiers has been struggling for a while now.
Kohli empathised with AB de Villiers saying that it is a scenario that he himself faces several times but said that the South African is a quality batsman and his team will have to prepare well against the threat posed by Mr 360 degree.
AB de Villiers himself said that his own personal form is not a cause for concern as a big innings may just be around the corner.
"Look, I'm still in good form. Still hitting the ball well, as always. It's just a matter of going out and doing it. There's nothing I can say here that's going to change anything except for that I still believe I can and hopefully I'll prove that tomorrow," the South African skipper added.
TEAM COMPOSITION
India looks all set to bring Ravichandran Ashwin into the playing XI. But the question remains in place of whom. South Africa has a strong bowling attack, and the lack of swing in something which might not trouble them as the likes of Kagiso Rabada and Morne Morkel rely more on movement off the pitch.
The Indian batsmen were seen slogging it out in the nets, practicing the pull shot a lot as the Protea pacemen are likely to pepper the Indians with the short stuff. In these conditions, dropping a batsman, Kedar Jadhav, to bring in Ashwin might not be an easy option.
South Africa have a settled line-up and are expected to go in unchanged. Although the fact that AB de Villiers expects Ashwin to play, might lead them to think of playing the right-handed Farhaan Behardien in place of JP Duminy.
TEAMS:
India Playing XI: RG Sharma, S Dhawan, V Kohli*, Yuvraj Singh, MS Dhoni†, HH Pandya, KM Jadhav, RA Jadeja, B Kumar, R Ashwin, JJ Bumrah
South Africa Playing XI: Q de Kock†, HM Amla, F du Plessis, AB de Villiers*, DA Miller, JP Duminy, CH Morris, K Rabada, AL Phehlukwayo, M Morkel, Imran Tahir
First Published: June 11, 2017, 8:39 AM IST