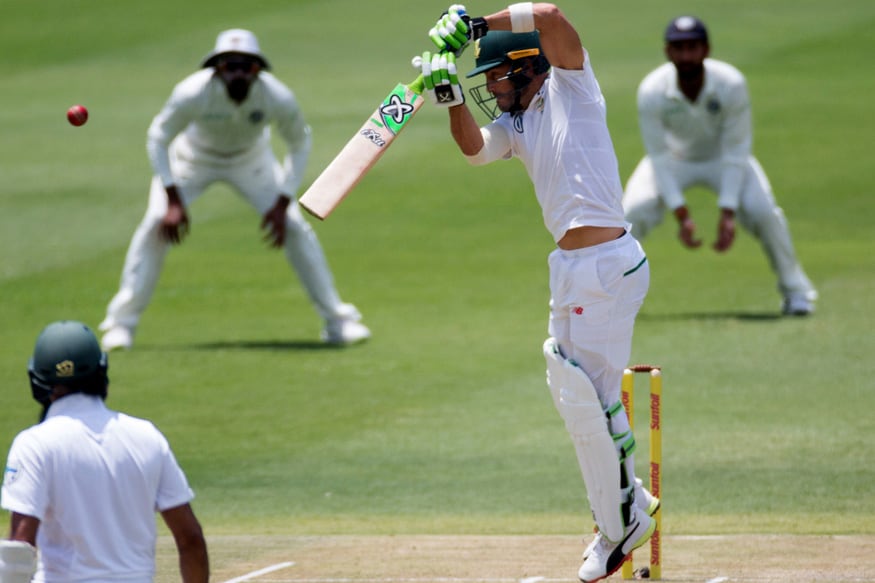 South African skipper Faf du Plessis blamed his team for not being on top of their game in the third Test, as they lost to India by 63 runs, thus failing to register a whitewash over the visitors.
"To be hard on ourselves, pretty much from the start of the Test match we weren't on top of our game. Even the first innings, I thought the total that they got 189 or whatever it was probably 30 runs too many. Top of my head I can remember Virat having 2-3 chances. So all of that, on a low scoring wicket, it all adds up. Even the second innings, they got 220, they should have been 180. So the last innings we should have chased 160 or something like that. All in all, it wasn't a great Test match for our skills.
"In general our consistency with the ball, I think especially on this wicket you need to make make sure you zone in on the wickets, quite straight lines. I thought both innings, we were a little bit short and wide, for most of the Indian innings, which gave them the opportunity to leave a lot more. From a batting perspective we felt that the Indian bowlers made us play a lot more," du Plessis said in the post-match conference.
He said that the team failed to maintain the same level of intensity as it had done in the first two Tests,
"I was trying to make sure we keep that same intensity. But I think our actions speak louder than the words we spoke this week. In the whole series we have been on in the field and that for me is a good gauge of where you are as a team mentally. "
"Certainly in this Test match, we were not quite there. Whether that's because we won the series is the obvious thing. You have to give credit to India as well. They raised their game, raised their intensity and they put us under pressure for most of the Test."
However, he credited India for playing some really good cricket throughout the series which made it an interesting one to watch,
"This was a fantastic series and I have to credit India for playing some really good cricket. All three Test matches that we've played, South Africa was on top then India was on top through so many times in the series. In the first two Tests we were relentless with our pressure. We let our guard down in this third game, and they are a quality team, they made sure they captured those opportunities."
"I think they can say the same thing about themselves. In the second Test, they had a lot of opportunities, a lot of dropped chances. So they can sit on the other side and say, 'We had the opportunity to win this series but we weren't on top of our game.' And that's the difference in a very tight series like this one," he added.
Talking about the pitch and the condition on offer, du Plessis said that he wanted South African conditions with pace and bounce but the management never instructed the curator for extra grass.
"I've said it so many times to the press right through the series. We never asked for something excessive. We never asked for extra grass. All we asked for was a typical South African wicket that has pace and bounce. Although this wicket had pace and bounce, it was obviously a lot more. So pretty disappointed with that. It's disappointing to see that once again we're not getting it right. I don't know how to answer it or how to change it, but it obviously needs to improve. " he said.
About the Wanderers pitch, the captain added,
"The only time I got a little bit concerned was when Dean got hit in the face. That's when I got a little bit concerned for player safety. Even in the Indian innings, there was quite a few guys that got hit on the finger quite regularly. I think if you count the number of times guys got hit, it was much more than usual. You know Excessive sideways movement is tough but not dangerous. As soon as guys started getting hit from a length, that's when we thought it might be dangerous. But surprisingly the pitch played fine again today, today was fine. So we had the opportunity to chase down the game and we didn't do that. "
Du Plessis also added that the type of pitches on offer reduced the gap between the two teams,
"As I said before this Test in the press conference that certainly we know that if you ask for a wicket that has got a lot of assistance on, you are bringing the Indian seam attack into it. They are very skilful, they bowl a touch a fuller and are obviously used to bowling in Indian conditions where you have to attack the stumps, and they move the ball around both ways. That's what happened in this Test - quite excessive movement," he said.
The skipper saved special praise for opener Dean Elgar, who carried his bat, saying that he was the little bull dog of the team,
"We know Dean has got incredible mental toughness. I think that is his biggest strength as a Test cricketer. He prides on being gritty, being tough, even being ugly and nasty at times. He likes that because it gets the best out of him. So he is a fighter, our little bulldog in the team."
"To bat on a wicket like that, any guy that scored runs in this Test, from our side or theirs, had to play a really good innings. Mentally, it's the biggest challenge after being hit a few times last night to come back this morning and put on a display of batting like he did was incredible," he said.
Du Plessis backed out of form wicket-keeper Quinton de Kock, saying that the change of formats should help him.
"We all go through lean patches. I think the white ball is coming at a good time for Quinny, it will unshackle him. He's obviously disappointed, as any player would be. He will go back and work hard on his game and make sure he can be better for the Australian series."
"He's a free spirit, x-factor player. So when things go wrong, as any player, you'll feel like there's pressure on you to perform. But I think the very important thing for Quinny is just confidence. As soon as he gets one innings where he's hitting the ball in the middle again, he'll just jump straight back onto that boat of relaxing and just playing his game. I think it's very important that you don't try and change the way Quinton plays, because if you start talking from a technical point of view to Quinton – he's never played the game like that. It's just the case that sometimes in cricket you're in form and you're on top and the runs come. And you get dropped chances, you get lucky through your innings," skipper said, giving his backing to de Kock.