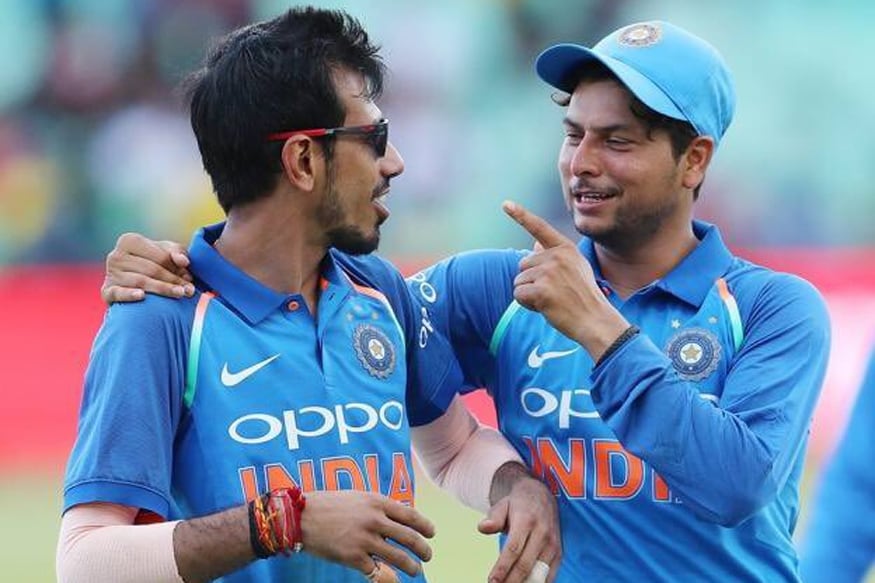 A lot of talk before India's first match of the tournament revolved around what combinations India would field in the spin department. Ravindra Jadeja's all-round value was expected to be preferred over one of the wrist spinners but India chose to field Kuldeep Yadav and Yuzvendra Chahal in the first game at Southampton and the move proved to be a masterstroke.
The duo picked up five wickets between themselves and gave away runs at less than five an over to decimate South Africa's middle-order. One of the reasons for the selection of the two wrist spinners in tandem was their success in the ODI series in South Africa last year.
They had picked up 33 wickets amongst themselves in that series with Kuldeep accounting for 17 and Chahal 16. South Africa, who are known to have trouble handling the duo, lost Faf du Plessis, Rassie van der Dussen, David Miller, JP Duminy and Andile Phehlukwayo to the spinners on Wednesday.
India have had good success when fielding the wrist spin twins in tandem. They have won 19 of their 29 ODIs since the Champions Trophy with the two spinners playing together. Having just Chahal in the team (without Kuldeep) has also yielded a pretty good success rate but Kuldeep's lack of form without Chahal in the team shows that it's best to play the two together.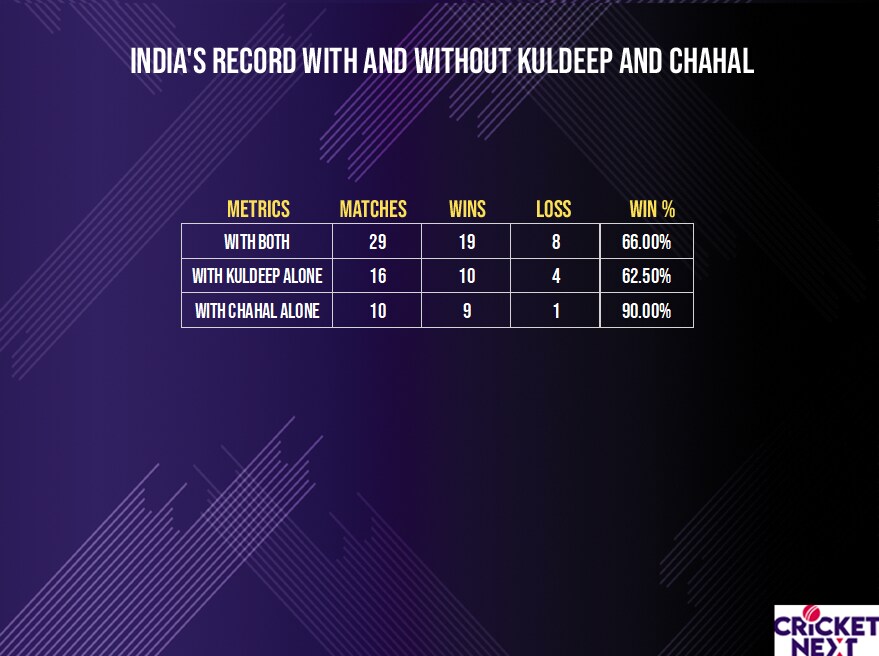 While India have never gone into an ODI after the Champions Trophy without atleast one of them in the team, numbers show that Chahal works better when alone but Kuldeep works best when bowling in tandem with the leg-spinner.
Kuldeep is the more successful spinner when playing alongside Chahal with 61 wickets in 29 matches while Chahal has 47. At Southampton, though, it was Chahal who came to the fore with a four wicket haul, taking his tally of wickets against South Africa to 20 in 7 matches, his most against any team.
The RCB spinner, though, has a better success rate when alone with an average of 18.96. But given that Kuldeep works better when playing with Chahal and considering India's success percentage with the two in tandem, there is every reason to stick to both of them in one team.
Since the Champions Trophy in 2017, they are the most successful wicket takers for India in the format with 88 (Kuldeep) and 70 (Chahal) wickets respectively. Both of them have very similar economy rates and the next best spinner (Jadeja) has just 19 wickets in this time frame. Given the camaraderie and success rate the two wrist spinners enjoy, it is ideal that India stick to the two of them in the same team.