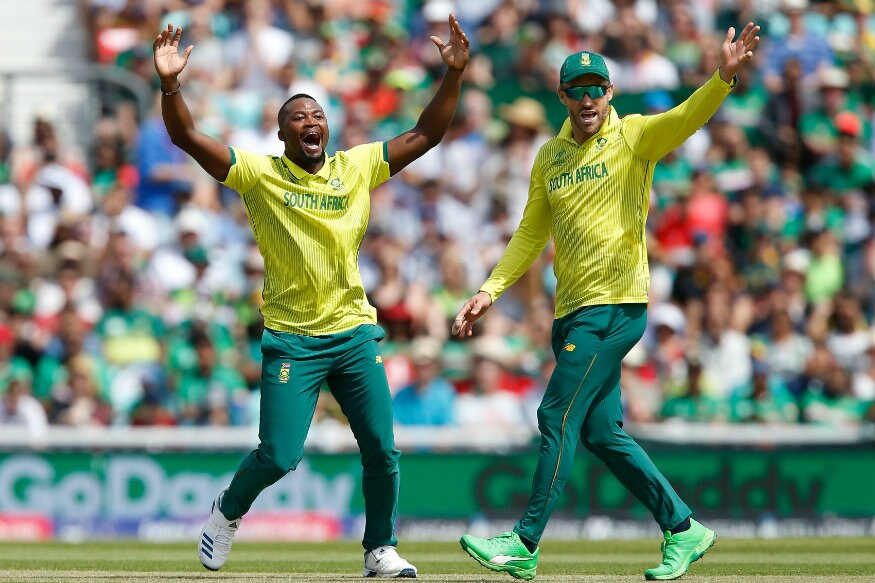 They conceded 311 against England and went for 19 more against Bangladesh. South Africa, perennial underachievers on the big stage, have had an underwhelming start to their 2019 World Cup. India, who are yet to dip their feet in, face this rather listless looking unit on Wednesday at Southampton.
India's batting numbers heading into this World Cup are better than England's in terms of average (since the Champions Trophy). They have a whopping 33 hundreds - ten more than England - and strike at an impressive rate of 90.38. The way South Africa have been bowling in this World Cup, Southampton would appear to be a cakewalk for Virat Kohli and co.
However, if you are Indian fan, don't start to celebrate just yet.
South Africa's pace attack has averaged 43.4 and conceded at a rate of 6.28 this World Cup so far. But heading into this event, they had the most impressive numbers.
A strike rate of 33.2 - the best in the world since the Champions Trophy - made their pace bowling pack a fiery one. Kagiso Rabada, Lungi Ngidi and Dale Steyn, who is expected to be fit for the clash, cannot be pushovers for any batting line-up. England and Bangladesh batted really well but the Proteas erred too, erring with their line and length to be duly punished.
In Southampton, South Africa have an opportunity to leave behind two dreadful bowling displays and give a real account of their bowling prowess. India were found wanting against a good New Zealand pace attack (at the same venue) in the warm-up match and will have to bat well to combat the challenge presented by the South African pace unit.
The head to head record between South Africa's current crop of bowlers and India's famed batting line-up is heavily tilted in favour of the Africans.
To analyse how India's top-order has fared against South Africa's bowling unit, we split the head to head records into two tables. The first analyses the number of dismissals and the second takes into consideration the average and strike rate of the batsman against a particular bowler.
Rohit Sharma, among India's elite ODI batsmen, has had very little success against South Africa's attack. He has struggled against the new ball pair of Rabada and Ngidi, having been dismissed six times by them in this format. Even his average against them isn't worth writing home about. Despite criticism on his batting against leg-spin, Rohit has been reasonably good against Tahir. He hasn't been dismissed by Steyn either but strikes at a very low rate against him. This virtually boils down to one simple conclusion - the new ball could well dictate Rohit's fortunes against the Proteas.
The lower middle-order, compromising of finishers MS Dhoni and Hardik Pandya, have fared worse. Dhoni's strike rate is below 90 against Rabada, Ngidi and Tahir. He has also been dismissed twice by Tahir, his Chennai Super Kings teammate, in this format. While Steyn has also had success against him, the wickets have come at a price - a hefty strike rate above 100.
Hardik, meanwhile, has never had much success against the Proteas attack. Rabada, Ngidi and Morris have dismissed him cheaply while his strike rate has also not been great against them. He has never faced Tahir in ODIs but has struggled to score off him in the IPL despite him bossing around other leg-spinners in the league.
The exception to this trend, as can be seen from the metrics, are Shikhar Dhawan and Kohli, who are clearly neck and crop above the rest. Kohli has had his share of woes against Steyn in addition to Rabada. The skipper, though, has bossed the other bowlers including Tahir and averages over a hundred against all of them (except Ngidi who has never dismissed him). Unless Rabada's recent comments have spurred Kohli up, the head to head numbers say the pacer is slightly ahead in the battle.
Dhawan, meanwhile, has been dismissed more than once only by Rabada. But the left-hander has struck at a rate of 97.67 and averages 40-plus against the South African pacer. With the exception of Steyn, against whom he has a strike rate of 87.72, Dhawan has struck at a rate above 90 against South Africa's current attack in ODIs. He also averages above 40 against all of them.
The southpaw, who bludgeoned a superb ton against the South Africans in the 2015 World Cup has a wonderful record against them in this format. He averages 52.6 with three tons and four half-centuries against them. This is his best average against any country outside the sub-continent.
His ODI numbers in England further make Dhawan India's most promising batsman for the clash on Wednesday. Averaging 65.06 in the country - the second best for him after UAE - Dhawan strikes at a rate over 100 here.
In the 2013 Champions Trophy game at Cardiff as well, Dhawan had smashed a ton against the Proteas. This gives him two hundreds in two ICC tournaments against this quality pace attack.
Dhawan could be the man to watch out for if the South African pace attack rediscover their mojo after two drubbings at Kennington Oval.