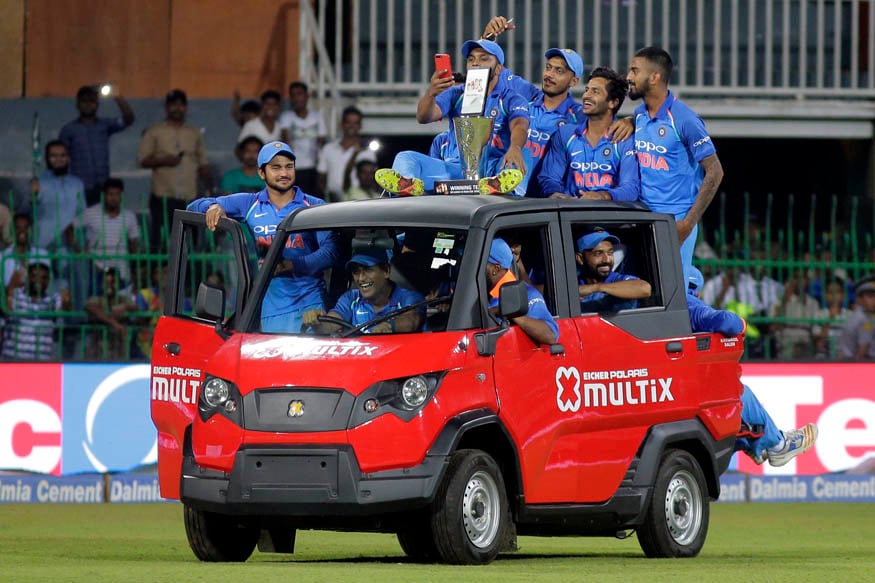 Virat Kohli slammed his 30th ODI century while Bhuvneshwar Kumar starred with a five-wicket haul as India crushed Sri Lanka vs six wickets to win the fifth ODI at the R. Premadasa Staidum in Colombo on Sunday.
With this win, the Men in Blue whitewashed the hosts 5-0 in the series and this is the second time India have blanked the Islanders in this fashion in the history of the ODIs. Bhuvi was named the man of the match for his best ODI figures in this match, while pacer Jasprit Bumrah was named man of the series for picking up 15 wickets in the series.
Here is Cricketnext's report card as we analyse the performance of every player from Sunday's game.
Rohit Sharma — Rating: 4, Verdict: Poor
Rohit Sharma had shown ominous form in this series, with two consecutive centuries in the previous two matches. He was unbeaten in one of those. But Rohit proved why he can often be one of the most frustrating players to watch, although it took a sensational catch at short fine leg from Pushpakumara, but the shot selection and execution left plenty to ponder. India had already lost Rahane, and it wasn't the smartest shot. The bat was too far away from the body to execute the shot. He will no doubt be disappointed with his dismissal.
Ajinkya Rahane — Rating: 4, Verdict: Poor
Sunil Gavaskar had publically argued for Rahane's inclusion in the team given the kind of form he had showed in West Indies. But he seemed to have lost all that momentum after being overlooked in the first four games. He looked like a batsman who was playing for his spot, looking a tad tentative and not going for his shots early. Rahane was dismissed rather cheaply for 5.
Virat Kohli — Rating: 10, Verdict: Excellent
Kohli scored another ton and equalled former Australia great Ricky Ponting's 30 tons in ODIs. Next in sight for the Indian captain will be Sachin Tendulkar, who has 49 ODI tons to his name. Kohli again read the situation brilliantly, after India had lost a couple of wickets early. He built a partnership with Manish Pandey and then Kedar Jadhav to guide his team to victory. Kohli remained unbeaten on 110 to ensure India had no difficulties in reaching the target.
Kedar Jadhav — Rating: 8, Verdict: Very Good
Kedar Jadhav has been a find for India in the past year and the Maharashtra batsman has effectively replaced Suresh Raina in the team. He can bowl a few overs and get quick runs when needed. Jadhav showed on Sunday that he can also dig in for the team when required and play according to the situation. Jadhav hit seven boundaries and scored 63 off 73 balls. He will be slightly disappointed though that failed to remain unbeaten in his innings.
Manish Pandey — Rating: 6, Verdict: Average
Manish Pandey is a product of the IPL and his mode of dismissal will surely be frustrating for anyone. It was more suited for a T20 game rather than an ODI, in which he had done most of the hard work. Pandey had settled in and was looking comfortable crease. A half-century or even a century was there for the taking against a demoralised Lankan line-up. But he went for an ugly slog sweep, ending up with a top edge which was taken easily by Tharanga at mid-wicket.
MS Dhoni — Rating: 8, Verdict: Very Good
Dhoni didn't get a chance to do much with the bat as most of the job was already done. But he was again instrumental behind the stumps, as he completed his 100th ODI stumping, becoming the first wicket-keeper to do so. Dhoni has been terrific in the series and he hasn't been dismissed even once by the Sri Lankans, which shows how much the former captain still has to offer to Indian cricket.
Bhuvneshwar Kumar — Rating: 10, Verdict: Excellent
Bhuvneshwar Kumar had been bowling great line and lengths in the series, but had failed to get as many wickets as he would have liked. But it was different on Sunday as Bhuvi registered his first five-for in ODI cricket with some excellent bowling. 4 of the 5 wickets were proper batsmen. He got the wicket of dangerous looking Thirimanne, using the angle perfectly to deceive the set Sri Lankan. He will now be looking to build on this performance.
Yuzvendra Chahal — Rating: 7, Verdict: Good
Chahal was a tad unlucky to get only one wicket, his effort deserved more. He was economical with the ball, not afraid to flight when required. He conceded only 36 runs from his 10 overs, and didn't concede even a single boundary. Kohli will no doubt be happy with his performance, as India now has two capable leg spinners in their ranks.
Shardul Thakur — Rating: 5, Verdict: Poor
Shardul Thakur was taken to the cleaners by the Sri Lankan batters. He conceded 48 runs from his six overs, including a couple of wides. He was consistently being hit for boundaries and struggled to find the right line and length on the pitch. He will be disappointed that he failed to make the most of his opportunity, considering many first choice fast bowlers were rested for this series.
Jasprit Bumrah — Rating: 8, Verdict: Good
Bumrah again picked up a couple of wickets, and was also named the man of the series for his terrific performances in the series. He conceded 45 runs from his 10 overs but never the Sri Lankan batsman get away. He also picked the wicket of captain Upul Tharanga who was looking dangerous and it seemed would take the game away from India.
Kuldeep Yadav — Rating: 7, Verdict: Average
Kuldeep Yadav got the most important wicket of Angelo Mathews just as the final few overs of the innings were starting for Sri Lanka. He was economical, conceding 40 runs from his full quota of 10 overs. He changed his line and length effectively to not let the batsmen settle in and go after him. He might well emerge as India's no.1 spinner in limited overs cricket.