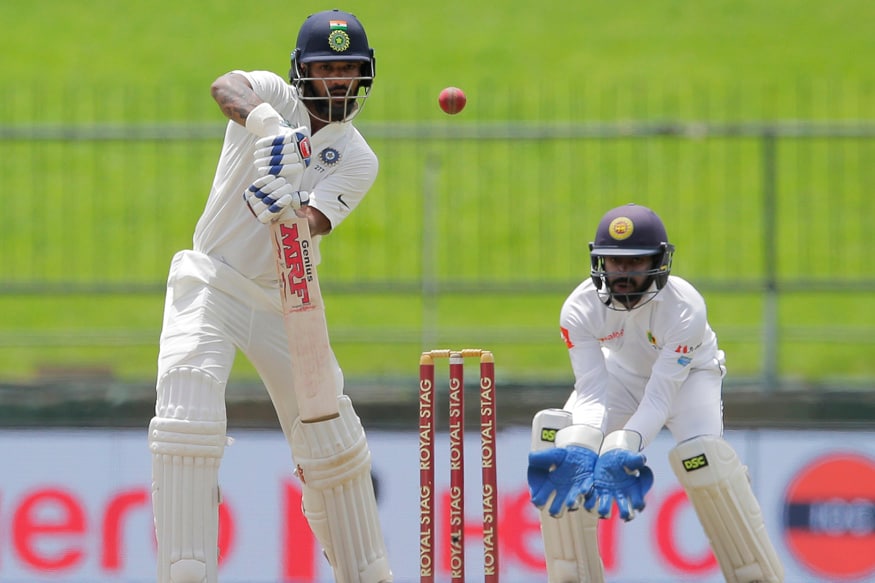 Pallekele: Talking about his smashing knock of 119 from just 123 deliveries, Shikhar Dhawan on Friday said that he was backing himself to play his shots.
"I tried to go out and express myself, I played my natural game and backed myslef as much as possible." Dhawan said in the press conference.
The opener added that the pitch wasn't as assistive to batting as few of the previous surfaces have been,
"The wicket was a bit on the slower side with not much bounce. The outfield too was a bit on the slower side and run scoring wasn't easy."
He said that the team will be eyeing a total of above 400, and that they still have batsmen who are capable of scoring the runs.
Dhawan also praised the Sri Lankan fielding effort, saying that the hosts deserved credit for their performance.
"They made a good comeback and performed well in the field. They deserve credit for good bowling."
Speaking about the Sri Lankan spinners, Dhawan heaped praise on chinaman bowler Lakshan Sandakan,
"His ball was turning, and as i was playing him for the first time, it was a bit difficult to pick his googly. It became a bit easier after initial few overs as I realised his googly came a bit slower as compared to other deliveries."
Dhawan got out to a tad rash shot, but the opener said that it was because of his aggressive game.
"If you're playing like a king, you will get out like a king, if I played aggressively, I will get out aggressively." he said with a laugh.
I know I am an aggressive batsman so I would rather get out that way (pull to square leg) than getting out in the slips and being defensive because that is not my natural game," he added.
Dhawan's opening partner KL Rahul reached his seventh consecutive fifty but again missed out on a hundred, talking about his own approach to reaching the ton,Dhawan added
"Everyone has their own approach, some people get cautious and do it in singles but if i see that I can hit any bowler, then I go after him. I feel KL is also similar to me in this way. Sometimes it works, sometimes it doesn't."
Dhawan also talked about his unique celebration, saying it was a message to the boys who had given him a new nick name but the dasher didn't reveal what that name was.