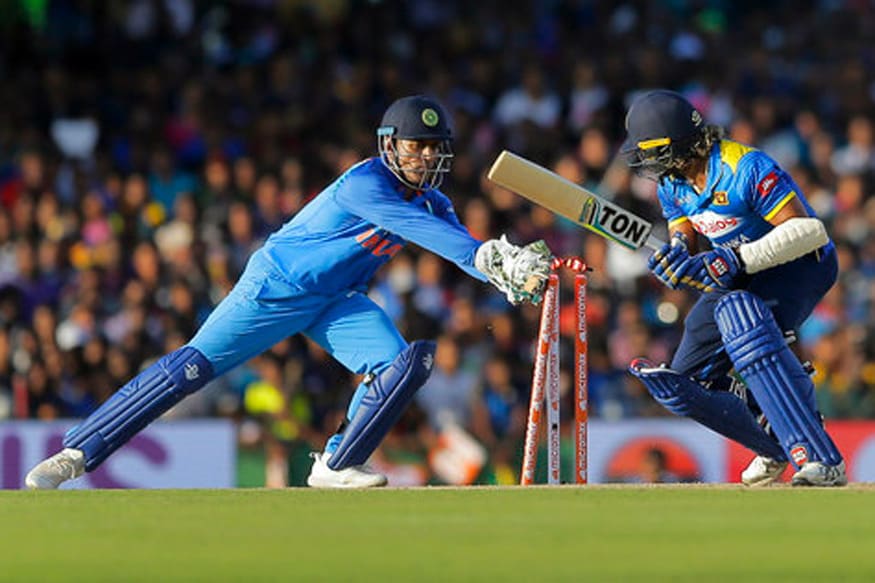 Mahendra Singh Dhoni equalled Kumara Sangakkara's record for most stumpings in one-day international matches.
Dhoni's stumping of Sri Lanka opener Gunathilaka was his 99th in limited-overs cricket.
Sangakkara has played 404 ODIs, while MS Dhoni has played only 298 ODIs in comparison.
Third wicket-keeper in the list is Romesh Kaluwitharana with 75 stumpings to his name.
Dhoni's form and future has been under scanner post his Test retirement but a string of limited overs matches in the next three months will enable the former skipper get some momentum and consistency going his way, skipper Virat Kohli said about the former captain.
Dhoni's form has been on the wane and Kohli is hoping that the next 24 limited overs matches will help Dhoni get his mojo back.
"This coming season gives us an opportunity to define roles for players and give them time to execute it so that for the World Cup, we know exactly what one player needs to do in certain situations," Kohli told mediapersons ahead of second ODI.
"And it helps someone like MS also because he doesn't play Test cricket anymore. This long streak of matches will help him be in touch with the international games, find some momentum and stick to it," Kohli added.
For the skipper, it's about growing good habits and sustaining them in the lead upto the World Cup.
"So it's an opportunity for everyone in the team including MS to create good habits and sustain them over a period of time," the skipper made it amply clear how much he wishes to have an in-form Dhoni in the team.