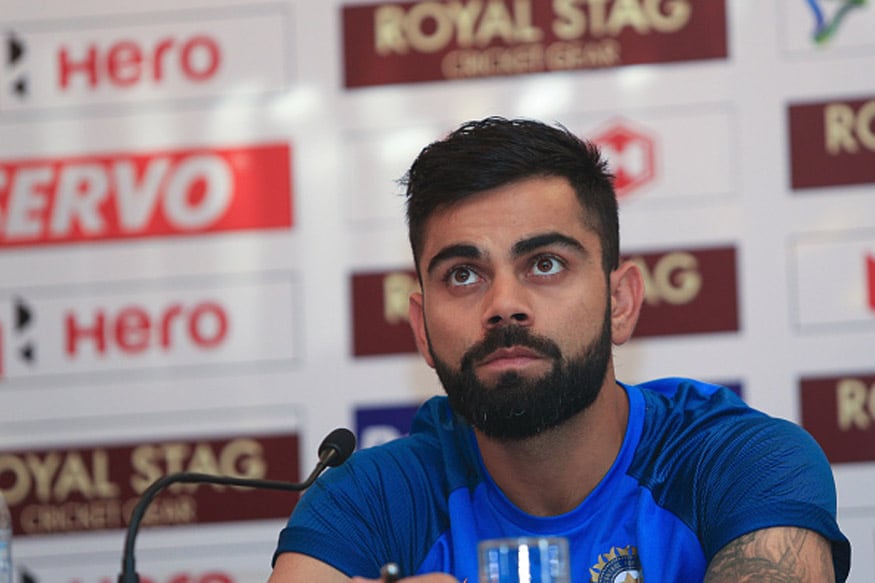 New Delhi: India skipper Virat Kohli has issued a warning to his troops ahead of the first ODI against Sri Lanka on Sunday by saying that no one is guaranteed of a place in the squad as there are multiple players vying for limited spots it the playing XI.
Kohli mentioned that India's bench strength is very good which augurs well for the team in the long run. But the skipper also said that the players have to be on their toes all the time as the competition for a place is getting fiercer day-by-day.
Pointing towards the curious case of Ajinkya Rahane, Kohli said that the right-handed opener knows that he is behind Shikhar Dhawan and Rohit Sharma in the pecking order but he remains India's third choice opener in limited overs format.
"I think in any format if there is desperation or urge to cement your place in the team, there is always going to be pressure on you. So what we try to do is tell players that just go out there and express themselves. It is a pecking order that you need to look at. Shikhar was not in the mix of things till a few months back but when he came back, you have seen what he can do," said Kohli
"He came and got the golden bat in the Champions Trophy and then he has won us two Test matches with the bat. So he is an impact player and we all know that. So, Rahane understands that at this moment, he is the third opener and we will certainly back him there because we have shifted him around a bit in the middle order as well and it is not right. But he has grabbed his opportunities well as he was the man of the series in West Indies, so he continues to be in the set-up," he added.
Kohli also revealed that KL Rahul will have to fight it out with Manish Pandey in the middle order — who has done really well for the team in Rahul's absence.
"We feel that KL Rahul is a very solid player and before injury he had done well in all the three formats. It is unfortunate that he missed out and then Manish got chances. Look KL will definitely be playing in the middle order. We are not going to have a predictable or a set pattern anymore in what we want to do in terms of Tests, ODIs and T20 cricket. Anyone could go anywhere — that is what we are looking to do," the India skipper said.
"Someone like Manish, he has done well and grabbed his opportunities. He has got a ton in Australia as well. We know about his talents and what he brings onto the field as well. He is a super-fit guy and has a bright future ahead of him and he will certainly be back. So, these guys will have to compete for a spot in the middle-order. There is no guarantees for anyone. As long as there is healthy competition, it will only benefit the team," Kohli added.
Kohli also wants specific roles for certain players keeping a two-year time frame leading upto the 2019 World Cup, in mind.
"For us, it is about the time frame. It is not about which opposition we are playing. You can't pick and choose. I have never believed in that and we as a team don't believe in that," Kohli said when asked about whether he will use players depending on the opposition.
"Two years to go for the World Cup and now is the time to give players certain roles to get into the groove and understand what we need to do," said Kohli.
This venue is the place where Kohli took his maiden ODI bow in 2008 and the India skipper said that the Rangiri International stadium holds a very special place in his heart.
"It is quiet special for me. When we arrived here yesterday, lot of memories came back. It was coincidentally the same chair that I sat in nine years ago when I played for India for the first time. So very happy memories from this place," Kohli said.
"First time I ever opened in professional cricket was for India and it was something that I had never done before. It was quiet adventurous first couple of games for me. But good to remember you know, nine years down the line same date and same month and same stadium. So, it couldn't have been more special for me so that's why I thought the picture had to be put out there," he added.