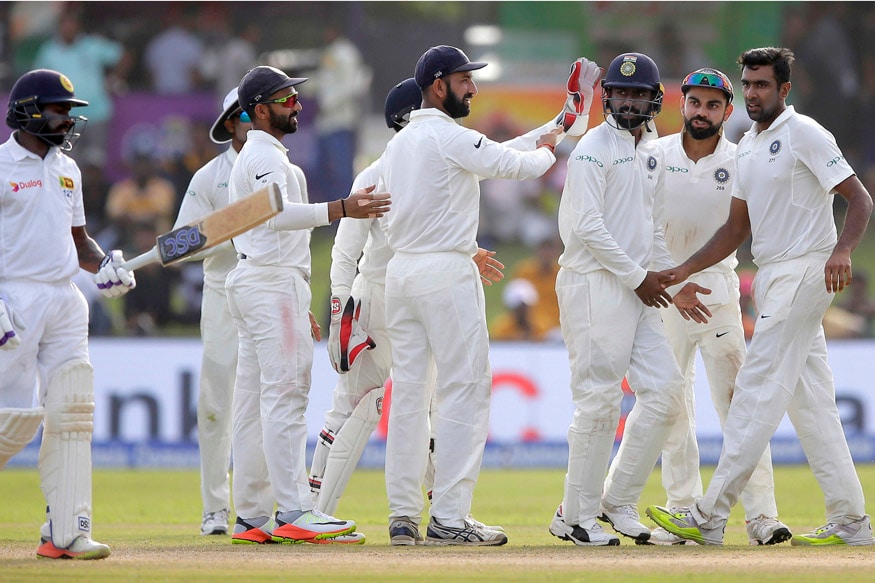 In Enter the Dragon (1973), which has acquired cult status down the years, Bruce Lee admonishes a young boy who bows down before him. "Never take your eyes off your opponent," he says, giving him a smack on the head.
It's something worth remembering in any sport, even when you're dominating. Take your eye off the ball, even for a split second, and the consequences can be disastrous. The history of modern cricket would read very differently had Glenn McGrath not turned his ankle stepping on one, with Australia 1-0 up in an Ashes series that has since been anointed as The Greatest Ever.
For India, the challenge on day two in Galle was to keep the hammer down after the total ascendency of the opening day. They lost both overnight batsmen before they could do too much more damage, but those that followed ensured that Sri Lanka would have no respite. More importantly, they kept up the tempo.
Sri Lanka took four wickets in the morning, but the 27 overs they bowled still went for 104 runs. The main reason for that was R Ashwin, who had come into this game with just 53 runs in his last six Test innings. He struck the ball with pristine timing, and though he missed out on a half-century, the platform was in place for Hardik Pandya, on debut, to take off after lunch.
He did that beautifully. There was one fortuitous pull, a top edge that sailed over the keeper, but the others went off the sweet spot and cleared the rope with something to spare. Mohammed Shami wasn't interested in a support role though, striking three sixes of his own. One was hit so cleanly that it thudded off the pavilion wall and back on to the field of play.
By the time India were bowled out, they had added 97 in the 97 balls after lunch. And with half of the second day's play remaining, they had the sort of total on the board that many teams would labour two days over. Shikhar Dhawan's blistering knock was the prime reason, but every other batsman who spent time at the crease also made Sri Lanka pay. It was a relentless hammering.
"If they are not playing well at some stage, we would still like to dominate because we're the No.1 team in the world," said Cheteshwar Pujara after the day's play, without the slightest hint of arrogance.
"We would like to maintain that standard. I think we have started, we are very well balanced. We have scored enough runs, and we've got five wickets today (Thursday). We are very well poised at this stage."
The bowling, apart from a couple of wayward overs from Umesh Yadav, was every bit as sharp as Dhawan's cuts and thrusts on day one. Shami took the big wicket of Kusal Mendis, Sri Lankan cricket's brightest young hope, and the spinners then switched on tourniquet mode to build the pressure. Upul Tharanga, who made his debut in the same series as MS Dhoni (2005), raced to 50 off just 44 balls. Thereafter, he added just 14 off 49, uncertain of how to tackle Ashwin and Jadeja, who didn't take long to settle into a rhythm.
Both men were slated for their Champions Trophy performances, and their places in the white-ball scheme of things will continue to be debated. But in the longest format, they are a terrific combination. Abhinav Mukund will get enormous credit, and justly so, for two stunning pieces of fielding late in the day, but it was the drip-drip pressure exerted by the spin duo that induced the mistakes.
Through it all, even when Tharanga was chancing his arm with great aplomb, there was no hint of panic from India. You don't need to, not with 600 on the board. But teams with such a cushion can sometimes get sloppy. India, as they showed during the clinical 4-0 demolition of England last winter, rarely do these days. Virat Kohli, who threw himself about in the covers to pull off a couple of fine saves, led the way, and a team that has the eye of the tiger responded. Sri Lanka will do very well to escape this Test without a mauling.