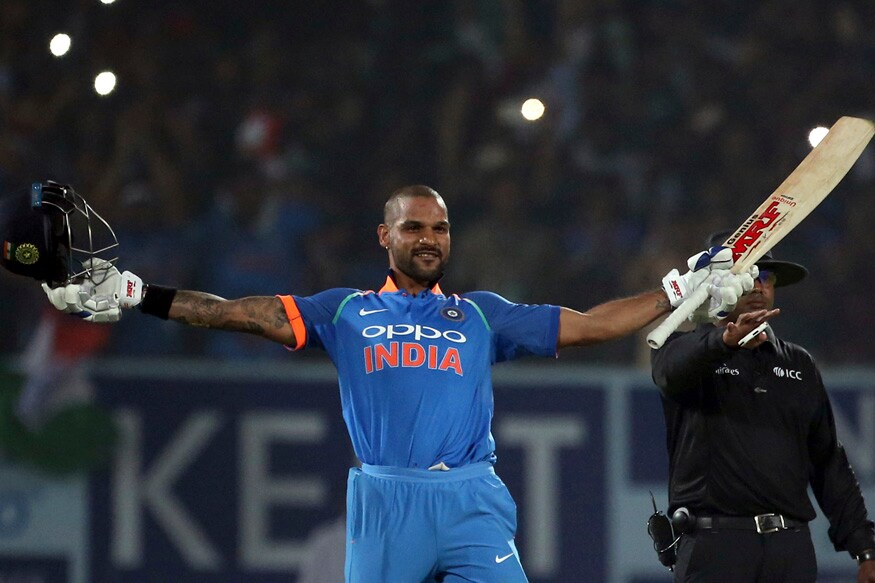 Indian spinners strangulated the Sri Lankan batting before Shikhar Dhawan and Shreyas Iyer starred with the bat as India sealed a convincing 8 wicket win over Sri Lanka and sealed the series 2-1 in Vishakapatnam on Sunday.
Cricketnext takes a look at the performance of all the Indian players in the match.
1.Rohit Sharma: Rating 4: Verdict: Poor
After a double ton in Mohali, Rohit Sharma had a rather ordinary day with the bat as he was dismissed for 7. He failed to pick up a wrong one from Dananjaya and saw his stumps being shattered. Although he was smart with his captaincy as he decided to pick Kuldeep Yadav ahead of Washington Sundar and wasn't afraid to introduce him in the 11th over, when the pacers were proving to be expensive. He will now be hoping to carry the momentum into the T20I series.
2. Shikhar Dhawan: Rating 10: Verdict: Excellent
If it was Rohit Sharma in the previous match, then it was Shikhar Dhawan in this game as he smashed an unbeaten ton to help India coast home and seal the series win. India had lost Rohit Sharma early and Dhawan showed great maturity as he curbed his natural instincts to stay at the crease. He was outpaced by Shreyas Iyer but Dhawan showed his experience to register his 12th ton. With Shastri confirming that Dhawan will open the innings with Vijay in South Africa, some runs under his belt ahead of the big challenge should do him a world of good.
3. Shreyas Iyer: Rating 9: Verdict: Excellent
After failing in his first match at Dharamshala, Shreyas Iyer has made the most of his opportunity at no.3 as he scored back-to-back half centuries and looked confident in the middle. It also showed the value of the IPL, as Iyer didn't look out of place at the international stage. He later admitted that playing with the big guys in IPL helped him smoothen the transition to the international level. If he can continue this form in the T20I series, he might well get a look in at the no.4 spot once Virat Kohli returns to the team.
4. Dinesh Karthik: Rating 6: Verdict: Good
Although he didn't have much to do, Karthik ensured India didn't have to face any further hiccups . He scored a comfortable 26 off 31 balls. He stayed unbeaten which will give him confidence and he is also among the contenders for the no.4 spot.
5. Manish Pandey: Rating NA: Verdict NA
Not rating Manish Pandey as well as he didn't have any significant role to play in the match.
6. MS Dhoni: Rating 7: Verdict Good
Although Dhoni didn't get a chance to bat but he was his assured self behind the stumps and also affected a quick stumping to dismiss Tharanga, who was looking dangerous and was batting on 95.
He also guided Kuldeep Yadav and Yuzvendra Chahal, who strangulated the Sri Lankan batsman.
7. Hardik Pandya: Rating 6: Verdict: Average
Hardik Pandya had a rather ordinary day with the ball and also conceded 5 consecutive boundaries in a single over. Although, his figures improved as he accounted for Pathirana and Lakmal towards the end. He ended with figures of 2/49 but there were enough clues in this game that he will have to work on his bowling to consistently bowl 10 overs in ODIs. Pandya didn't get a chance to bat.
8.Bhuvneshwar Kumar: Rating 7: Verdict: Average
Bhuvneshwar Kumar didn't have the best of days as he conceded 35 runs off 6.5 overs and failed to provide any early breakthroughs to India. He did manage to get the wicket of Gunaratne but he would be disappointed considering the high standards he has set for himself.
9. Kuldeep Yadav: Rating 9: Verdict: Excellent
Kuldeep Yadav was excellent and he would have been under some pressure considering he was overlooked for the South Africa series and also the first two ODIs. Kuldeep wasn't afraid to flight the ball up and that's all that was required as Sri Lankan batsmen had absolutely no clue on how to tackle him. Kuldeep ended with figures of 3/42.
10. Yuzvendra Chahal: Rating 9: Verdict: Excellent
Yuzvendra Chahal hunted in partnership with Kuldeep Yadav and he also took 3 wickets, conceding just 46 runs. He also bowled 3 maidens and had greater control in comparison to Kuldeep Yadav. This also proved why he often gets the nod over Kuldeep. He also took one catch and was safe in the field.
11. Jasprit Bumrah: Rating 8: Verdict:Good
Bumrah shared the new ball with Bhuvneshwar Kumar but failed to provide any early breakthroughs as was expected from him. Bumrah ended with figures of 1/39 in 8 overs as Lankan batsmen struggled to get him away after the powerplay. He will now be looking to get among the wickets in the T20I so that he goes to South Africa with some form under his belt.