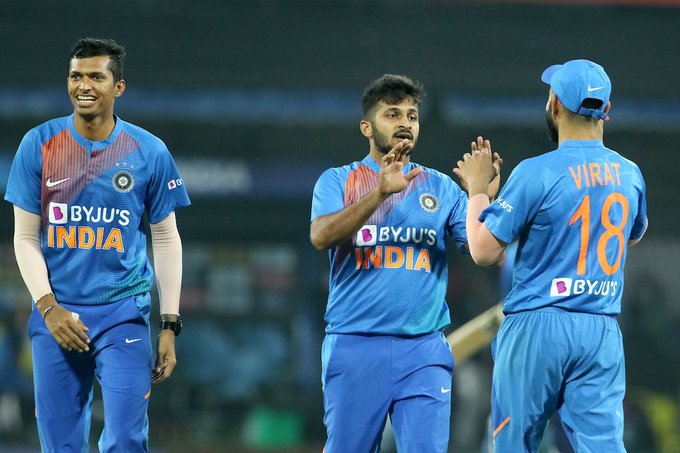 At one stage in the third T20I against Sri Lanka in Pune, India's Shardul Thakur had taken five T20I wickets in his last 20 deliveries. He finished with two wickets in Pune after a blistering eight-ball cameo with the bat that saw him add 22 valuable runs, which eventually helped clinch the Player-of-the-match.
The CSK man is known to use the long handle to good effect and has occasionally impressed with cameos. Apart from Sanju Samson, who played two deliveries and smashed one for six, Thakur had the highest strike rate (275) in the innings by a fair distance.
"I believe I have the ability (to bat) and recently I've been practising well. The idea is that if I can contribute runs at No.8 it'll be good for the team," Thakur said after the match.
Talking about his bowling, Thakur explained that swinging the ball irrespective of the conditions is something that has helped him.
"I can bowl good outswingers, so initially the idea is to swing the ball. If you swing the ball in any conditions, you can get wickets."
Along with Thakur another young fast bowler who left a big impact in the two-match series was Player of the Series Navdeep Saini. The youngster clocks speeds in excess of 145kph without any difficulty and has the ability to bowl the perfect yorkers as well, as Kusal Perera found out.
"Speed is natural to me. But now I'm paying attention to my diet, eating and sleeping, training. You need that to be able to play for India. I've played with the red ball for the last four-five years only. Before that I was playing with tennis balls," a visibly delighted Saini said.
Saini, like Thakur, finished with five wickets in his two outings and believes he is now more comfortable with the limited overs formats.
"When I was playing only with the red ball, I used to find it very different to bowl with the white ball, but I'm feeling better with it now. And my bowling partners also help me with suggestions and ideas on what to do."