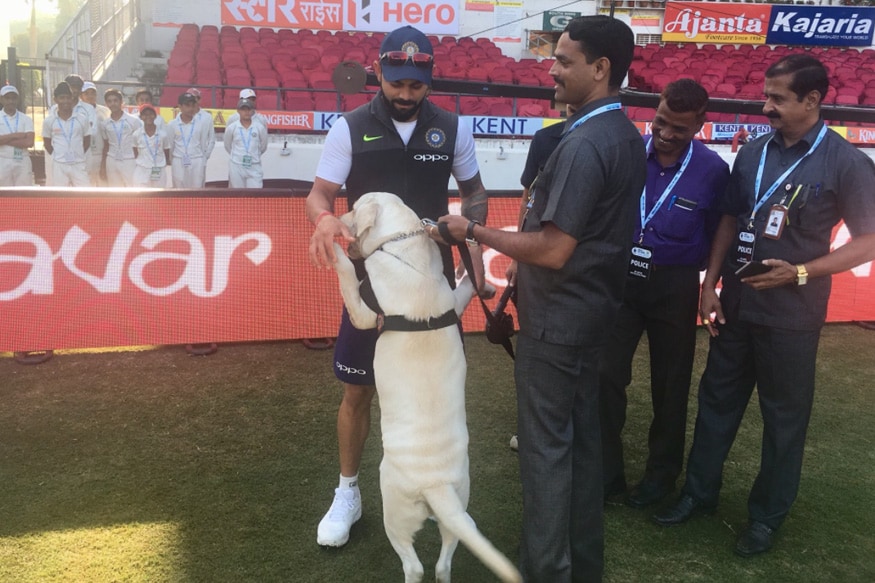 Indian captain Virat Kohli chose to chill with the security dogs ahead of the 2nd day of the second Test between India and Sri Lanka.

BCCI posted a small clip and some photos of Indian captain relaxing with the dog before the day's play started in Nagpur.

They tweeted, "Sharing a light moment with man's best friend - Captain @imVkohli before the start of day's play."

Captain @imVkohli's love-affair with dogs continues.


Captain @imVkohli's love-affair with dogs continues. pic.twitter.com/uTJJwmTmoh

— BCCI (@BCCI) November 25, 2017
Sharing a light moment with man's best friend - Captain @imVkohli before the start of day's play. pic.twitter.com/q7KcRd5VpB

— BCCI (@BCCI) November 25, 2017



Kohli has often posted pictures and videos with his lovely dog Bruno. Be it of taking a tour of his house in the Capital with Bruno or training in the gym with Bruno for company.

In fact, after the advent of the latest software Prisma, Kohli posed with Bruno and posted: "Bruno's Prisma debut."

Kohli has often spoken about how spending time with Bruno gives him peace and he loves the joy that comes with it. He also calls the love affair between the two as unconditional.

The Indian skipper often makes it a point to meet the sniffer dogs in stadiums, wherever India is playing. Earlier Kohli was seen posing with dogs in Pune and Chennai.

First Published: November 25, 2017, 11:15 AM IST