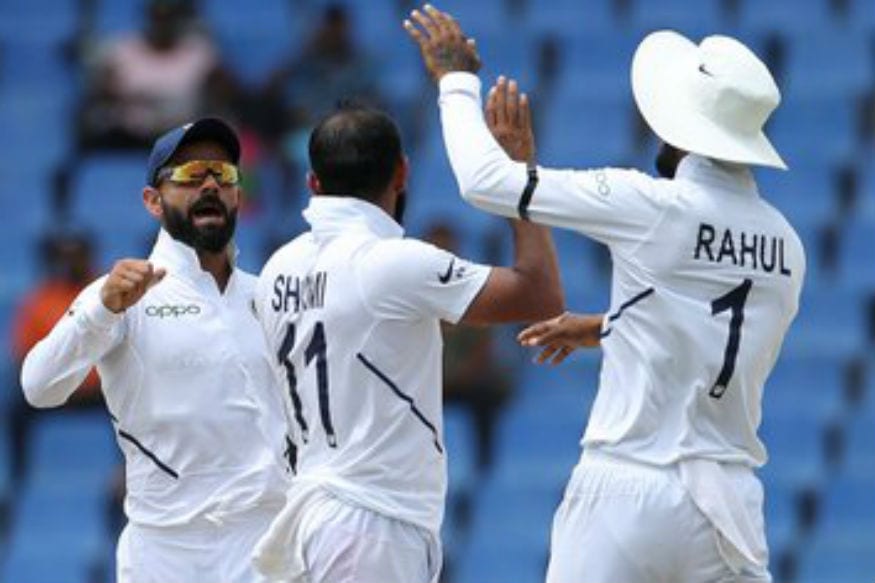 India's win over West Indies in the first Test in Antigua saw Virat Kohli surpassing Sourav Ganguly as the Indian skipper with the most number of away wins in Test cricket.
Kohli said it was a 'blessing' to be able to contribute as captain, but stressed his record was possible only because of a strong team.
"It's a blessing that I'm in a position where I can contribute to the team in more than one way, but nothing is possible without your team. I don't think the credit can be taken away from the team at all," he said at the post-match presentation.
"I am taking decisions, yes, but execution is done by others who raise their hand. We enjoy everyone's company, and that's the reason for our success."
India won by 318 runs, but Kohli said the margin didn't reflect how tough they had to work for the win.
"It was more of a grind. We had to come back in this game 3-4 times, so that is a positive," Kohli said.
"Even the last time we played here the result was very good for us. Jinks was very good in both the innings; KL solid in both innings and a mention must go to Vihari too," he added.
Jasprit Bumrah's spell of 5-7 in the second innings was key for the visitors as it helped them wrap up the game on the fourth day itself.
Kohli stated that workload management was important for the pace bowling department, adding that he is happy with the number of quality bowlers at his disposal currently.
"Bumrah's workload is most important which is why he didn't play any white-ball games after the World Cup. He'll be a key factor for us as long as the World Test Championship continues.
"Shami is the same and Ishant is a banker, reliable always. Umesh is there too and Navdeep is waiting in the wings. We are settled as our bowling options, but managing workloads will be important."
Nevertheless, Kohli is in no mood to take things lightly and is prepared for the home side to come hard at them in the second Test at Jamaica.
"Jamaica is another opportunity to put in a professional performance. We know West Indies will come hard at us and we will try to plug the gaps from this Test."
West Indies skipper Jason Holder, meanwhile, bluntly said that the batting unit needs to sort out the issues that have plagued them for so long.
"The bowlers did a good effort but we didn't bat well. The batting issues need to be sorted, they've been going on for too long.
"The top order is not doing well and is leaving far too much for the middle order to do. The wicket was a good one and we should have batted better.
"I wouldn't question the team selection. We played the same combination in the last series and we did very well. I think we've got to blame about our batting performance.
"We could've put up a much better performance. In hindsight you can say a lot of things, but we players need to take more responsibility." ​