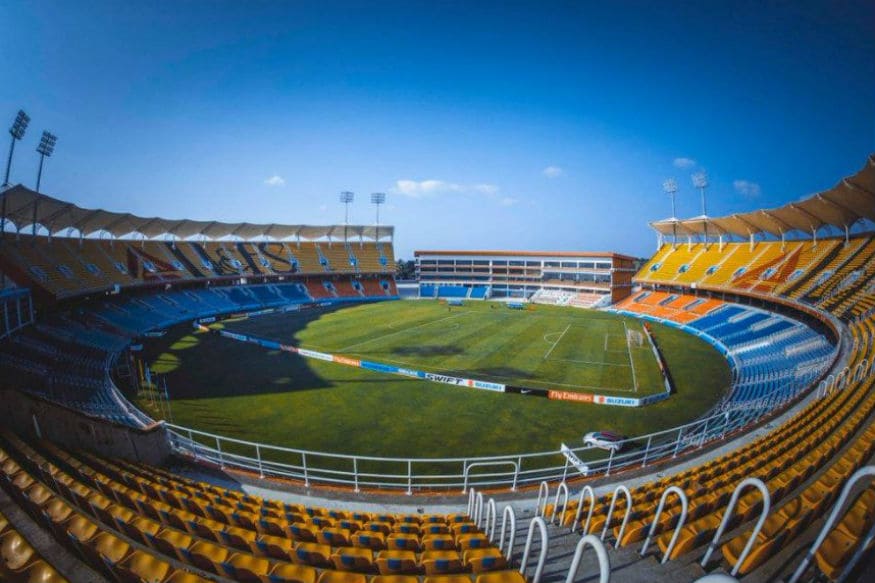 Established: 2015
Capacity: 55,000
Location: Trivandrum, India
The Greenfield International Stadium in Trivandrum, Kerala will be hosting its maiden ODI game when India take on the Windies in the final match of the five-match series.
India currently lead the series 2-1 and a win in this match will seal the series. But a win for the visitors would ensure the series ends level.
However, the possibility of rain affecting the match in some way is high as the weather forecast for Friday in the city predicts at least some rain.
The multi-purpose stadium has only ever hosted a solitary international game in 2017: a T20I between India and New Zealand, which was also rain-affected and reduced to an eight overs a side game. India won that game by 6 runs.
Brief Overview
The stadium has also hosted international football matches, the first of which took place in 2015 when India beat Afghanistan in the final of the SAFF Cup.
That match drew 48,000 spectators to the game, a number that isn't surprising given how popular the sport is in the state.
Besides its multi-purpose nature, the stadium is also the first fully eco-friendly one in India. It is surrounded by plants and has a facility for water harvesting.
In 2016, the stadium also won the David Vickers Award for New Venue of the Year in the Stadium Business Awards 2016 held at the Santiago Bernabéu Stadium, Madrid.
However, just like the Brabourne Stadium's return to hosting international cricket after a 9-year exile, the Greenfield International Stadium hosting this ODI was also shrouded in some controversy.
KCA Mess
The Greenfield International Stadium was originally picked as the hosts for the final ODI by the BCCI. However, the Kerala Cricket Association (KCA) chose to shift the match to the Jawaharlal Nehru Stadium in Kochi instead.
The decision to hold the match there did not go down well with Kerala's football fans, who worried that reconstructing pitches would damage the turf that was relayed in for the FIFA U-17 World Cup, which could in turn lead to higher injury risks for footballers who played for Indian Super League (ISL) side Kerala Blasters.
The situation became so bad that Sachin Tendulkar (then co-owner of the Blasters) and Sourav Ganguly spoke out against the KCA's decision, as did footballers Iain Hume and CK Vineeth.
Eventually the state's sports minister held talks with the KCA and the game was once again shifted back to the Greenfield International Stadium.
Controversies aside, the final game of the series should be a thriller given the high stakes that surrounds the match but fans must hope that rain doesn't play spoilsport.