He did not let Chris Gayle off the hook and finally prized him out leg before wicket and then returned to see the back of Nicholas Pooran and Roston Chase, thereby effectively ending any hopes the West Indies had of chasing India's target down in the second ODI at Port of Spain.
Bhuvneshwar Kumar returned with 4-31 in 8 overs and bowled as many as 34 dot deliveries as India beat the hosts by 59 runs (D/L method) – this performance summed up the form Bhuvneshwar has been in 2019.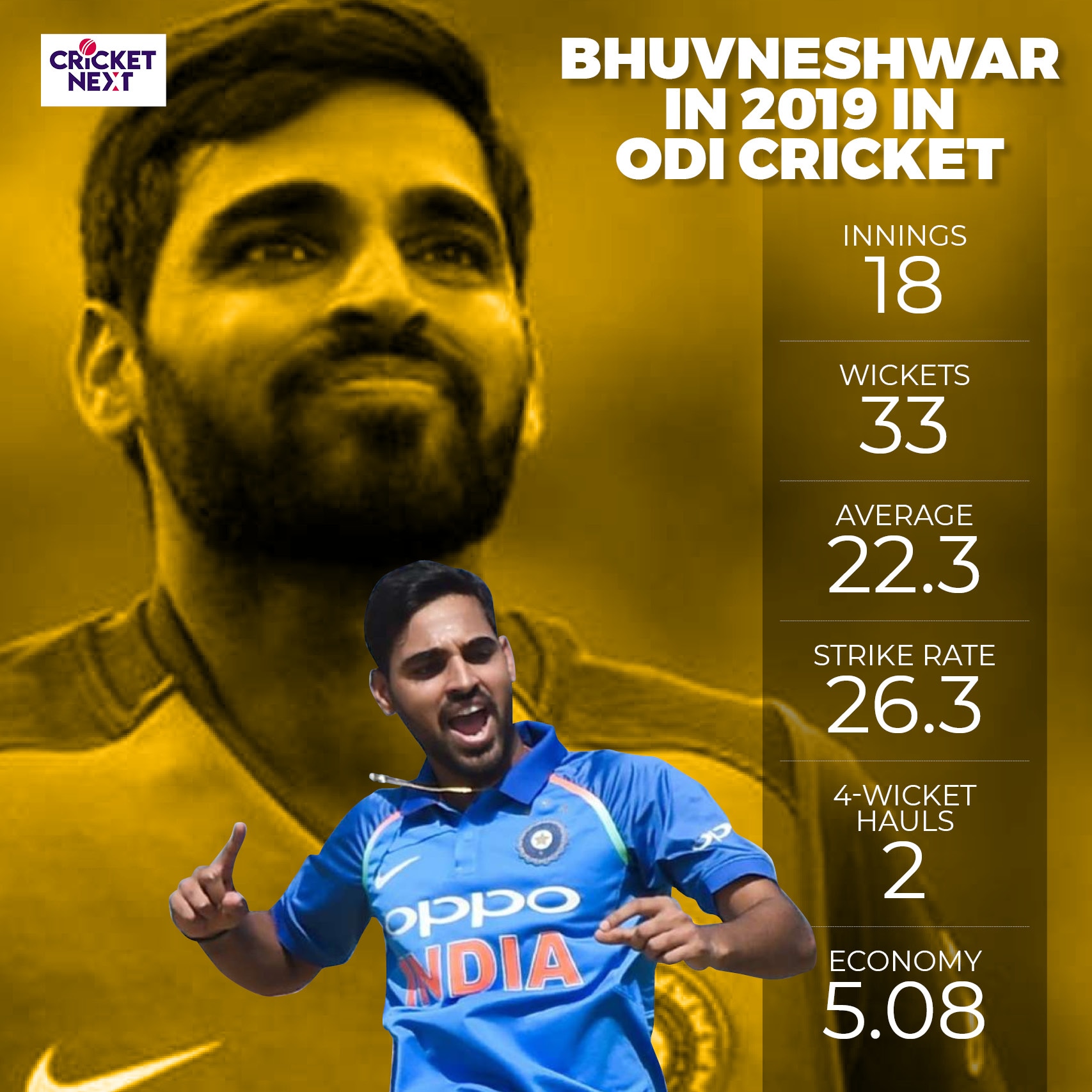 He has picked 33 wickets in 18 innings at an outstanding average of 22.3 and strike rate of 26.3. His exploits include two four-wicket hauls.
He is amongst the top 10 fast bowlers in terms of, both average and strike rate (min. 10 wickets), since the beginning of the calendar year.
Not only has Bhuvneshwar been a lethal wicket-taker but has also been highly restrictive with an economy rate of just 5.08.
If we combine the average, strike rate and economy rate then Bhuvneshwar comes in at number 6 (excluding bowlers from Afghanistan and Zimbabwe) only behind Mitchell Starc, Jimmy Neesham, Mohammed Shami, Jhye Richardson and Pat Cummins - that is how good the Indian pacer has been in 2019.
Compare him to his two fast bowling peers and interestingly it is Bhuvneshwar who has a better average and strike rate than Jasprit Bumrah (24.6, 31.8) and a better economy rate than Mohammed Shami (5.13) since 2019.
Bhuvneshwar bowled as many as 20 dot deliveries against the West Indies in the first powerplay in the second ODI at Port of Spain. This has defined his bowling performances in the year.
Bhuvneshwar has been exceptionally restrictive in the first powerplay in 2019. He has an economy rate of 3.98 and 69.46% of the deliveries he has bowled in this phase of play haven't been scored off. He has only conceded a boundary every 2 overs – these are brilliant numbers when the fielding restrictions are in place.
He has the fourth-best economy rate amongst pacers in the first 10 overs in 2019 after Shami, Bumrah and Trent Boult (min. 300 balls bowled; considering only major cricket nations).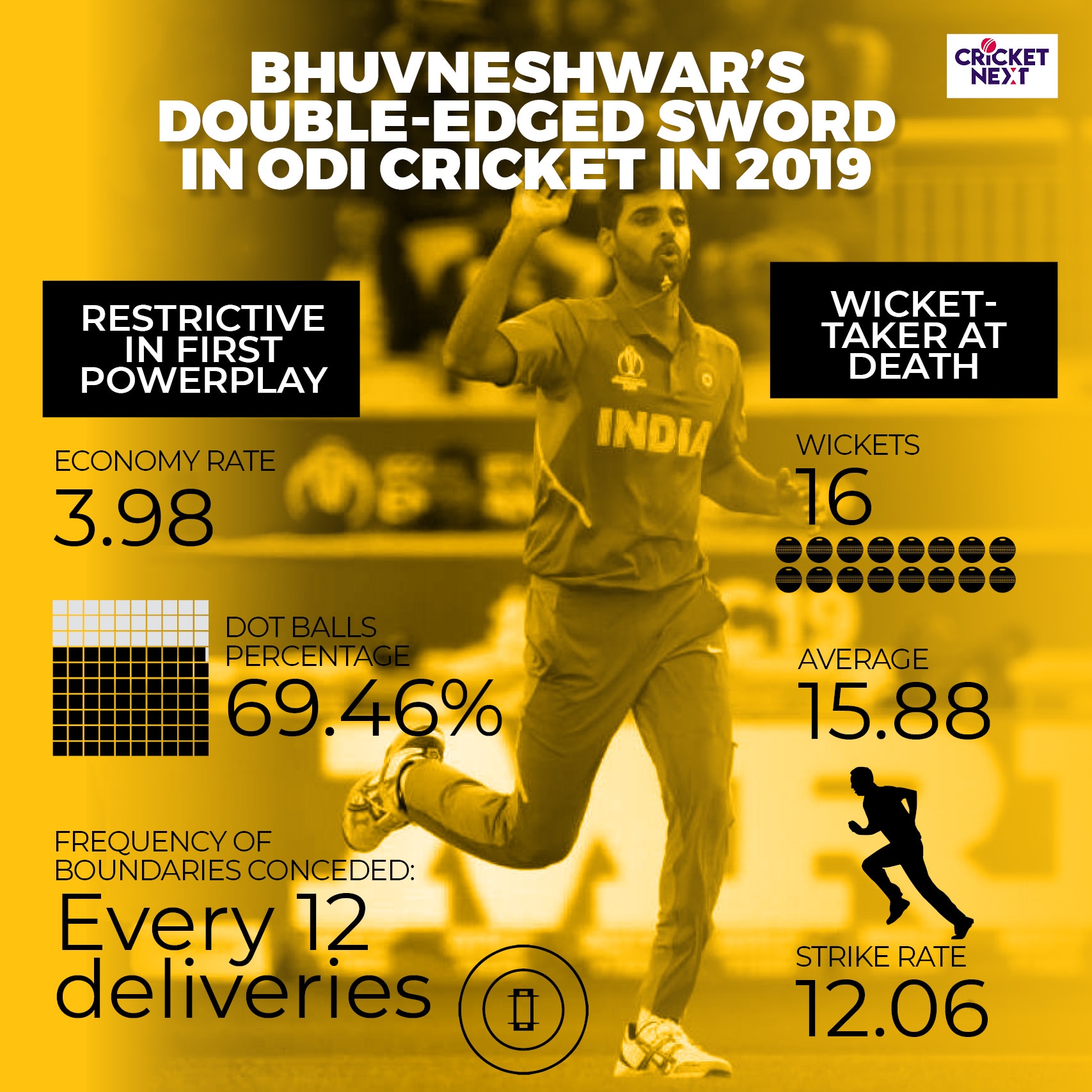 Miserly in the powerplay and a wicket-taker at the death (overs 41-50) – that has been Bhuvneshwar's success mantra in 2019. He has picked 16 wickets at an average of 15.88 and strike rate of 12.06 in the death overs in 2019.
He is the second-highest wicket-taker in death overs only after Mustafizur Rahman (23) in this time period and his average and strike rate are the fourth-best in this period. Additionally, he has also been able to contain the batsmen in the slog overs and has a good economy rate of 7.9 in this phase of play.
2019 has, by far, by miles, been the best year for Bhuvneshwar in ODI cricket. Never before in any calendar year (min. 5 ODIs in a year) did Bhuvneshwar have an average in the 20s nor a strike rate in the 20s.
Till 2018, he had picked 99 wickets in 94 innings at an average of 38.22 and strike rate of 45.9. In 2019, the average has dropped to 22.3 and the strike rate has also dramatically improved to 26.3.
In 11 of the 18 innings in 2019, Bhuvneshwar has picked at least 2 wickets in a match and in as many as 10 of them conceded less than 5 runs per over.
After a terrible year with the ball in the format in 2018 (11 wickets in 14 matches at 48.81 at a strike rate of 55), it has been a sensational return for Bhuvneshwar in 2019.
His pace has improved, he is stronger and fitter, has added reverse swing to his repertoire and his confidence is sky high.
Bhuvneshwar is back with a bang!