Shai Hope and Sheldon Cottrell are the two odd men out in the West Indies side. Hope, for the way he bats - the only batsman who doesn't succumb to the temptation of playing one big shot after another.
Cottrell, for the way he bowls - his left-arm pace the only variety in an attack that's otherwise very unidimensional.
Hope is almost a misfit in the line-up filled with attackers bordering on mindless sloggers. He perhaps has the distinction of being the only batsman from West Indies to be questioned on his strike rate! Yet, Hope is what West Indies badly need.
Hope has had a middling World Cup so far, with scores of 11, 68, 11, 96 and 1. The two half-centuries came at strike-rates around 65 and 79, against Australia and Bangladesh respectively. West Indies lost both those matches.
But there's also another way to look at those games, and that's directly related to Hope's knocks. Those were two games in which West Indies didn't suffer middle order collapses. Against Australia, Hope's 68 (105) kept their chase alive until the 35th over before his departure shifted the pendulum. His 121-ball 96 helped West Indies post 321 against Bangladesh, but the target was chased down easily. How much would West Indies have got had Hope perished early? That's anyone's guess.
It ended up being a classic case of a batsman being caught between playing anchor and not knowing when to shift gears. Captain Jason Holder blamed the batsmen after that defeat for being 40-50 runs short, and Hope himself admitted on the need to improve his scoring rate. Hope's strike-rate of 67.75 is comfortably the lowest among his teammates this World Cup. Only Evin Lewis (87.95) and Nicholas Pooran (95.88) have strike-rates under 100 among the other batsman.
"I can massively improve it (the strike rate). Whatever I can do to improve, I'll do that," he had said after that game.
Those doubts perhaps stuck in his mind for the next match against New Zealand, forcing him to play a cover drive way outside his body off a Trent Boult delivery in the third over only to drag it on to the stumps. Hope fell for 1. West Indies suffered a middle-order collapse and managed to get to 284 - falling five agonising runs short of victory - only because of a miraculous century from Carlos Brathwaite. The previous time Hope failed, 11 against England, too resulted in a sub par score of 212.
It's this reason why Hope should stick to his approach, no matter questions around strike rates. He's the one batsman in a West Indies line-up obsessed with power-hitting that has clarity of role. His contributions could go unappreciated outside, even lost amid all the entertaining batting from his peers, but he's the enabler.
Hope's role will be crucial particularly against India in their next game, against whom he had a terrific series last year. Hope scored 250 runs from five innings, only nine runs behind Shimron Hetmyer's tally. In the two matches that West Indies won and tied in that series, Hope made scores of 95 and 123*. Yet again, when Hope succeeded, his team did too.
But Hope will have one big hurdle, as do all batsmen against India, in Jasprit Bumrah. The pacer had the better of the West Indian twice in three matches he played. If Bumrah can do that again in Manchester, India could get a shot at West Indies' volatile middle order.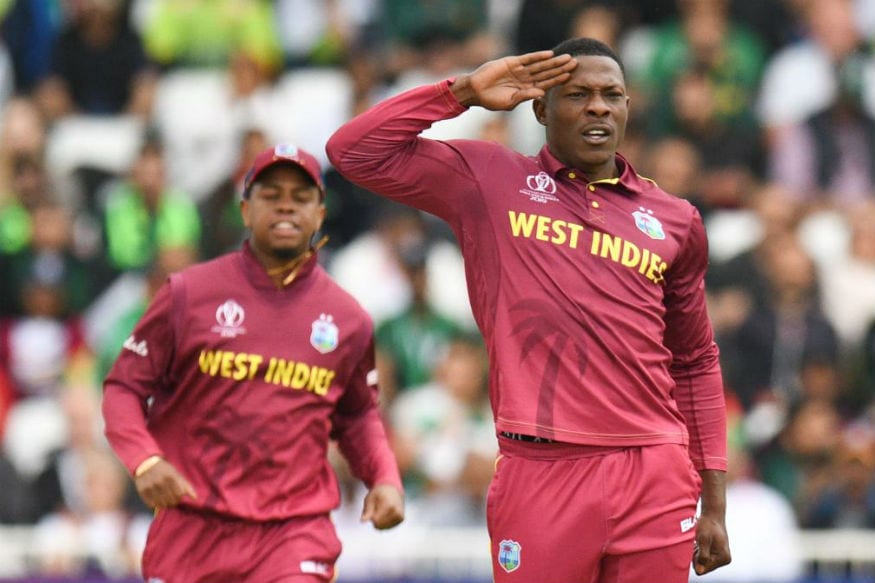 Talking about volatile middle orders, India have one too. Afghanistan exposed issues in India's batting order in the last game, and West Indies would have taken note. Unlike Afghanistan, though, West Indies don't have a spin attack to choke India's middle order. Their only spinner is Ashley Nurse, whose off-breaks might not be as effective against right-hand batsmen dominated line up. But given how Mohammad Nabi bowled, who knows?
West Indies have a very unidimensional attack with plenty of right arm pacers hitting the deck hard. Their approach is straightforward - try bouncing out batsmen, like they did against Pakistan and Australia. When that doesn't happen, West Indies struggle.
The only variation in the attack thus is Cottrell. With nine wickets in six matches, he is the side's leading wicket taker. Add to it his contributions via stunning catches and run outs, and Cottell is the x-factor on the field for West Indies.
Cottrell is coming off a 4-56 against New Zealand, which included the wickets of openers Martin Guptill and Colin Munro for first-ball ducks in the first over. Had it not been for Kane Williamson, New Zealand's innings could have ended on a much different note.
Along with his catches and run-outs, Cottrell's salutes are already one of the sights of the World Cup.
He has promised for more salutes before the tournament ends; a few against India will help West Indies' cause.