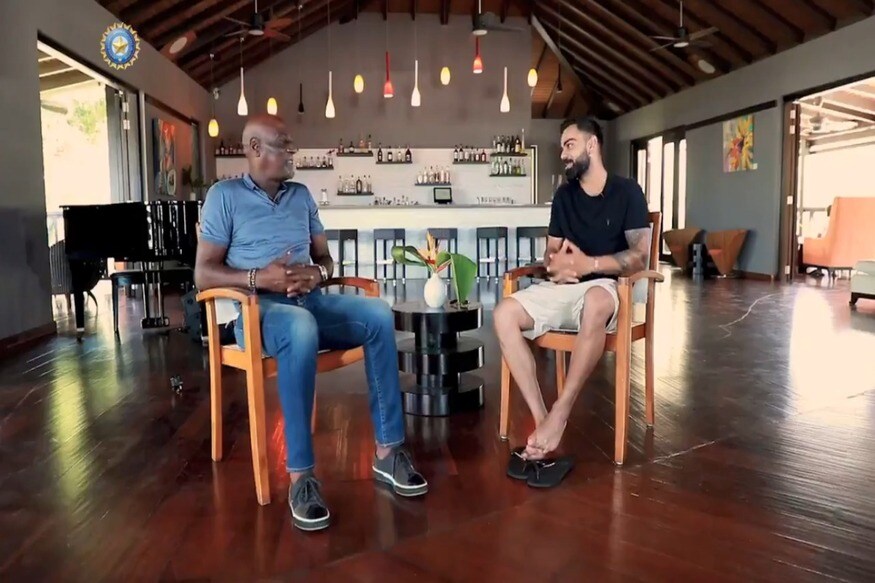 Not too long ago, a cover drive - or however one describes that shot - from Indian captain Virat Kohli had the great Sir Vivian Richards swooning over him in the ODI series which the visitors won 2-0.
The teams have since put away the coloured clothing and brought out the whites for the Test series which begins on August 22 in Antigua at the Sir Vivian Richards Stadium.
On the eve of the contest, Kohli interviewed Richards for bcci.tv, sharing notes on the passion and confidence with which the West Indian played the game.
Kohli's confidence and self belief is second to none in today's day and age in the game, and he began interviewing Sir Viv by asking him about the challenges and the very essence of his confidence against the fiercest of rivals.
"I always felt I was good enough to compete. I wanted to express myself in the best possible way during the game. There was passion and people often wondered why we were so angry, but it was passion," Richards told Kohli.
Special: @imVkohli in conversation with @ivivianrichards (Part 1)

King Kohli turns anchor and quizzes the Caribbean Master to understand his fearless mindset - by @28anand

Full interview 🎥 - https://t.co/HHGvlzfFEi pic.twitter.com/ikl7oifKSi

— BCCI (@BCCI) August 22, 2019
Kohli asked Richards on his approach to batting in the era of uncovered pitches without helmets. The duo agreed that getting hit on the body is part and parcel of the sport.
"I believe that I am the man. It may sound arrogant but I always felt that I was involved in the game, and backed myself every time. You even back yourself to get hurt and take the knocks," said Richards.
"I tried the helmet, but it felt a little uncomfortable. I felt proud to wear the maroon West Indies cap. I believed I was good enough to be here and if I get hurt hopefully by God's grace I will survive."
"I prefer to get hit early on and get to know the feeling, rather than always feeling like you might get hit. I prefer getting hit early on and really hard, so it motivates me to not allow that to happen again," Kohli responded. "Just that pain to go through your body and be like 'Ok enough it's not happening again."
"As a batsman you will get hurt and what's important is how well you bounce back from that. Earlier we didn't have all the various guards and when we got hit, we took the hit on the ribs and moved on. It's all part and parcel of the sport," Sir Viv signed off.
India and West Indies begin their two-Test match series on Thursday in Antigua. This will be both sides' first involvement in the World Test Championship.