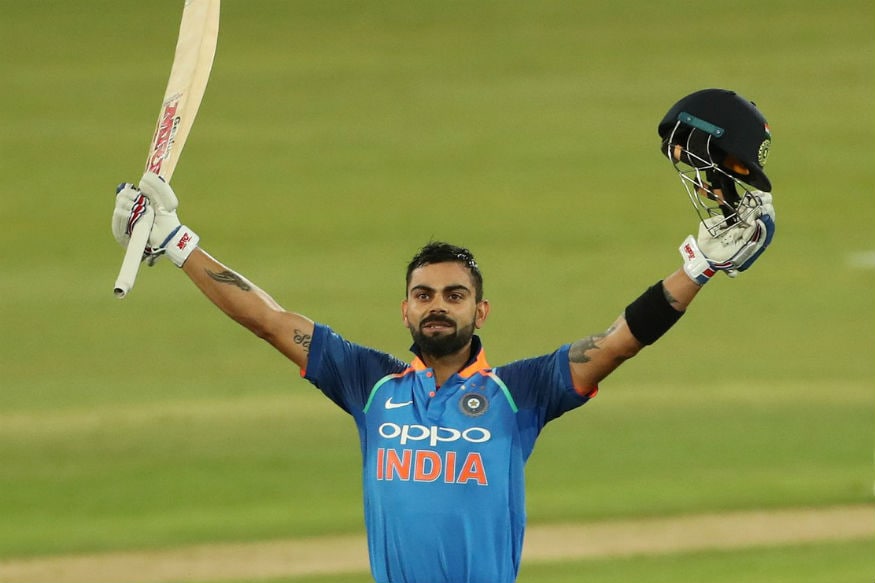 Virat Kohli became the fastest batsman, both in terms of career-span and batting innings, to join the elite 10,000-Club in ODI cricket on Wednesday against West Indies in Vizag. Kohli reached the magic number – 81 — in 91 deliveries. He went to score an unbeaten 157 in 129 deliveries.

Kohli has been Bradmanesque in ODI cricket in the last few years. His numbers and achievements are mind-boggling. Here are some statistical milestones he has created in his 10 years in ODI cricket.

- Kohli reached the 10,000-Club in just his 205th ODI innings becoming the fastest batsman (in terms of batting innings) to do so. Tendulkar took 259, Ganguly 263 and Ponting 266.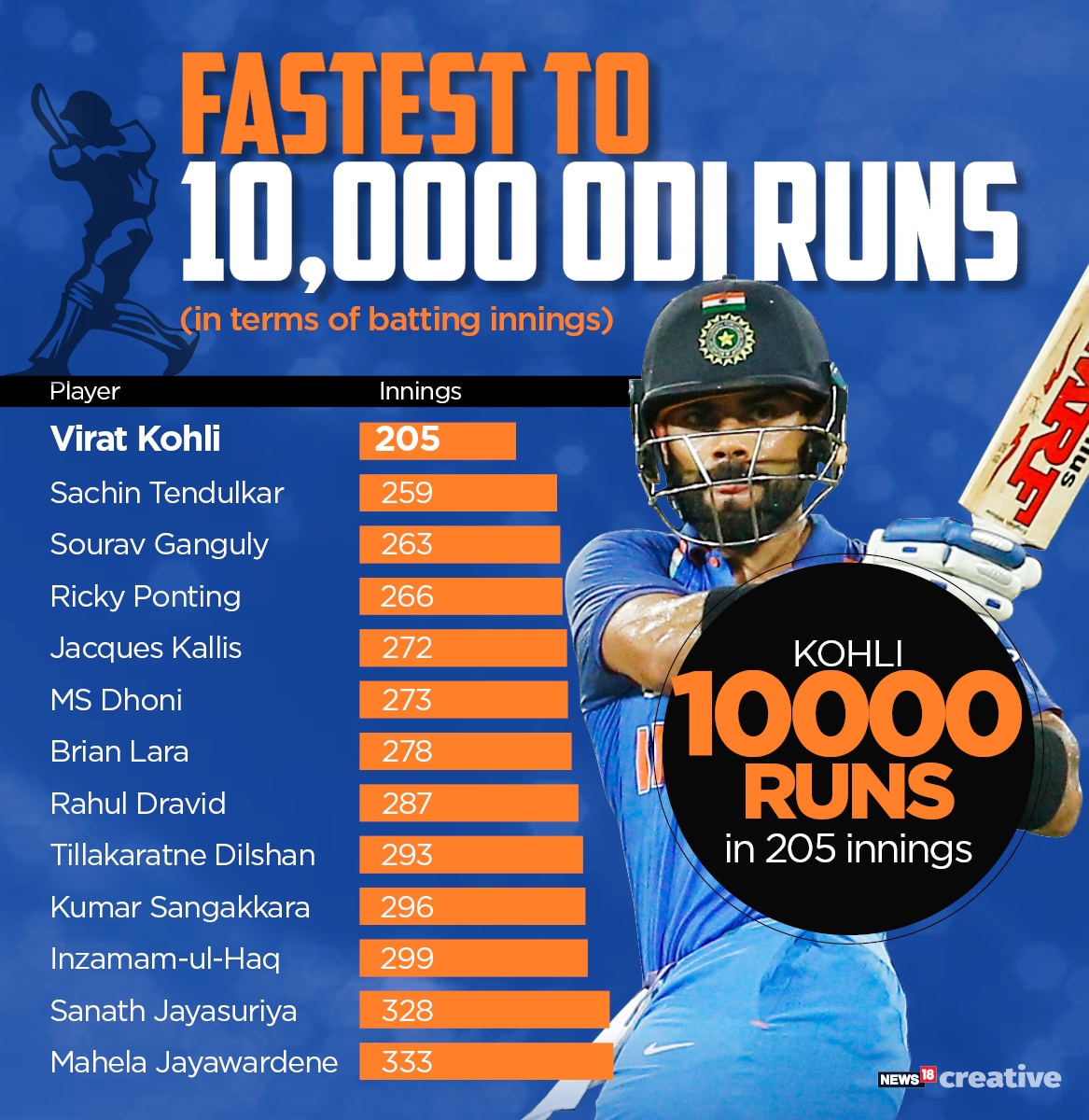 - Kohli reached the 10,000-Club in 10 years and 67 Days from his ODI debut. This is the shortest time taken – in terms of Career Span – by any batsman to reach the milestone. Rahul Dravid was the fastest in terms of Career Span (10 years, 317 Days) till Wednesday.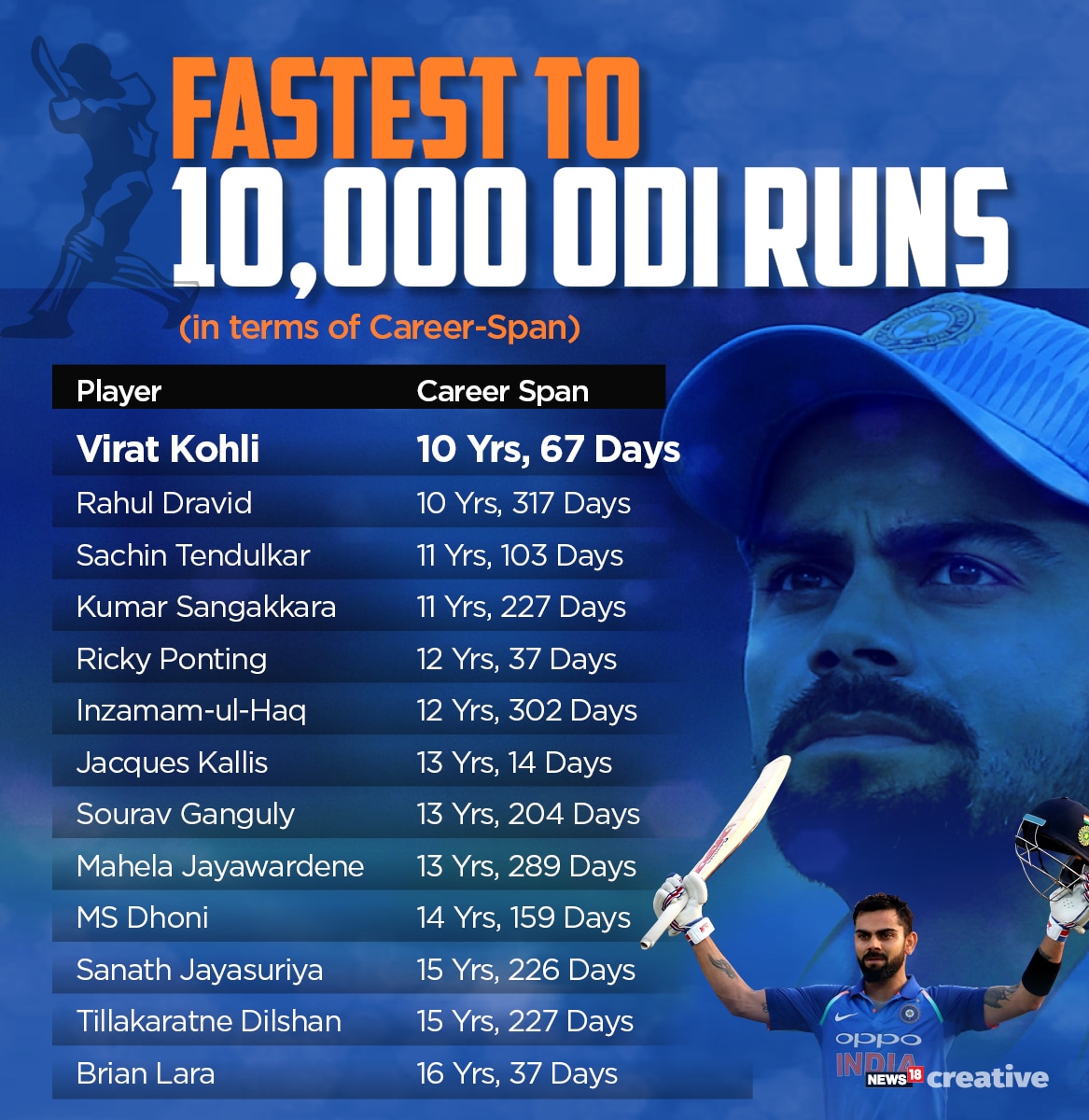 - Kohli's strike rate of 92.85 is also the highest amongst all batsmen in the 10,000-Club.

- At 29 years, 353 days, Kohli becomes the second-youngest batsman (in terms of age) after Sachin Tendulkar (27 years, 342 days) in ODI cricket history to aggregate 10,000 runs. Ponting reached the milestone at 32 years and 95 days, Ganguly at 33 years and 25 days and Kallis at 33 years and 99 days.

Kohli is also the second batsman (after Tendulkar) to reach the milestone before turning 30.

- Kohli has made it to the 10,000-Club in 205 innings.

Let us have a look at all batsmen in the 10,000-Club after 205 innings: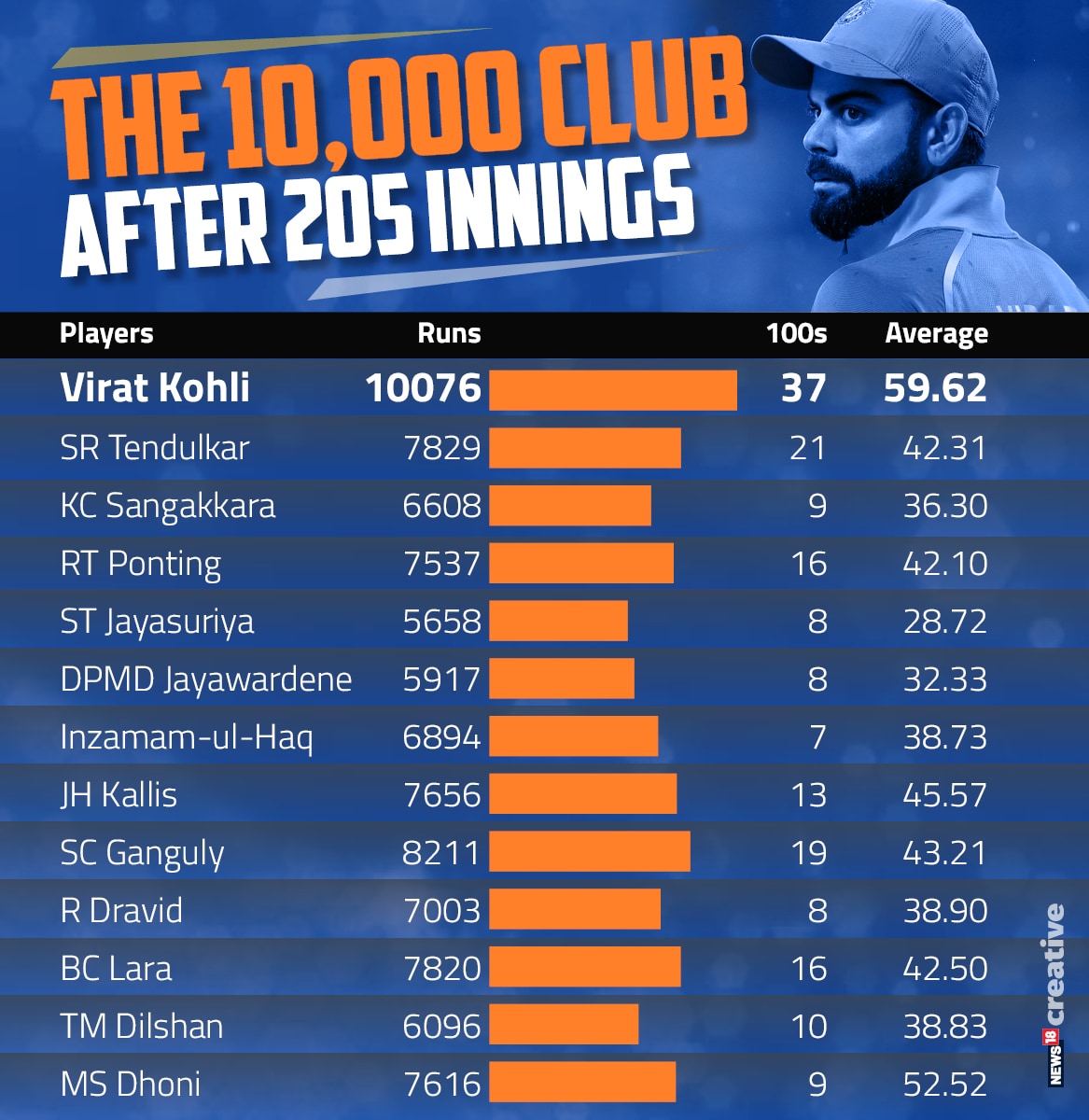 There is a startling gap of 1865 runs between Kohli and the second-highest batsman on run aggregate after 205 ODI innings – Ganguly. There is a difference of more than 7 runs per dismissal between Kohli's batting average and Dhoni's (second-highest at 52.52).

Kohli has amassed 16 more hundreds than Tendulkar (second-highest) did after his 205th ODI inning. Quite astonishing!! These numbers demonstrate how dominant Kohli has been in the format.

Kohli vs Tendulkar after 205 innings:

Kohli has scored a staggering 2247 runs more than Tendulkar after 205 ODI innings. He has scored 17 runs more per dismissal than Tendulkar and has 16 more hundreds.

Just for perspective, Kohli has taken 54 less innings than Tendulkar to reach the 10,000 run mark. He would score 3,219 more runs if he would maintain his average (59.62) in these extra 54 innings. That means, Kohli would aggregate 13,219 runs when Tendulkar aggregated 10,000.

- Kohli was the joint second-fastest to 5000 ODI runs (along with Richards after Amla), second-fastest to 6000 and 7000 (after Amla) and the fastest to 8000, 9000 and 10000 ODI runs.

- Kohli is amongst the only six batsmen in ODI history to average above 50 in ODI cricket (minimum 50 innings). He tops this list with an average of 59.62.
He is followed by Bevan (53.58), De Villiers (53.5), Root (51.95), Trott (51.25) and Dhoni (50.46).

- Kohli's Actual Average of 50.44 (Total Runs per Innings) is the highest for all batsmen who have scored a minimum of 7000 runs in positions 1-4 in ODI cricket history.

He is the only batsman who has an Actual Average of above 50.

Dominating his Contemporaries:

Last 5 years in ODI cricket:

No batsman has scored more runs than Virat Kohli (5272)
No one averages more either (70.29)
No one has registered more hundreds (21)
No one averages more in chases (75.79)
No one averages more in winning (93)

Dominating Like No One Before:

Kohli's best period in ODI cricket is from Oct 2015 to October 2018.

He has scored 3390 runs in 49 innings at an average of 94.16 and a strike rate of 100.74 with 15 hundreds in this period.

This is sensational.

Rohit Sharma has the second-best average during this period – 65.63 – there is a massive gap of 28.53 runs per dismissal between him and Kohli.

Joe Root has scored 2870 runs – and is 520 runs behind Kohli.

Let us compare these numbers to three other all-time greats – Vivian Richards, Sachin Tendulkar and AB de Villiers.

Richards dominated ODI cricket between June 1983 and April 1985. During this time, he scored 2124 runs in 41 innings at an average of 62.47 and strike rate of 90.61.

His fellow teammate, Desmond Haynes was at number two – both in terms of batting average and run aggregate (51.26, 1948).

Tendulkar scored 6324 runs between October 1994 to November 1999 at an average of 49.79 and strike rate of 90.78. Anwar with 4584 runs was second in aggregate but Bevan with 61.52 had the highest average.

AB de Villiers averaged 77.26 for his 2009 runs in 34 innings between November 2009 and February 2012. He scored at a strike rate of 106.91 and amassed 10 hundreds.

Amla averaged 59.45 while Dhoni averaged 55.93 during this period. Amla and Kohli scored 10 hundreds in this period.

Clearly, Kohli's domination has been unprecedented.

Bradmanesque 2018:

112, 46*, 160*, 75, 36, 129*, 75, 45, 71, 140, 157* - these are the scores registered by Kohli in 11 innings in 2018.

He has scored 1046 runs this year at a staggering average of 149.42 and a strike rate of 103.87.

Kohli now holds the record for the fastest to 1000 runs in a calendar year – he crossed the mark in 11 innings in 2018.

Fastest to 1000 Runs in a calendar year:

Virat Kohli - 11 Innings (2018)
Virat Kohli - 15 Innings (2012)
Hashim Amla - 15 Innings (2010)
David Gower - 17 Innings (1983)
Shane Watson - 17 Innings (2011)
Kumar Sangakkara - 17 Innings (2013)
AB de Villiers - 17 Innings (2015)

Kohli is just 29. With at least 6-7 years of cricket left in him, the sky is the limit for Kohli.

Or maybe even that is not!

First Published: October 25, 2018, 7:20 AM IST