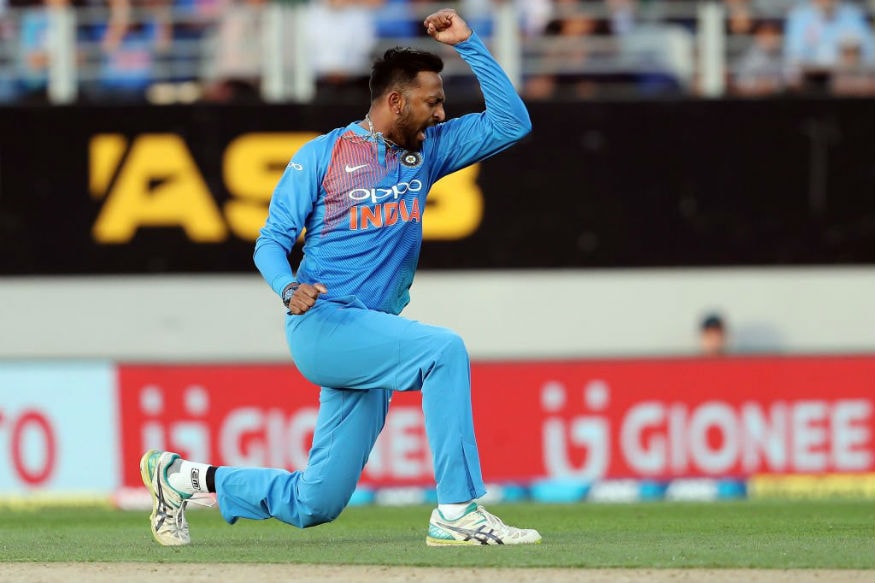 Indian all-rounder Krunal Pandya, who featured in both T20Is against West Indies played at Fort Lauderhill in the USA said that it was a "great experience" playing in the country, noting the support that the team got.
Speaking to reporters after the game, Pandya, who picked up two wickets for 23 runs in 3.3 overs in India's 22-run DLS victory said, "It was a great experience playing in the USA. From whatever I have heard, cricket is developing in the USA which is a great thing, and everyone in the team was looking forward to play two T20Is here.
"The first game got close, and even today we got about 35 overs. There are plenty of Indians here, we had great support, and it was a good experience for us also."
Pandya also had a serendipitous meeting with his childhood friend, Nisarg Chokshi, who he played age group cricket with while growing up in Baroda. Now a naturalized American citizen after moving to the country at the age of 15, Chokshi had attempted to play cricket professionally for the USA.
"It's a proud feeling for me, and I'm sure that they would be proud of me as well," Pandya said about meeting Chokshi and his family after so many years. "He's my childhood friend, we used to play U12s and U14s together. I met him yesterday, and it was so good to see him coming down to support me."
Pandya also heaped praise on fellow spinner Washington Sundar and Fast bowler Bhuvneshwar Kumar, calling him "world class," while assessing his own bowling performance.
"I'm happy with how I bowled. The wicket helped me as a spinner, and it was a good confidence booster when you have assistance from the pitch. Our fast bowler also made our (spinners') job easier, as if the other team is two or three down, we can come in the middle overs and do our job.
"Washington (Sundar) also bowled well, and everyone knows Bhuvneshwar is a world class bowler. So overall, very happy."