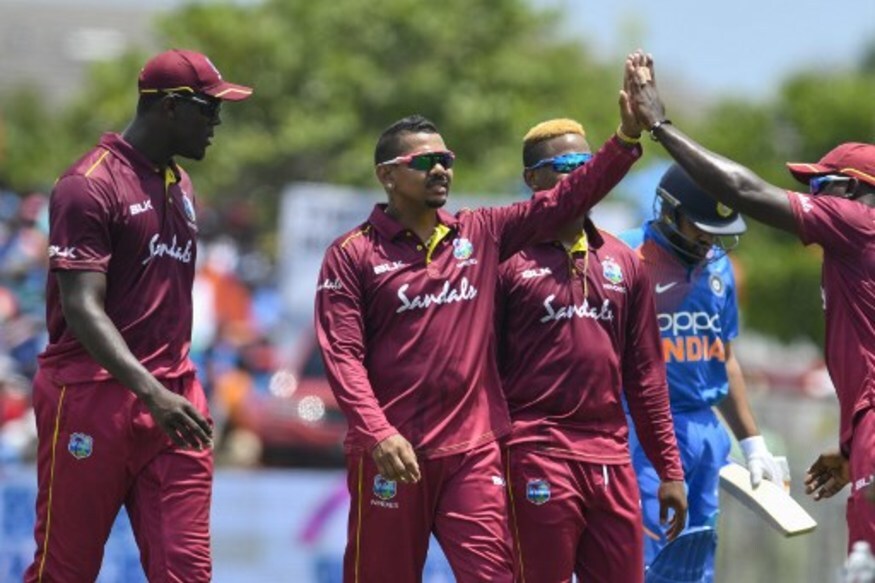 West Indies' T20I captain Carlos Brathwaite rued their batting failure after the loss to India in the first of three T20Is in Florida on Saturday (July 3).
Batting first, West Indies were bowled out for just 95 before India reached the target with four wickets in hand. West Indies' bowlers kept them in the hunt, but the batsmen's inability to adjust to a slow track cost them.
"We didn't assess the conditions well," conceded Brathwaite in the post-match presentation. "Had we made 130-140, it would have been good on that wicket. We showed great heart to take the game as deep as we did and it shows that we batted ourselves out of the game with out lack of assessment early.
"We ask the guys to play positive, aggressive cricket as we West Indians instinctively do. The message would be to keep the intent, however you need to assess better and be smarter with shot selection and awareness."
Brathwaite praised his senior players Kieron Pollard and Sunil Narine, who made good contributions. Pollard top scored in the game with 49 while Narine picked 2 for 14 from his four overs.
"Kudos to Pollard for leading the team with the bat, he showed his experience. Sunil's four overs are very important, he showed his experience and brought us back into the game. The pacers did well to set it up as well, it was a great bowling effort."
Playing his first international match since September 2017, Narine made an impressive comeback. He hoped to continue his performances, although he revealed he hasn't completely recovered from his finger injury.
"It is always good to be back in maroon. Being able to perform for your country is a proud moment. Hopefully, I can continue with the performances and keep playing for West Indies," he said. "Fitness is there, my finger is not 100% but T20s, I am trying to stay as long as I can on the park. Let's see how it goes in this series.
"We have to start the powerplay well whether we bat first or bowl first and take on from there. We have to go out there and start winning cricket games before the T20 World Cup. Once we play good cricket and hard cricket, the result will take care of itself."
Narine also said he wasn't working on any new variation.
"No new thing at the moment, I am enjoying my cricket. Hopefully, you will see more runs and more wickets in the future."