As Prithvi Shaw, Virat Kohli and Ravindra Jadeja racked up hundreds and Cheteshwar Pujara and Rishabh Pant got into groove at Rajkot, KL Rahul's duck was the sole score below 40 from India's top seven batsmen. While the score in itself is less concerning given that the opener had slammed an attractive hundred against James Anderson and company in the final Test of the England tour at The Oval, the manner of his dismissal continued a worrying trend.

Rahul was trapped in front by Shannon Gabriel in the first over of the game, making it his eighth successive dismissal in Tests without the fielder coming into picture. In fact, he was the only one in the top seven to not be caught out.

His England tour, prior to this Test, had gone from bad to worse until a face-saving hundred at The Oval, without which he might very well have sat out at Rajkot. Rahul's scores in England read 4, 13, 8, 10, 23, 36, 19, 0, 37, 149 and 0 but the unsettling factor is the mode of dismissals.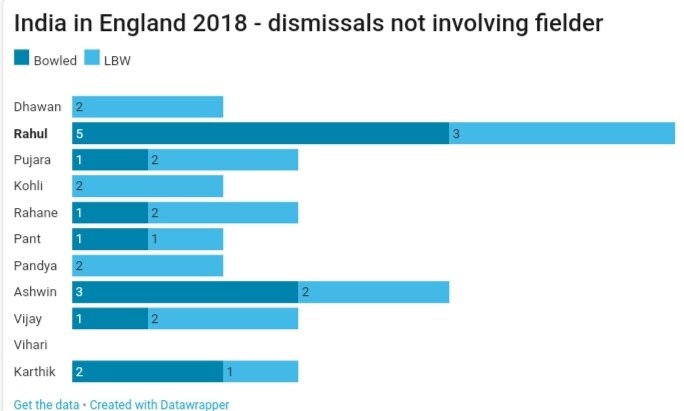 While India's top-order was more concerned about their tendency to edge to the cordon around a fourth stump channel, Rahul fought his own battles against balls angled into him. As can be seen from the mode of dismissals of other batsmen, Rahul was way above the rest in terms of being bowled or LBW. He was cleaned up five times and trapped in front of the wicket thrice, totaling eight dismissals without the fielder being involved out of ten. None of India's other batsmen endured more than five on the tour.

Curiously, the two that were dropped during the tour – Murali Vijay and Dinesh Karthik – showed a similar weakness. The two were either bowled or LBW in 3 out of four innings. Rahul, though, escaped the axe unlike the two, although he couldn't really make it count until the final Test.

Over his career, Rahul has been susceptible to this weakness. The flashy opener tends to leave a gaping hole between bat and pad exposing him to the inswinger, a factor Sam Curran and James Anderson exposed in the recent series.

It is also habitual for the opener to go in search of the ball with a huge forward lunge without really getting to the pitch of the ball. This has resulted in him chopping the ball back onto the stumps, a frequent feature in Rahul's Test career (5 out of 13 bowleds against pacers).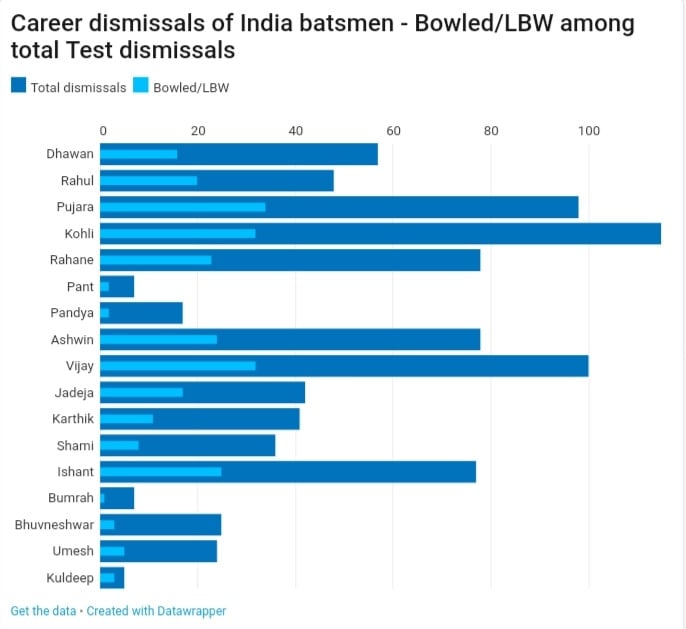 41.67% of Rahul's dismissals in Test cricket have been either bowled or LBW, the highest among current Indian Test batsmen. To put things into perspective, the likes of Virat Kohli, Ajinkya Rahane and Shikhar Dhawan have percentages less than 30.

The fetish, though, isn't just format-specific which suggests that the weakness is purely technical. If 20 of his 48 dismissals in Tests were either bowled or LBW, the numbers soar in ODIs and T20Is, formats where hues and cries over his inconsistent selection are pretty common. Of his 9 dismissals in the fifty-over format, four are either bowled or LBW. In T20Is, the corresponding number is 6 out of 14. Effectively, 42.25% of all his dismissals in International cricket are either bowled or LBW, with most of them coming off pace bowlers!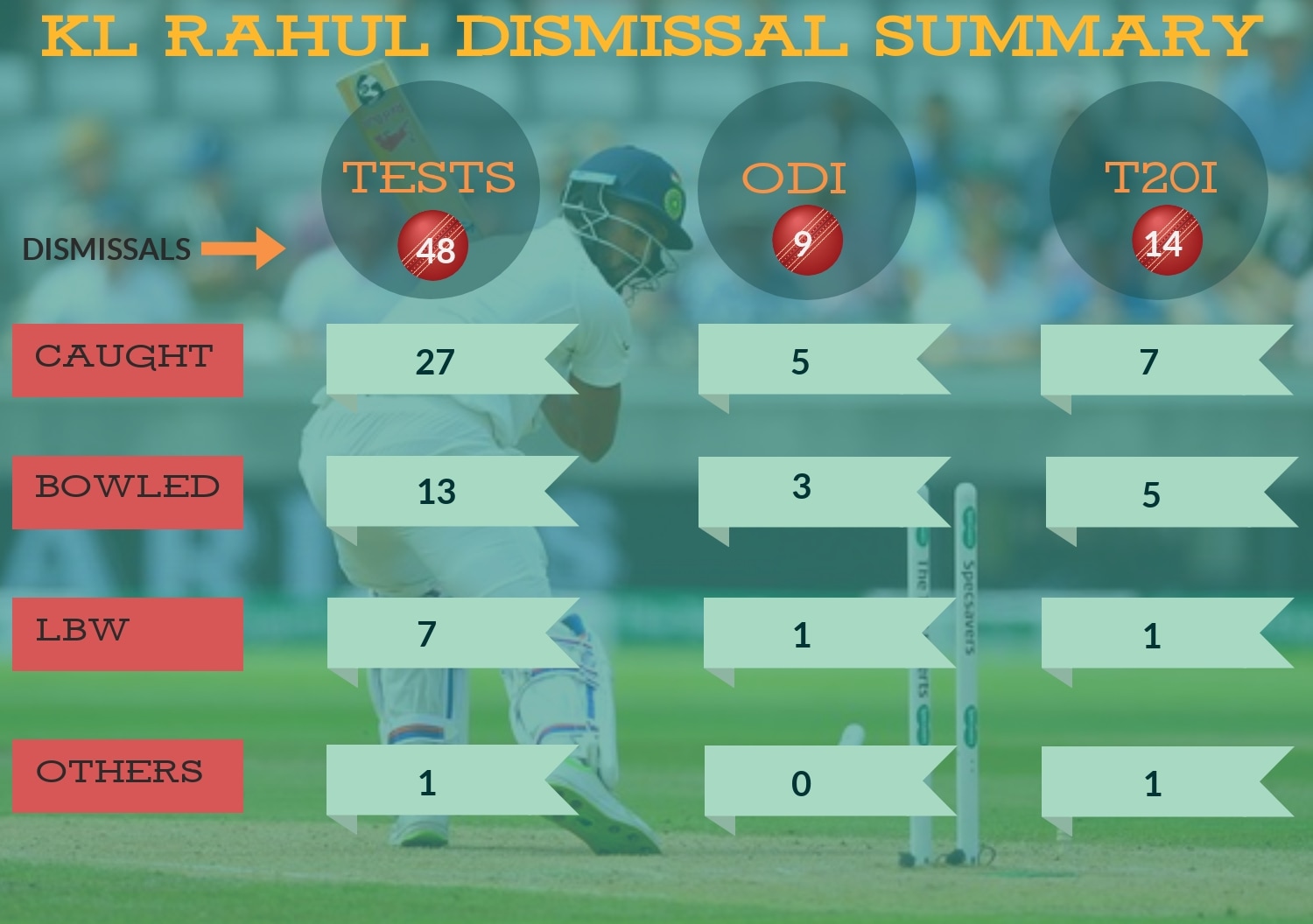 This, though, suggests that Rahul is vulnerable to deliveries coming into him which could be inswingers, ones nipping in off the seam, ones angling in naturally or reverse swinging. The technical aspect is key here for of the 13 times he has been bowled in Tests (11 by fast bowlers), five have come when while chasing balls wide outside the off-stump and chopping back on. Two of them have come courtesy a clear error in judgement when he left balls that angled back in and crash-landed on the stumps. On the remaining occasions he was duped by late swing back into him or balls straightening after appearing to seam back in.

What's even more revealing is how he appears to be a sitting duck to such dismissals early on his innings but slowly gets over it as he grows into an innings. Of his bowled or LBW dismissals in Tests, 17 (out of a total of 20) have come before the score of 39, at a stage he is still settling down.





Apparently, as he grows in confidence, this weakness slowly phases out. After he crosses 50, Rahul has been dismissed bowled or LBW just thrice with just one of them in his five dismissals after hundred.

One way or the other, Rahul has managed to expose his pads or the stumps to the fast bowlers. The ones who seam or swing the ball back into right-handers and ones who generate skiddy pace off the surface are likely to find success against Rahul for he tends to be a tad late in bringing down his bat.

Gabriel exposed this frailty at Rajkot and the Australians, whom he would be facing two months later, would be watching keenly. Armed with fast bowlers who can clock well above 140kmph, the Aussies would fancy having a go at Rahul if he continues to bat this way.

That they have Mitchell Starc, who is venomous with the new ball, and shapes the ball back into right handers at good pace will be a major headache for Rahul. If he does manage to get past the Starc threat, there is Cummins who likes angling the ball back into the right-handers.

The only face saver for Rahul is the true bounce in Australian wickets, but it would surely be in his sights to iron out a palpable weakness in his batting technique before another overseas tour, particularly with Agarwal and his mountain of runs in domestic cricket waiting on the bench.

(Rohit Sankar is a freelance cricket journalist stuck in a love-hate, live-in relationship with the game. To rile him, bring up the 1999 World Cup semi-final. He tweets @imRohit_SN)

First Published: October 8, 2018, 9:31 AM IST