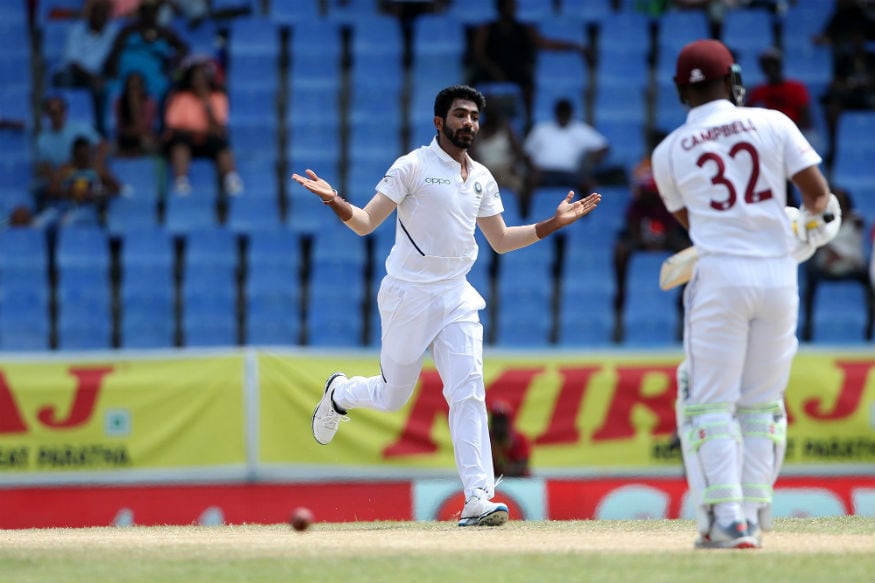 We know he can bowl the yorker. We know he can bowl the back-of-length skidders at will. We know he has a sharp bouncer too. Jasprit Bumrah is as complete a bowler as one can get, and he's only getting better. For now, he has added the outswinger to his armoury too.
And it's as lethal as it gets. Just ask West Indies. Kraigg Brathwaite, John Campbell, Darren Bravo, Shai Hope and Jason Holder in particular.
Bumrah's stunning spell of 8-3-7-5 in the second innings of the first Test at Antigua blasted West Indies out for just 100, giving India a massive 318-run win. All five wickets were to the latest weapon - the one that moves away from the right hander.
The tone was set when Brathwaite was lured into a drive away from his body in the second over. The batsman perhaps thought Bumrah isn't known for too much swing in that direction and expected it to go straight. Brathwaite had faced 51 balls in the first innings and would have noticed that Bumrah wasn't exactly moving the ball big that way. He followed the ball but soon found it move more and more away from him, ending in a nick. One down.
And then, it was all carnage. The remaining four victims of Bumrah were all bowled. Not just bails-coming-off bowled, but stumps-flying-all-over bowled. The left-handed Campbell had no clue to one that swung in sharply, was late in bringing his bat down, and saw his off-stump uprooted.
The one to Bravo was identical, but even better. Bravo begun showing signs that he would leave everything outside off-stump; it was easier against Ishant Sharma who took the ball away, but Bumrah got one to swing in at pace. Like Campbell, Bravo had no chance. It was one of the best deliveries cricket has seen in recent times.
And it only got better. Hope first and Holder next received unplayable balls that swung from middle stump to hit off. Both batsmen tried to keep the ball away, but the deviation was too quick. In just eight overs either side of tea, Bumrah had demolished West Indies.
In the process, he became the first bowler from the subcontinent to pick five wicket hauls in South Africa, England, Australia and West Indies. All in just his first tours to these countries.
Bumrah's performance showed that he could adapt and learn quickly. He had moderate success in the first innings, where he returned 18-4-55-1. It was his first game after the World Cup, and a slightly stiff back meant he didn't have that zip. The story was different in the second, where he realised he had breeze to his advantage. If he got his action right, the Dukes ball would do the rest.
"A lot of hard-work and practice goes into that (outswinger). I always had the inswinger but the more I played the more confident I got (with the outswinger). Playing with the Dukes ball in England helped me a lot too. It has helped my confidence," Bumrah would say after the game.
Bumrah's records in the last one-and-a-half years make it easy for all to forget that he is just 11 Tests old. It's incredible that Bumrah is yet to play a Test at home. His colleagues in the pace unit - Ishant, Mohammed Shami and even Umesh Yadav are more 'experienced'. But it's Bumrah who is so crucial that Kohli keeps saying is a 'key' player in the World Test Championship.
How well India use him in the championship will play a key part too. If his workload is managed well, it's almost guaranteed that the ever-hungry-to-learn-and-evolve Bumrah will pay rich dividends.