India vs West Indies, 2nd Test Day 2 at Kingston: Bumrah Picks Six to Leave West Indies in Trouble
CONCLUDED
WI vs IND Cricket Scorecard (TEST)
2nd Test TEST, Sabina Park, Kingston, Jamaica, 30 August, 2019
India beat West Indies by 257 runs
HIGHLIGHTS
Stumps! India have picked up seven wickets to leave West Indies reeling in the first innings at the end of the second day of the second Test. Jasprit Bumrah has absolutely sensational here and finishes the day with 6 wickets. Can he add to that tom? WI are 87/7 and trail by 329 runs.

OUT: Bumrah returns to the attack and off the first ball has Jason Holder caught out. He looks to go big but the leading edge gives Rohit Sharma a simple catch at cover. WI are seven down for 78.

OUT! Shami has joined the party now as he cleans up Shimron Hetmyer with a beautiful one that was pitched up and the batsman plays all over it. West Indies are 67/6.

Four! Shami errs in length and it's allowed Hetmyer to free his arms through the point region for four more runs.

Four and Four and Four! A yorker takes the edge and streakily flies away to the fence. Hetmyer then flashes hard and it's flown over the slips while the third boundary comes off another edge - and flies in between the slip cordon. Hetmyer living dangerously. WI are 57/5.

Right so good news for Indian fans, Bumrah is back on the field and looking fine.

FOUR! Good shot from Hetmyer. It is a good length delivery outside off, Hetmyer rocks back and rives this past the cover fielder where Mayank runs after it and tries to make a a diving stop. Agarwal touches the fence while pushing the ball. It is given a boundary in the end.

Four! Ravindra Jadeja comes into the attack and Hetmyer steps down the track and whips him over mid wicket for four runs. Jadeja won't like that but there could be more chances for wickets with the batsmen on the attack.

DROPPED! Shami gets a Hetmyer second guessing and he edges to second slip but Kohli unfortunately can't hold on.

OUT! That's the 5-fer for Bumrah. West Indies are in trouble as Bumrah has Brathwaite edging to the keeper and Pant makes no mistake in taking a brilliant diving catch. WI reeling at the moment and it is the same man who destroyed them in the second innings of the first Test. WI are 22/5
03:35 (IST)
We'll see you back again on Sunday for a crucial day of Test cricket.
03:34 (IST)
Stumps! India have picked up seven wickets to leave West Indies reeling in the first innings at the end of the second day of the second Test. Jasprit Bumrah has absolutely sensational here and finishes the day with 6 wickets. Can he add to that tom? WI are 87/7 and trail by 329 runs.
03:29 (IST)
Cornwall looks to take Jadeja on for the last ball of the over with an expansive drive but Mayank Agarwal at silly point cops the blow. WI survive another over.
03:25 (IST)
Jadeja goes through yet another over at great speed and that has helped the overrate for India so far before Bumrah catches the edge of Cornwall but it's gone through for four as Pujara at first slip can't catch it. WI are 87/7.
03:19 (IST)
Rakheem Cornwall is yet to get off the mark but the first delivery he faced went for a four byes as Bumrah left everyone stumped. WI are 82/7 and looking to survive the last few overs here.
03:13 (IST)
OUT: Bumrah returns to the attack and off the first ball has Jason Holder caught out. He looks to go big but the leading edge gives Rohit Sharma a simple catch at cover. WI are seven down for 78.
03:12 (IST)
Jahmar Hamilton plays out the Jadeja over without much ado. WI are 78/6 and looking to end the day without any more hiccups
03:01 (IST)
OUT! Shami has joined the party now as he cleans up Shimron Hetmyer with a beautiful one that was pitched up and the batsman plays all over it. West Indies are 67/6.
02:59 (IST)
Four! Shami errs in length and it's allowed Hetmyer to free his arms through the point region for four more runs.
02:58 (IST)
Nearing the day's end and the Indian bowling is not giving anything away. Jadeja and Shami continue to build on the pressure as they make the ball talk. Back to back maiden overs from them keeps WI at 63/5.
02:45 (IST)
Holder making his time out in the middle count as he works Jadeja away for a two before running him down to third man for a boundary. WI are 63/5 at drinks.
02:42 (IST)
Four and Four and Four! A yorker takes the edge and streakily flies away to the fence. Hetmyer then flashes hard and it's flown over the slips while the third boundary comes off another edge - and flies in between the slip cordon. Hetmyer living dangerously. WI are 57/5.
02:37 (IST)
Jadeja races through yet another over and keeps it on the money. No wickets yet for him but concedes a single though. WI are 45/5 after 20 overs.
02:34 (IST)
Right so good news for Indian fans, Bumrah is back on the field and looking fine.
02:31 (IST)
FOUR! Good shot from Hetmyer. It is a good length delivery outside off, Hetmyer rocks back and rives this past the cover fielder where Mayank runs after it and tries to make a a diving stop. Agarwal touches the fence while pushing the ball. It is given a boundary in the end.
02:28 (IST)
Another good over from Ravindra Jadeja, except one delivery that foxed the batsman and the keeper and raced away for four runs. WI are 39/5 and looking to play the day out without more trouble.
02:27 (IST)
Ishant runs through the motions and it's another maiden over for him. WI are 35/5
02:20 (IST)
Hetmyer smashes over mid off unconvincingly right after for another boundary before picking up a single of the final ball to give themselves some breathing space. WI move onto 35/5 after that over.
02:19 (IST)
Four! Ravindra Jadeja comes into the attack and Hetmyer steps down the track and whips him over mid wicket for four runs. Jadeja won't like that but there could be more chances for wickets with the batsmen on the attack.
02:17 (IST)
Ishant Sharma finishes off that Jasprit Bumrah over and West Indies are huffing and puffing their way through the day. WI are 26/5 with Holder and Hetmyer at the crease.
02:11 (IST)
Bumrah's feeling his calf a bit and he has decided to head off the field and not risk himself in the final hour of the day. West Indies will be happy to see the back of him for now. Kohli will be hoping it isn't anything serious.
02:09 (IST)
It's all happening here and West Indies are walking on hot coal from the looks of it. Shami's has a catch dropped which allows Jason Holder and Hetmyer to pick up a couple of singles before Pujara hits the stumps directly but the batsmen are well home. WI are 24/5.
02:06 (IST)
DROPPED! Shami gets a Hetmyer second guessing and he edges to second slip but Kohli unfortunately can't hold on.
02:05 (IST)
You can't disagree!
Jasprit Bumrah is a once in a lifetime talent.

— Ian bishop (@irbishi) August 31, 2019
02:03 (IST)
OUT! That's the 5-fer for Bumrah. West Indies are in trouble as Bumrah has Brathwaite edging to the keeper and Pant makes no mistake in taking a brilliant diving catch. WI reeling at the moment and it is the same man who destroyed them in the second innings of the first Test. WI are 22/5
02:01 (IST)
Bumrah errs for once and Brathwaite puts him away. Overpitched outside off, Brathwaite bends down low and creams the drive to the left of mid-off for a boundary.
01:58 (IST)
Jaffa! What a delivery by Shami! He bowls this on the fourth stump line, and gets it to nip away. Brathwaite tries to defend but does so inside the line and is beaten by the movement. Brathwaite picks up two after that to take the score to 18/4
01:48 (IST)
Bumrah steams in for his fifth over and is looking for more wickets. He almost cut Hetmyer in half midway through the over and is smelling another wicket. WI survive that over and go to drinks with the score at 15/4.
01:43 (IST)
Shimron Hetmyer and Brathwaite need to rebuild as slowly and carefully as they can. India have their tails up and Shami is backing up Bumrah with some hostile bowling too. WI are 14/4.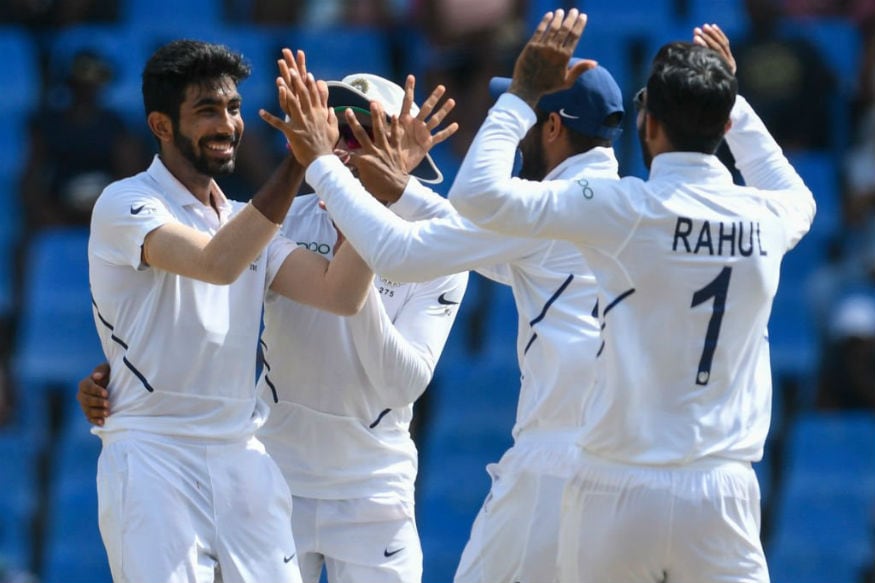 Follow all the live cricket action and latest updates as India take on West Indies in the second Test at Kingston: Stumps! India have picked up seven wickets to leave West Indies reeling in the first innings at the end of the second day of the second Test. Jasprit Bumrah has absolutely sensational here and finishes the day with 6 wickets. Can he add to that tom? WI are 87/7 and trail by 329 runs.
Day 1 report: Virat Kohli and Mayank Agarwal scored half-centuries to given India the edge in an attritional first day's play of the second and final Test against West Indies at Sabina Park in Kingston, Jamaica.
At stumps, India were 264 for 5 with Hanuma Vihari (42) and Rishabh Pant (27) in the middle. Kohli had scored 76 while Agarwal fell for 55. Jason Holder was the most successful bowler with three wickets while Kemar Roach and debutant Rahkeem Cornwall picked up a wicket each. Roach in particular was unfortunate not have got more wickets.
West Indies opted to field first on a track with help for pacers, just like they did in Antigua. They got the early wickets too, with KL Rahul edging Holder to first slip for just 13. It was the perfect length from Holder, not allowing Rahul to commit to either front of back foot.
West Indies had given Cornwall a debut and he made an impact straightaway, getting the big wicket of Cheteshwar Pujara. India's No. 3 had tried to cut, but the extra bounce took the ball straight to point. At 46 for 2, India needed a partnership.
They got that with Agarwal and Kohli adding 69 for the third wicket. Cornwall was impressive and even managed to trouble Kohli early on with his flight, turn and drift but the wicket evaded him. Agarwal used his feet and scored a few boundaries, but was also largely fortunate through his innings. Kemar Roach in particular was unfortunate, with edges going everywhere except fielders.
A couple of such edges took Agarwal past his half-century but luck didn't last long. He tried to cut Holder and nicked to slip, falling for 55. Ajinkya Rahane got a start and took India to tea without further damage while Kohli settled in.
Kohli had spoken about the need for India's batsmen to focus more after breaks, and that was an issue once again. Rahane fell fifth ball after tea, pushing at a full ball from Roach and edging behind. Kohli, who had crossed his 22nd Test fifty, was fortunate not to be given out lbw to a close call off Roach soon after.
Kohli began shifting gears with a couple of straight driven boundaries off Cornwall, but a terrific spell from Holder ended his stay. The West Indies captain went around the wicket to bang a few short balls, with a field that included two gullies and a leg gully. Soon, he switched to over the wicket and bowled the perfect length, forcing Kohli to play and nick behind. It was a beauty of a ball and spell to dismiss the well set Indian captain.
India once again were in need of a partnership from 202 for 5, which was provided by Vihari and Pant.
Vihari was nice and solid and continued to make the No. 6 place his own, his two cover drives off Shannon Gabriel standing out. Pant hit Roston Chase for the only six of the innings.
India lead the series 1-0 after winning the first Test by 318 runs.