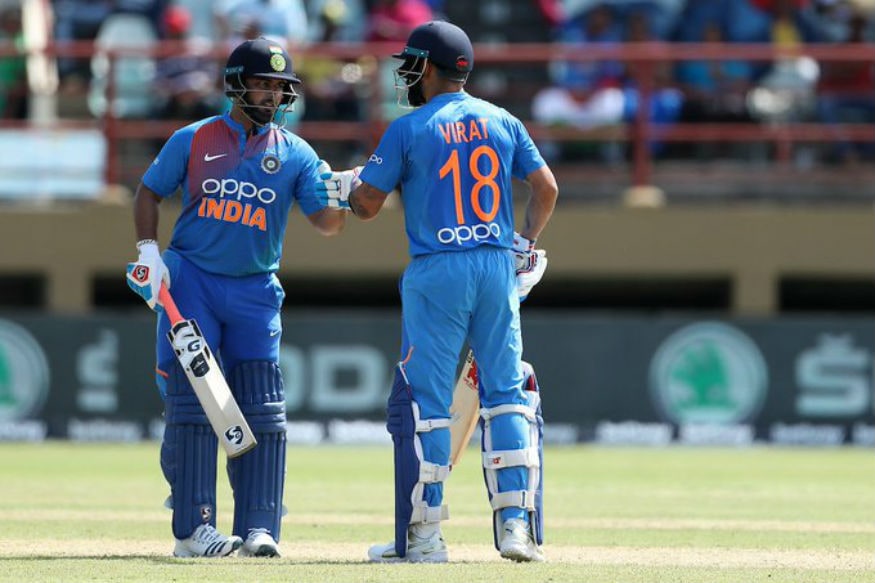 Indian wicketkeeper-batsman Rishabh Pant played a crucial part in guiding his team to a victory in the third T20I against West Indies at Guyana on Tuesday, hitting an unbeaten 65 off 42 deliveries in a chase of 147.
And praising his efforts, captain Virat Kohli said that the team looks forward to more such contributions from the young talent, after he failed to impress in the first two T20Is.
"In the first two games, he was disappointed he didn't get any runs, but that's how T20 cricket goes, sometimes you don't have the rub of the green," Kohli said in the post-match press conference. "But today, he made sure that he backed his skills, backed himself to play the big shots when required, and really played with the tempo of what the innings required.
"The message to him from the batting coach was to finish the game off and hit the winning runs, which always gives you confidence as a player. We're all looking forward to more performances like this from him, we know he's got tremendous talent, it's just about getting into the zone and doing this more often for the team."
Kohli also addressed concerns around the run that Shikhar Dhawan has had in the T20I series, where he did not really hit top gear with his batting performances. Out for three runs in Guyana, Kohli said he was not concerned with performances in the shortest format of the game.
"He's an experienced player, and we don't really look much into T20 cricket, because you need to get on with the game and you will get out at some stage," Kohli said.
"Fifty over cricket gives you a chance to get into your innings, and we all know the skill set that he has. So the ODI series will give him a chance to ease into things and not necessarily have to go after the bowler all the time. He's an experienced enough player to know how to build an innings and how to get runs."
The match also saw brothers Rahul and Deepak Chahar play together for the country for the first time, and Kohli was particularly impressed with the latter's performance, picking up three early wickets, bowling three overs and giving away just four runs.
"We gave both the Chahar brothers a go in this game. Deepak was outstanding with the new ball, the pitch didn't have much, but there was some cloud cover. So the way he bowled early on with swing, getting us those three wickets, I think that really set West Indies back. They could have gotten a big total, but I think it was his execution with the new ball that really pushed them back.
"Bhuvneshwar has been a professional and a really skilful bowler, but I was really impressed with how Deepak bowled. Rahul also came back well in the third over and got a wicket. I think it was a really good day for us as a fielding team and as a bowling unit, and I think Deepak started it all off."
With the ODI series starting as early as Thursday, Kohli outlined how the team plans to deal with the quick turnover time between the two series'.
"To prepare for the ODI series, a lot of the guys are going to take a day off tomorrow, and from that point of view I think it was important to get a hit and get some runs out in the middle. The guys who bowled and fielded, I think it's very important to take a rest and recover for first ODI. It's going to be challenging with the conditions and the humidity. From that point of view, it's good that we got a full game and a lot of guys got a hit out in the middle."​