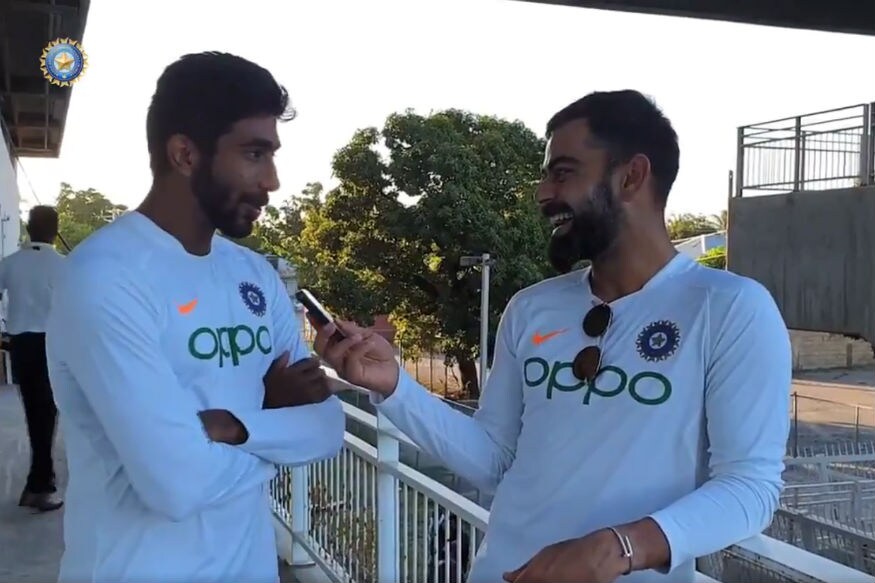 An elated Jasprit Bumrah credited skipper Virat Kohli for his hat-trick against West Indies in the second Test at Kingston, saying he owed the achievement to the skipper as he wasn't that confident himself about the third wicket.
It was Kohli who decided to review after Roston Chase was struck on the pads and the umpire turned down the appeal.
"I didn't know, I wasn't very sure of the appeal and thought it had hit the bat but it was a good review and I owe my hat-trick to you," said Bumrah, talking to Virat Kohli in an interview shared by BCCI.tv.
Kohli then added that he consulted his teammates behind the stumps and Bumrah, who said everything is in front of the wicket. "Me and Jinx (Rahane) thought he was late (to get the bat down) and decided to review."
Talking about his approach, Bumrah said it was important not to be greedy.
"Sometimes when there is so much help in wicket – so much extra bounce and movement as we saw in the first innings - you can get greedy for wickets and be over aggressive. The key is to bowl good balls and create pressure, keep things simple."
Bumrah also praised fellow fast bowlers Ishant Sharma and Mohammed Shami, saying that the communication between the group is the key to their success.
"We have very good camaraderie and a lot of communication on the field. When I'm picking the wickets, it's the job of other bowlers to create the pressure and when they are picking wickets, I create the pressure.
"There is a lot of communication that goes on, like what to do when we are not getting wickets. Ishant has played over 90 Tests and Shami has also played a lot of Tests. We help each other out and look to push each other."
Kohli also paid tribute to Bumrah - praising his intent, calling it an outstanding day of Test cricket for the Indian team and praising the bowlers for consistently picking 20 wickets. He also made a special mention of Hanuma Vihari who scored his first Test ton.